I have three kids, and in that time I've learned how to spot a good car seat. I've also learned that a convertible car seat is a must. Kids grow so fast! If you don't have a convertible car seat, you end up shelling out money left and right as they grow. That's why I love the Rainier. It's a new Diono convertible car seat, and it's wonderful.

The Diono Convertible Car Seat is Safe, Secure, and Tough
When I look for a car seat, I look for safety, security, and durability. In that order. I want to ensure that my kids are safe at all times. God forbid we get into an accident. But if we do, I want to know that my kids are in the best possible seat available. That's why I love the Diono convertible car seat, the Rainier. This convertible car seat is made of ultra durable materials, and it has the safety features I look for in a car seat. Add to that that it's convertible, and I'm sold.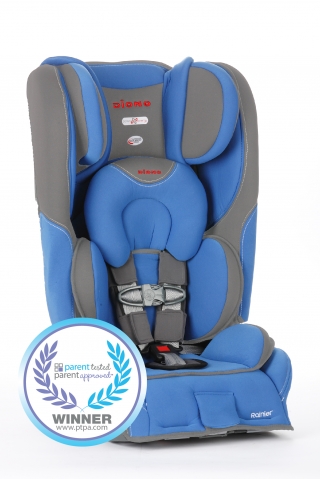 Features
The Rainier is top of the line. This Diono convertible car seat is chock full of safety features that leave me feeling safe and secure in the knowledge the my kids are safe and secure. Its features include:
A full steel frame with aluminum reinforced sides
Reinforced, extra deep sidewalls with energy absorbing foam for the highest level head and body protection
Rear facing seat accommodates children from 5 – 50 pounds
Front facing seat accommodates children from 20 – 90 pounds and up to 57 inches tall. That's the highest capacity on the market.
5 point harness
SuperLATCH system for easy and SECURE installation
NCAP crash tested, the most demanding benchmark in child seat performance for severe accidents
Folds flat for storage and travel and is FAA certified
12 year product life
This Diono convertible car seat is a powerhouse in safety. When the kids are in this seat, they're basically sitting in Fort Knox. That makes me feel good, because when it comes to my kids, their safety is paramount. More than convenience, more than looks, safety is king. Although the Rainier model from Diono has all the rest. =D
It's no surprise to me that the Rainier is such a great seat. This Diono convertible car seat is the best, because it's made by the best. Diono is a leader in safe, effective, durable juvenile products which consistently exceed standards in more than 39 countries. They've been around for over 10 years, so they know hat they're doing!
I love the Rainier. I think it's the penultimate in convertible car seats. If you have small children, I encourage you to give the Dino convertible car seat a look. It's tough, it's safe, and it's easy on the eyes. It's just an all-around great convertible car seat.
Giveaway: One winner will receive the Diono Convertible Car Seat. This giveaway is run via rafflecopter, so click more to see the actual giveaway. While the other entries are optional, I highly suggest filling them out to increase your chances of winning.  The only mandatory entry is to visit Diono and let us know what your other favorite product is in the comment section proceeding this post. US only . Good luck!
a Rafflecopter giveaway