*This is a sponsored giveaway. All my opinions are my own and not swayed by outside sources.*
I'm an avid runner, and I love my yoga pants. The only problem with them is that they don't have pockets! So I have to either leave my phone in the car, hold it, or wear an uncomfortable arm band. That's why I was excited to review the new Smartphone Pocket. It was designed with my problem in mind.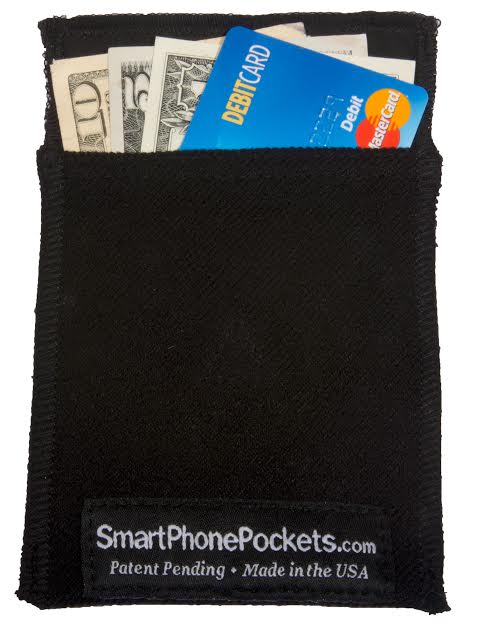 The Smartphone Pocket – Easy all the way Around
I love the way the Smartphone Pocket allows me to keep my phone on me while I work out. I also love how easy it is to install and use. The Smartphone Pocket has an easy, no-sew, iron-on backing which means all I need is an iron, and I'm good to go. Although it's iron on, it's durable and machine washable so I don't have to worry about the pocket coming off my yoga pants and my phone crashing to the ground.
I recently put the Smartphone Pocket to the test. I went for a nice, long run with the only thing between my phone and certain doom being the Smartphone Pocket. It worked like a charm! The pocket was completely secure, and the Velcro flap kept my phone safe and secure. It was great. It's nice to be able to keep my phone with me in case of emergency without having to wear a band that gets all sticky and sweaty!
Smartphone Pocket Features
As I said, the Smartphone Pocket is great for an active person who wears a lot of workout clothing with no pockets. And we all know that most workout clothing doesn't have pockets! Here are a few of the great features that Smartphone Pocket has to offer.
Keep your phone on your person safely and securely while exercising or performing other activities.
In addition to holding your phone, you can also keep money and credit cards close at hand while you're on the go.
Super easy iron on installation.
Machine washable.
Made of durable material that wicks moisture away from your items.
Easy to use Velcro tab, allowing height adjustment for your phone. Tuck it completely inside the pocket or allow it to peek out of the pocket for easy access for music.
Fits most phones except extra large models such as the iPhone 6 Plus
I had a wonderful experience with the Smartphone Pocket. It took no time at all to iron it onto my yoga pants, and it was a wonderfully safe and secure storage option for my run. I would highly recommend the Smartphone Pocket to any person with an active lifestyle. You can't beat the combination of ease, simplicity, durability, and safety.
Giveaway: One winner will receive a 3 pack of Smartphone Pockets. This giveaway is run via rafflecopter so click read more to see the actual giveaway. The only mandatory entry is to visit SmartPhone Pocket and let me know your favorite feature. While the other entries are optional, I highly suggest filling them out to increase your chances of winning. US only. Good luck!
a Rafflecopter giveaway