**This shop has been compensated by Collective Bias, Inc. and its advertiser. All opinions are mine alone. #WhenImHungry #CollectiveBias**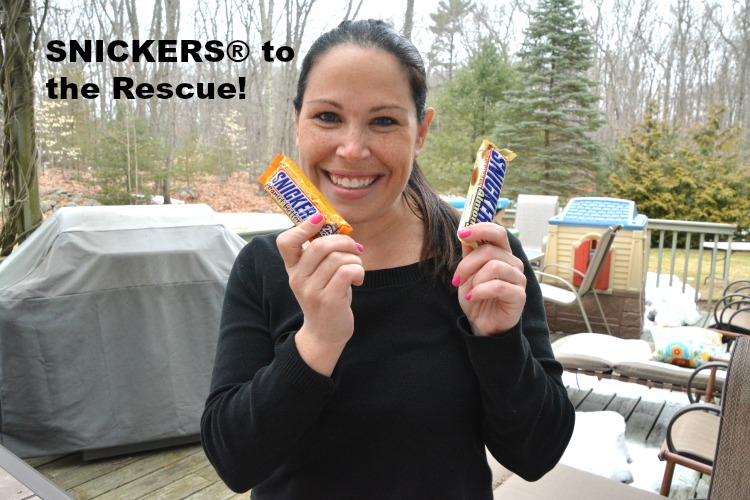 I work two jobs, have three kids, and am a wife. Life is busy! Most times, I scramble through my day and by the time I realize I am too hungry it is way too late. Don't even get me started on the witch I can become if I am hungry. I specifically remember once yelling at my husband for using all the toilet paper without replacing it, when he so gently reminded me that I was the last one to use it! Whoops…My response to him was I was HUNGRY!! Now though, I don't have to let hunger stop me in my tracks thanks to SNICKERS®!
Did you know that SNICKERS® has three delicious candies: SNICKERS® Extreme, Peanut Butter Squares, and SNICKERS® Almond! I was dying to try them all so I had to run over to my nearest Walgreens to pick them up! After all, with working 4 straight hours, this mama needed a chocolate break! I was able to get them all in the front of my store in the candy aisle and then it was back to work, to try them out!
I immediately tasted them all and I honestly had a hard time deciding which tasted the best. I give them an all equal A+! I bought a few extras to keep in my work desk because no one likes to see a grumpy co-worker. Believe me, as my assistant says, I am not on my A game when I am hungry. Melissa can get quite grumpy!
While I tend to eat the SNICKERS®  as a mid day snack break, I also get extremely hungry when I run. This past year I completed my first half marathon and am now in training mode for my next half. While I do not love anything really sweet before I run, you best believe after 7 miles, I am famished. My husband knows never to get in my way when hunger strikes after my run. He is sweet enough to set up a drawer in our cabinet labeled Melissa's Snack Attack drawer.
I love the SNICKERS® Extreme, Peanut Butter Squares, and SNICKERS® Almond so much that I always have one with me on my way to work. My pocketbook is sacred so I know if I put these delicious chocolates in there, no one or thing will ever touch them. If they do, they will hear me yelling, "Hands Off…Hands Off!" I am more worried about my chocolate being eaten by others than some of my other valuables. See how important chocolate is to me!
Don't let hunger get in your way. No one wants to deal with a grumpy person in this world. Be prepared with the brand new SNICKERS® Extreme, Peanut Butter Squares, and SNICKERS® Almond! Trust me, they are so good that you will want to start buying them in bulk at Walgreens!
Be sure to enter the SNICKERS® "Who are you when you're hungry?" contest going on right now! Enter the SNICKERS® "Who are you when you're hungry?" contest by uploading a personal photo or video from your Computer, Facebook, Instagram or use the SNICKERS® Meme Generator to create something new! Voting begins at Noon on 5/11/15 and ends at 11:59:59AM ET on 7/15/15.
Looking for some recipes, be sure to also check out some more great SNICKERS® recipes and fun stories on the SNICKERS® social hub!
Do you love chocolate as much as I do?!