** This shop has been compensated by Collective Bias, Inc. and its advertiser. All opinions are mine alone. #BigHero6Release #CollectiveBias**
Anything Disney comes out with, is a true winner! We have such a huge collection of their amazing DVDs at home and love to add to it, whenever there is a new release. Disney releases a DVD and then it goes back into the sacred Disney vault. So, if you do not pick it up during their release time frame, you may just have to wait a few years. Their brand new DVD release is for Big Hero 6.  After my recent press trip to LA to meet with the cast (I met the real life Baymax) and directors, I will tell you that this is a movie you do not want to miss! My kids have seen this movie at least three times in the theaters and since we received the DVD, they may or may not have seen it at least ten times more. This is a FANTASTIC Disney movie with characters like Baymax and Hiro, who your children will love for eternity.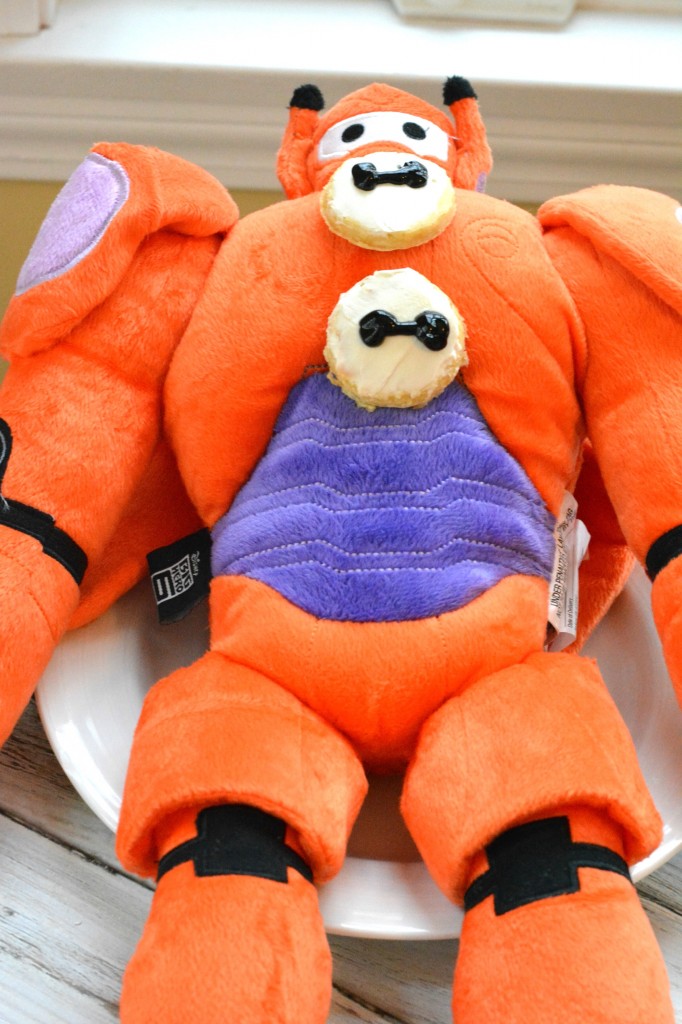 Since my kids have been prohibited from playing outside (yes we were one of the states who got over 3 feet of snow this winter), I needed to come up with innovative ways to entertain them. They love anything Disney, so I thought it would be fun to incorporate our love of Big Hero 6 by buying the 2 DISC Disc BD+DVD=DC+WM GWP 2 pk at Walmart, found readily in the entertainment aisle. If you buy the DVD set from Walmart, I have even greater news! Your purchase of the Big Hero 6 Blu-Ray/DVD + Gift With Purchase Set includes a digital movie on Vudu while supplies last! Simply scan your receipt using the Savings Catcher in the Walmart app. Then look for a message on your phone or email. Now you can watch Big Hero 6 on any device! How neat is that?! Do not miss out on heading to your Walmart and picking up this Big Hero 6 DVD set today!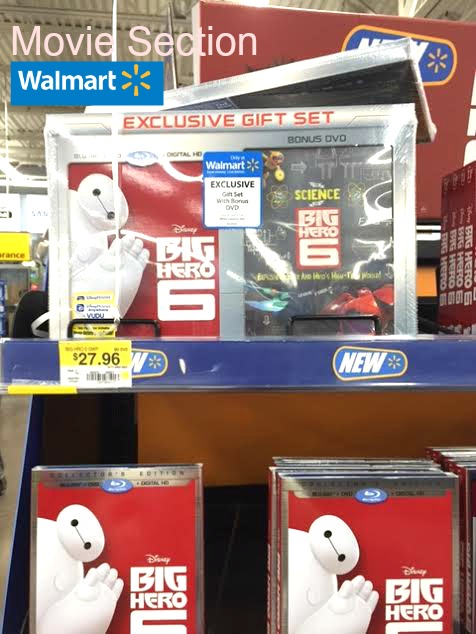 When I perused the aisles of Walmart the first day of the release, the toys were flying off the shelves. Since there was limited Big Hero 6 items at the time, I decided to purchase some Big Hero 6 merchandise online at Walmart that same day. I decided to buy Zane his favorite character, Baymax, in a pillow form. I knew Zane would love the Baymax pillow and it would tie right into my fun entertaining morning.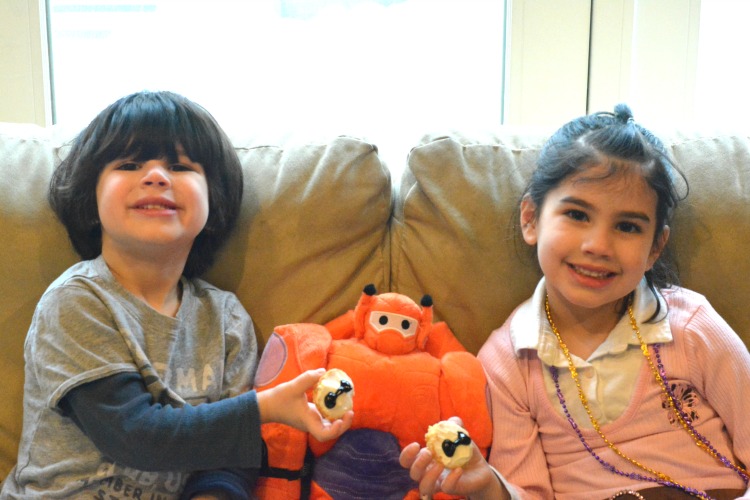 Then I decided, it would be fun to do a little bit more than a typical Big Hero 6 screening. In my household, Big Hero 6 is always on so I thought I would step things up by having a Baymax breakfast and allow the kids to eat Baymax pancakes while watching Big Hero 6. A slumber party breakfast sounded like a great idea to me and I knew the kids would love to partake. Plus, Zane's new Baymax pillow could be used during the breakfast slumber party.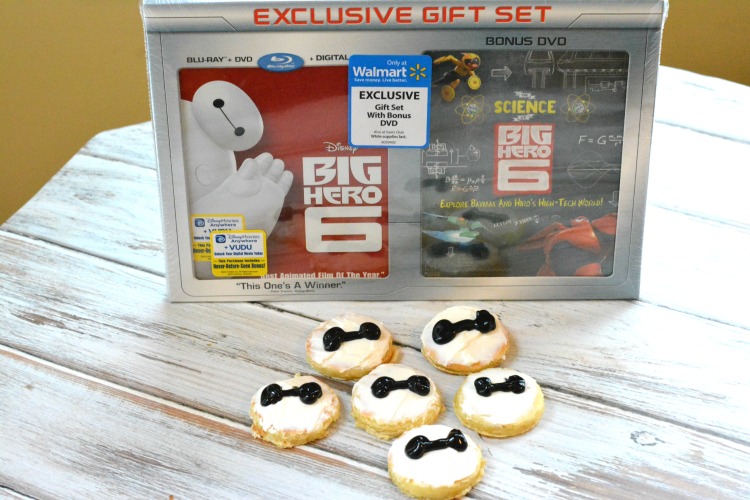 First step was to make the Baymax pancakes. These pancakes were quite easy to do and delicious! For any Big Hero 6 fan, you need to make these pancakes!
Baymax pancakes: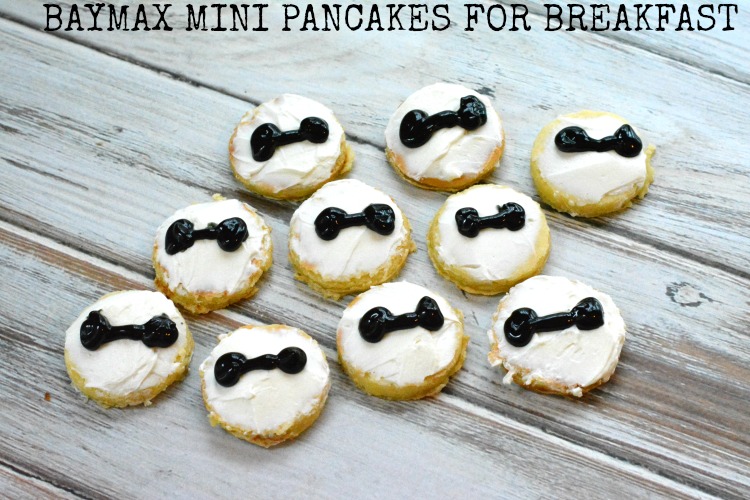 Ingredients: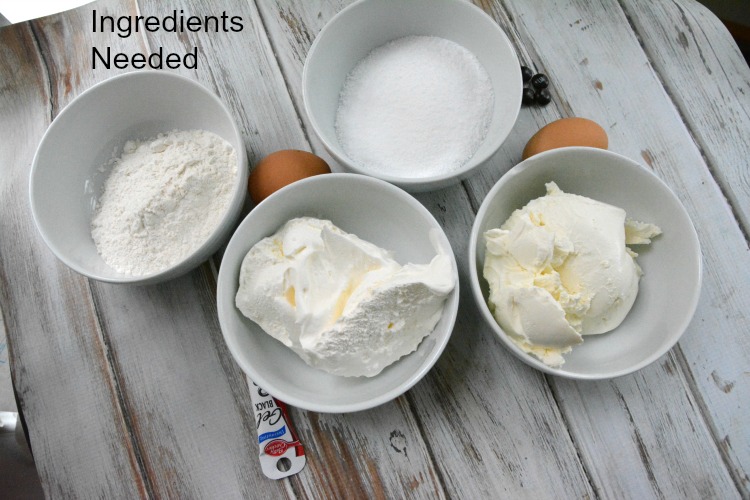 -1 container (6 oz) cream cheese
– 3/4 cup sugar
– 2  (1/4) cup flour
-3 TBLS baking powder
-2 eggs
-2/3 cup butter softened
-2 cups milk
-black frosting
Directions:
1. Mix sugar, flour, and baking powder in small bowl.
2. Combine eggs, butter,  and milk in another small bowl.
3. Fold in #2 into #1 mixture.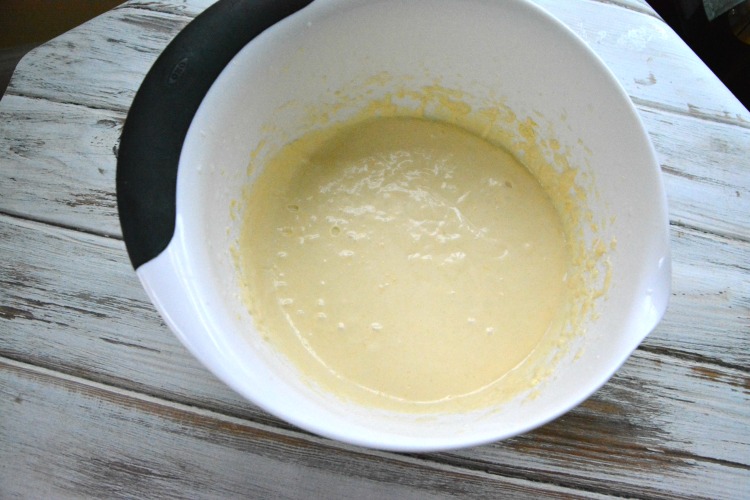 4. Using a hot griddle (on high heat), take one tablespoon of #3 and make a pancake. Repeat for 9 pancakes.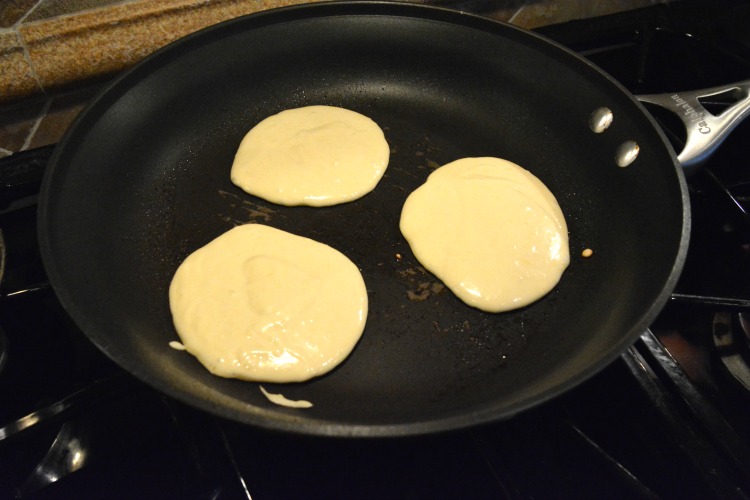 5. Using circle shape (I used a cup), cut from the big pancake into a mini pancake.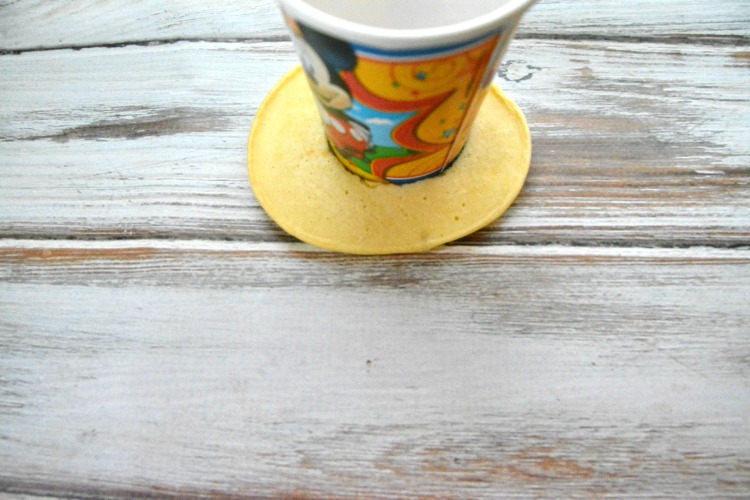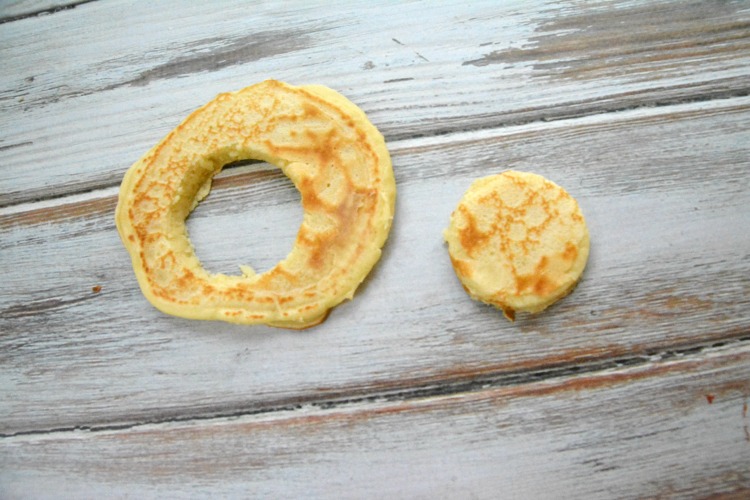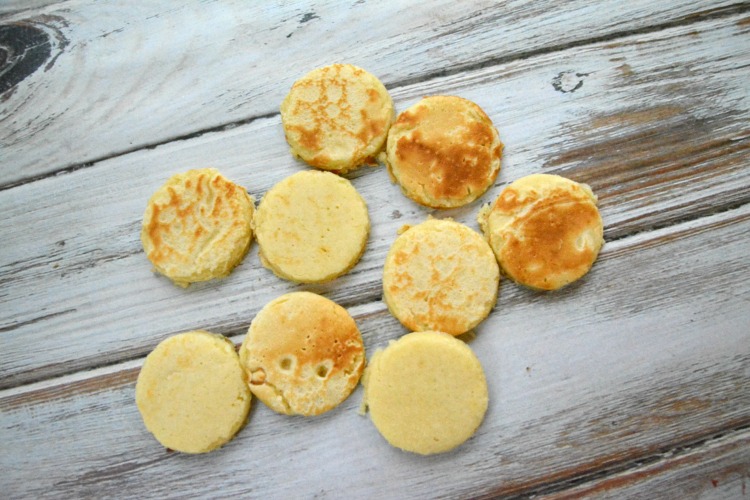 6. Using cream cheese, cover the mini pancakes face. Smooth with spatula.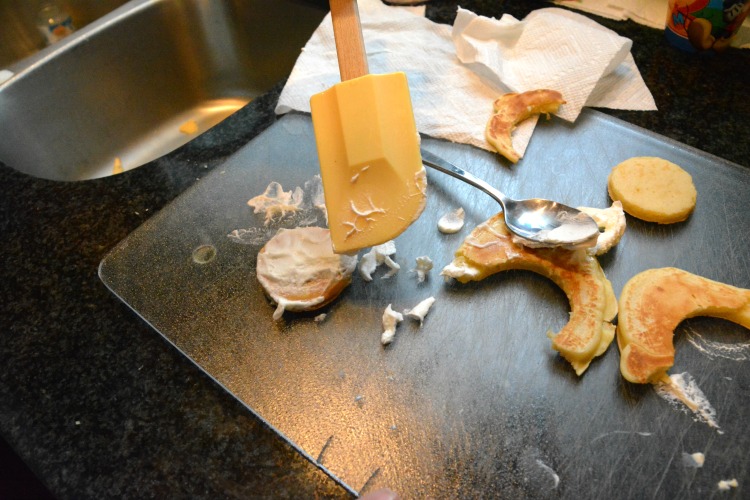 7. Make a Baymax face with black frosting and Enjoy!
Once these were done, Hayley and Zane sat on the couch, ate them, and watched Big Hero 6. We had such a fun Big Hero 6 breakfast slumber party at home. The kids are now requesting we do the Baymax breakfast at least once a week. Easy enough kids..Easy enough!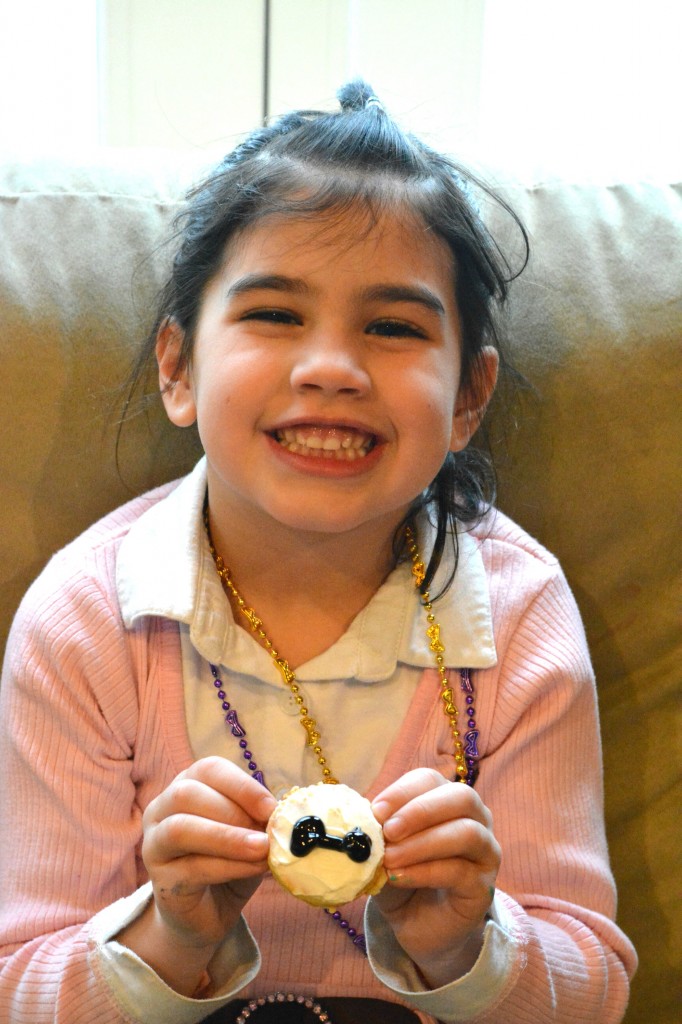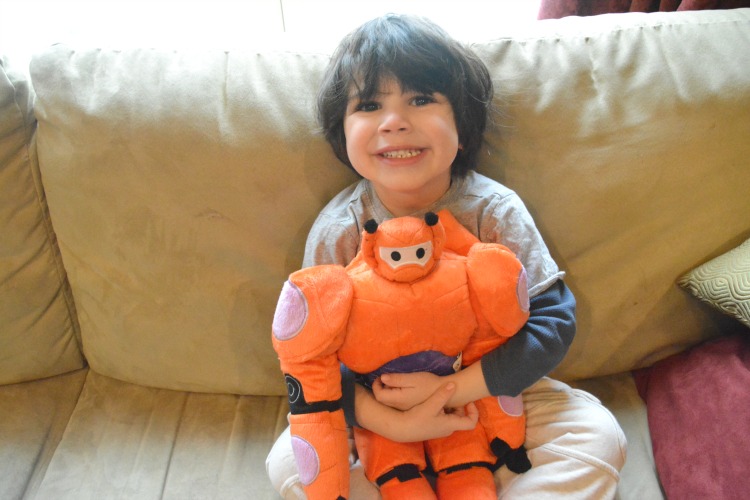 Be sure to pick up all the great Big Hero 6 merchandise, along with the 2 DISC Disc BD+DVD=DC+WM GWP 2 pk at Walmart today! Have your own Baymax breakfast!
Have you seen Big Hero 6? What is your child's favorite character?