*I received an all expense paid trip thanks to Disney and ABC studios. All my opinions are my own and not swayed by outside sources.*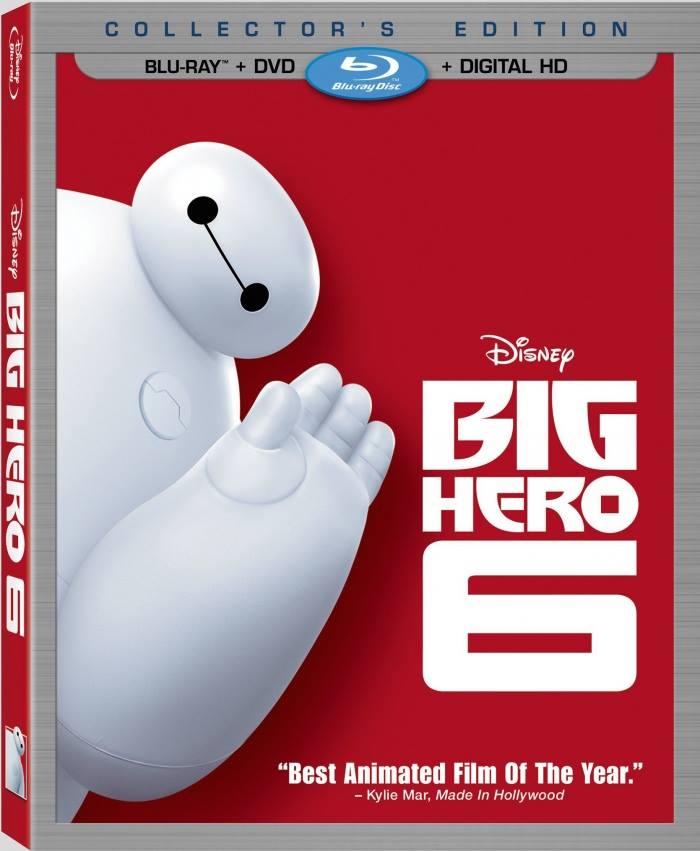 If you have not seen Big Hero 6, do not worry as this Golden Globe and Oscar nominated movie is coming to DVD on February 24th! This is a fantastic family movie that all  kids and parents will enjoy seeing together. While my son still calls the movie, "Baymax", he has watched it at least twice in the theaters as well as a few times already at home. My kids are obsessed with Big Hero 6, as is their mommy and daddy!
When I was in LA a few weeks back for the Big Hero 6 in-home release press day, I had the chance to meet the directors Don Hall and Chris Williams. They were the ingenious directors who made Big Hero 6, the blockbuster that it is and will continue to be for quite some time. Meeting Don Hall and Chris Williams was not only exciting, but equally as inspiring. While we all just see the movie in the final product when it comes out in the theatre or on DVD, there is so much more to what makes a movie successful, and a huge part of that is obviously the directors.
Don Hall and Chris Williams graciously spoke to us for about 25 minutes and answered any questions we had in regards to the making of Big Hero 6. The first question we all had for them was how did they decide on this project. Don Hall explained to us that he was finishing up Winnie the Pooh and on his quest for the next big thing. He loves Disney animation, as well as the Marvel Comics, and he wanted to fuse together these two loves to come up with a true masterpiece of a family film.  He loved that Big Hero 6 revolved around a Japanese Super Hero team and after reading the comics, knew he needed to make this vision of Big Hero 6 into a reality.
"It was light hearted, the Characters are fun. They had goofy names. You could tell the Creators just loved Japanese Pop Culture, and  that's what they were trying to infuse into the Super Hero story."-(About the visions he had after reading the comics) –Don Hall
While he fell in love with the idea of the Japanese Pop Culture, what was really important to him was how emotional the story of Big Hero 6 truly is. The idea of having a 14 year old boy who loses his brother and bringing in a robot who takes over as a brother role, really resonated with the emotions Don Hall wanted to portray. Chris Williams wholeheartingly agreed and mentioned that this was just one of the many emotions that was developed to make the film true and one that would bring out a lot of various emotions in the audience.
"I feel like the last 3 and a half years has been about realizing that potential that Don laid out in that pitch. And I remember it so, I remember where it was in the wall, I just remember really responding to it. So I was then thrilled when a year or so later, Don asked me to join him." -Chris Williams
We then asked the directors if they predicted that Big Hero 6 would be as successful as it is now.  While they did not know for sure, they really loved the concept and hoped audiences would love it.  Once they saw the raw emotions being played out onscreen,  how well the audiences reacted to the main characters, and the love relationships between Hiro and Baymax, they knew then they had a winner.
"Baymax,  as a Character,  that is something you can't predict. To see a character blow up that big. I didn't mean to do that. That a character will get that and just resonate like that with people and worldwide. It's just resounding. It's pretty cool!  Baymax will outlive all of us and to have contributed a character like that to the Disney Legacy is pretty cool." -Don Hall
Chris Williams then went on to say how he loved Disney animation his entire life and loved the fact that he could bring Baymax into the Disney legacy.  He is really proud of the dynamic between Hiro and Baymax, and loves that this will be a love relationship that will forever be set into the Disney legacy. They are both really proud of this movie, which they definitely should be! This movie is truly awesome!
One of the fellow bloggers asked about the Clinical Psychologist was brought in to mold Hiro's Character. Disney brings in clinical psychologists on the movie sets because obviously death is involved and with young children watching they want to make sure the scenes are done correctly. They both were well versed in reading up on grief and loss, but having the clinical psychologist made them realize they were on the right track with the scene that involved Hiro dying in the movie.
"It is amazing in our story room how generous and open people are and how vulnerable they allow themselves to be. The story room for us is a really sacred space. We come in there, we close the door, and then people are very open and respectful.  People will talk about  some of the most difficult moments of their lives and since we were telling a story about the character who's dealing with loss,  we wanted to be true to that experience.  We want to talk about our own experiences and that's certainly helped us a lot with this film." -Chris Williams
Both producers then talked about how Stan Lee was brought on the set to film. This legend was brought onto the film as Fred's Father, however, this was kept secret from mostly everyone from the crew. The film was finished being animated but they knew they needed to add in Stan Lee once they saw Guardians of the Galaxy.
"We went to see "Guardians of the Galaxy" when our film was almost fully animated. We stayed for the entire Guardians of the Galaxy and everybody stayed through the credits for the Howard the Duck scene. And we weren't doing that. We didn't have one. And so we both came in on Monday morning a little little panicked  and we thought it would be great to do something funnyg with Fred and his Dad.  That felt like  the kind of areas that we hadn't explored yet. So Chris went away and storyboarded and wrote that little tag, and came up with the idea of having Stan Lee in the film."  -Don Hall
Stan Lee was 91 when he played the part of Fred's dad and they both said it was the role he was born to play!
They are both thrilled that Big Hero 6 is up for an Oscar Nomination. They both mentioned how it is an incredible feeling to see them in the contention of the other nominators and it is a dream came true for them. They both agreed that this was the most challenging movie to work on with the various elements incorporated. They also mentioned to us that is very ambitious to bring this movie to tuition with the the various characters and sheer magnitude of the story. They are proud of their team and how Big Hero 6 turned out. They are very proud of this movie and we can all agree, that we are proud of them too for delivering such an amazing movie.
It was interesting to hear of them talk about setting Big Hero 6 in San Francisco but with Japanese aesthetics. They took the the Japanese aesthetics from the Marvel Comics but then mashed it up with a city like San Francisco for us to all enjoy. Part of Disney's History is to create a great story but in a setting in which the audiences have never been. They did this perfectly with SanFran Tokyo.
We ended the interview asking about CG animation techniques in the films and how this is different from their past works.
"We still spend more of our careers doing 2-D than 3-D Films, the two of us. Obviously we love the Art Form but there's something about this Movie that really lent itself to to CG and one of the reasons is Baymax himself being a vinyl opaque translucent Character." -Chris William
It was an amazing experience being able to interview these two fantastic directors. I will be back over the next couple of weeks to talk more about Big Hero 6, but do not forget to mark your calendars for 2/24, when Big Hero 6 will be released on DVD!
Be sure to follow Big Hero 6 on Facebook, Twitter, and Tumblr to learn more!