**I received an all expense paid trip thanks to Disney and ABC studios. All my opinions are my own and not swayed by outside sources.**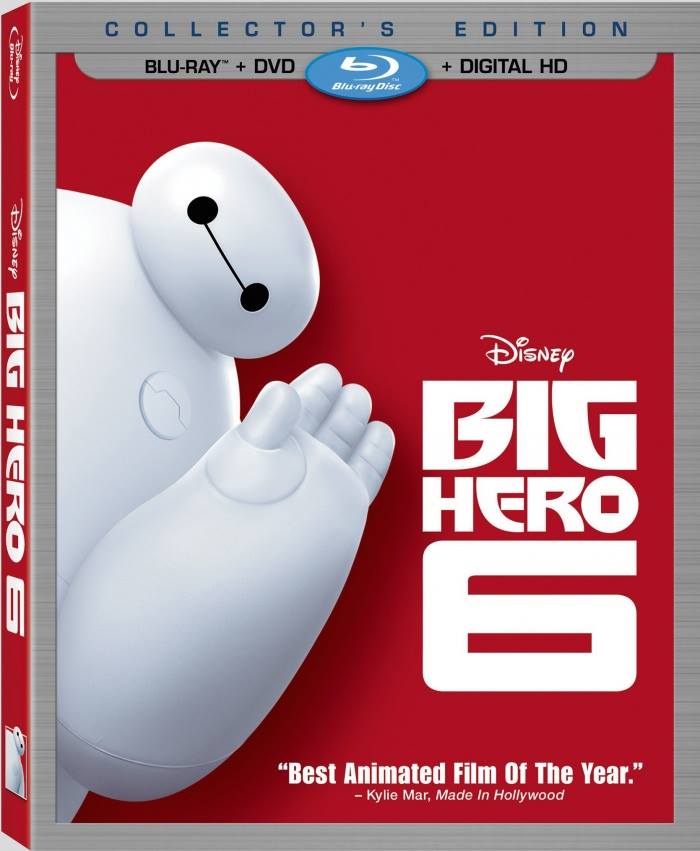 I had the privilege to interview some exceptional actors while in LA. I loved each and every one of them especially the chance to interview Scott Adsit, the real life Baymax! When Scott Adsit came out to talk to us, I may have been in awe that we are speaking to the actor that voiced one of the most successful 2014 Disney characters, Baymax. Baymax is now a household name everywhere and it was an honor to be able to ask Scott Adsit about his experiencing playing the one and only Baymax.
He started out the interview by telling us that while Baymax is a lot of programming, he does incorporate Baymax's emotional life into the character. He drew some inspirations from the audience to take Baymax to the emotional state he needed to be in.
Of course, I was very interested in the next question about how he found Baymax's voice. Baymax has such an distinctive voice that could be picked out of a huge crowd. If you have seen Big Hero 6 and heard Baymax talk, you know what I mean!
"I didn't know if it would be like a robotic voice and they brought me in for the audition and the script was the first indication that it wouldn't be  a typical robotic voice. And then when I saw the picture, because they already had the character design, I just saw him being soft and huggable, so I found a very benign bedside manner voice. I mixed that with a state of the art of robotic interaction vocally, which is pretty much an automated phone system. So he will talk with the flow, but then there are elements within a sentence that are variables. And so they'll sound a little separate from the rest of it." -Scott Adsit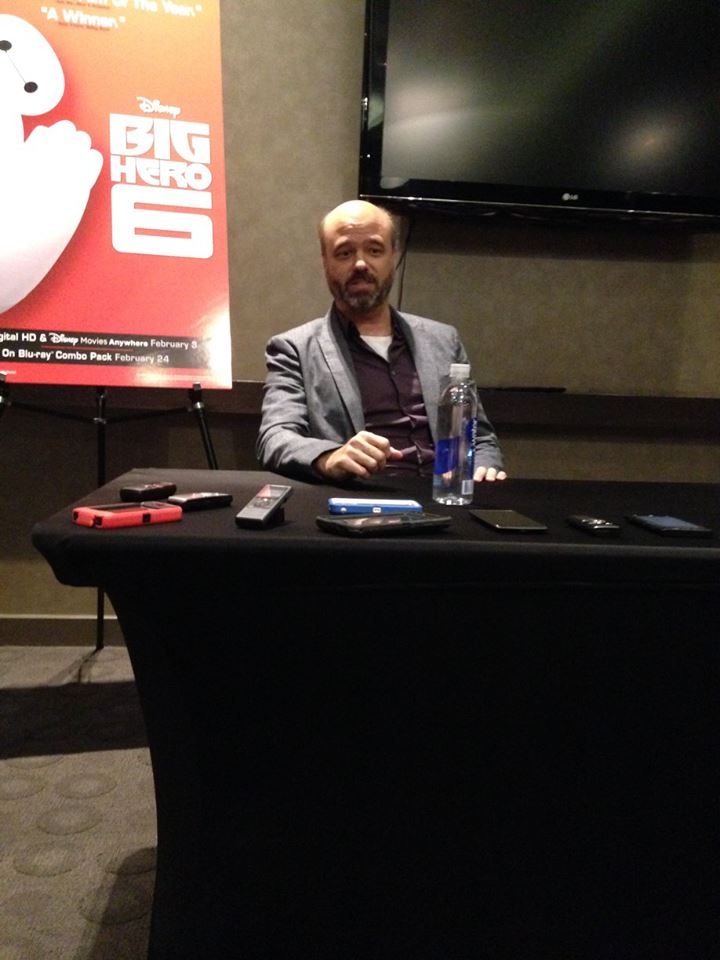 When creating the voice of Baymax, he looked at family members, rather than actual robotic sounds. Rather than research robotics, he looked at family members that were huggable and soft. He used their inspiration to voice Baymax.
We then asked him how his character changed throughout the film. He told us that he found the voice of Baymax very early on but then the story was changed a bit. When Baymax loses his power in the middle of the film, Scott Adsit needed to change Baymax's voice a bit to showcase this process. He told us it was somewhat like playing a "drunk" robotic voice. When I watched Big Hero 6 after this interview, this is exactly what I heard! He was spot on with all the variable of his voice.
To get the full Baymax voice, they went through the sound department and numerous filters. Then they told Scott Adsit to dial it back during takes.
"And they kept dialing it back until eventually, it was just my voice- no filter! They said there's nothing on this now. They liked what I was doing naturally. They ended up doing a combination. They have all that filter on me at the beginning when you meet Baymax, and then during the course of the film, they dial it back, so that by the end,  in the last scene in, there is no filter on my voice at. It's just me."- Scott Adsit
He then gave us a bit of Baymax right in the interview which was so neat! He told us that at times it was hard to get out of character. When he went home, he would still voice Baymax, although their voices are not that much different. He stayed in character even at home, out of habit. He had to tell himself at times to stop talking like Baymax because he jokingly said it would annoy people like casting directors. Scott…You can do Baymax anytime and all the time if you like!
We then asked if a lot of improv is used when he voiced Baymax. He told us while most of it is scripted, he did had the chance to improvise in certain scenes. One scene that the audience will see some improv in, is when Baymax loses power. In creating Baymax, they made sure the sound was right and if things needed to change, they allowed Scott Adsit to do this. He told us a lot that it is the best job in the world. I can see that for sure!
The next question we asked him was if the silent hero changed him at all?
"I see the value in just entertaining without needing to feed my own ego. There's a certain satisfaction in being a stage actor where you get an immediate response. You can walk off and say, that was great. And people think I'm great, you know. That's part of the reward of that. It is bigger than me, and I know I'm a small part of what makes Baymax, Baymax and so lovable  because Baymax is this diamond with every facet being a different person. I'm just lucky enough to be the face of the character, but when we talk about Baymax, it's not me, you know. It's everyone who worked on it, who decided how he walks and how he blinks." -Scott Adsit
He said voicing Baymax was very emotional at times. He said the most emotions for him was seeing Hero and his experiences. At times he wanted to tear up, and in fact he did, but he needed to keep his emotions in check when filming the scenes. That was hard for him.  He also said that the whole cast of Big Hero 6 was one big family! It is amazing to see the true friendships between these fantastic actors.
You can hear Scott Adsit as Baymax in Big Hero 6 now available on Blu-ray, Digital HD and Disney Movies Anywhere!