*I received an all expense paid trip thanks to Disney and ABC studios. All my opinions are my own and not swayed by outside sources.*

Exciting news everyone!!! Bad Hair Day premieres today, February 13, 2015 at 8 PM EST on the Disney Channel. While you all read my interview with the amazing star, Leigh-Allyn Baker, now is the time I can tell you all about this Disney Channel movie that you do not want to miss tonight! Trust me, this is a great family movie that moms, dads, brothers, and sisters will all rejoice in watching together.
The story of Bad Hair Day is a Disney Channel original movie starring  Laura Marano, Leigh-Allyn Baker and Christian Campbell. Monica (Laura Marano), plays a high school student who is popular in every way and is also smart. She is determined to become prom queen and nothing is going to stop her to fulfill this goal. She is all ready with the most perfect dress, accessories and all, to become prom queen. Trouble starts though the morning she wakes up and everything goes so horribly wrong. Her prom dress ends up becoming melted and non-wearable, her shoes are ruined, and the worst possible situation occurs when she wakes up with TERRIBLE HAIR. Yes, totally think of hair that is hair sprayed, teased and then slept in. When she wakes up in the morning, it looks like this:
Horrible as her hair is, the story just keeps getting worse for poor Monica. Liz (Leigh-Allyn Baker) enters the picture and plays the role of the cop in the movie. She arrives on Monica's steps to seek out the necklace that is in Laura's possession. Liz knows that she bought it innocently at the pawn shop, but also knows that Monica just thinks it's costume jewelry and has no idea it's value. Things go from bad to worse as Pierce (Christian Campbell) enters the picture, who plays the role of the real thief who is trying to get in possession of the necklace.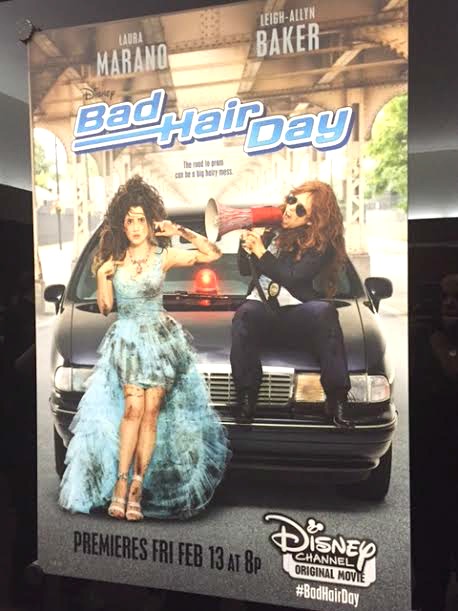 Laura and Liz begin the ride of their life and ultimately end up being friends. They team together to fight off Pierce and end up winning. While the friendship in and of itself is remarkable to see, what occurs at the end is what as a viewer and mom to an impressionable girl, made the movie for me. At the end of the movie, they outwit Pierce and Liz ends up becoming Prom Queen, even through all the struggles of the day. She ends up wearing a beautiful dress and has the best hair! She shines and at the end, we find out she has an important decision to make to attend MIT or stay home at a local college with her friends. She chooses MIT over her friendship, which showcases education over your high school friends is definitely important long term. She realizes that her friends will always be there for her at the end, so it is important to fulfill her dreams of education now. I absolutely loved seeing that at the end.
Bad Hair Day is a feel good movie for the entire family. It showcases how important it is to actually believe in yourself and know who you are. It is important to take time to actually believe in your identity and by doing this, you will go far in your life. This is seen over and over again with the character of Monica and the choices she makes during prom day and then after.
This movie is a fun, action filled comedy for the family. Even the boys will love the wild car chase ride that is seen midway through the movie. This is such a heart warming, feel-good, moving, and funny movie that will be enjoyed by all! You do not want to miss it when it premieres tonight, February 13th, at 8 PM on the Disney Channel. I hope you all enjoy it as much as I did!