**This shop has been compensated by Collective Bias, Inc. and its advertiser. All opinions are mine alone. #BioSport #CollectiveBias**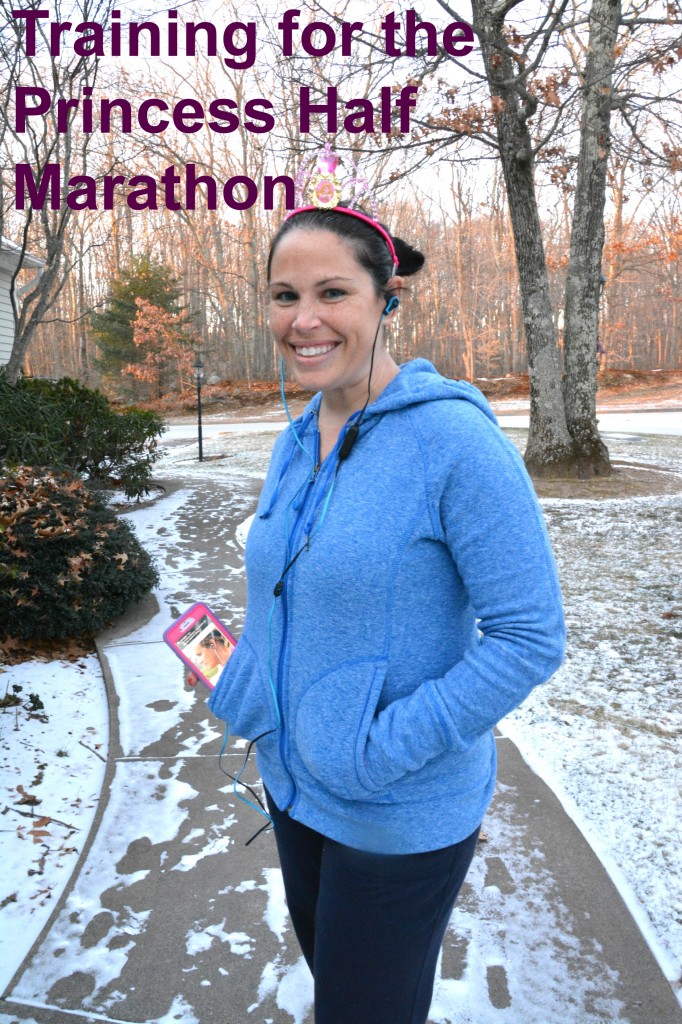 It is that time again when New Years Resolutions are made. Every year, I make resolutions and fail to keep them. I am sure this all sounds familiar to you. This year is different though because my New Years Resolution started the month after I had Taylor (who is now 6 months) and it was to get physically fit again. I am not saying to run a bit or get my arms a little more toned, but to truly get to the point I was back in my good ole' college days. When I graduated from college, I was a die-hard fitness fantastic and even taught spin a couple days a week. I have a drive and a love for fitness. So now, I am going to test my inner strength by running my very first half marathon this coming February. Yikes…It is actually in 46 days. No worries though because I have all my essentials ready to go including my sports tracking watch, Sweat and Water Resistant Intel SMS Audio BioSport Earbuds, and a dedicated training plan.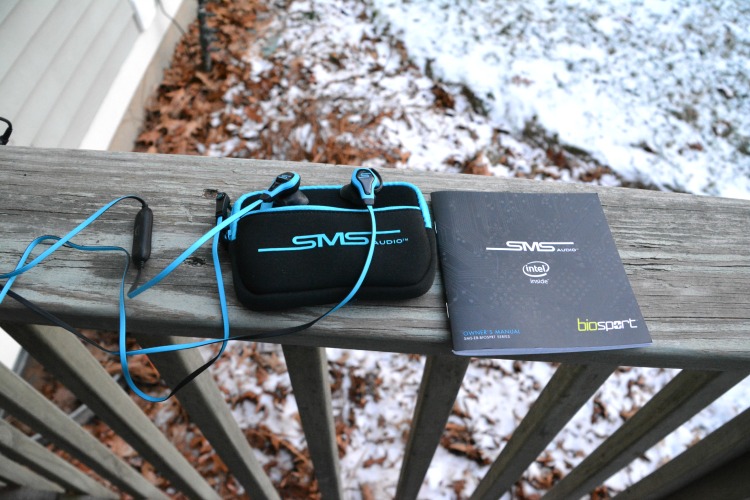 So, if you asked me a few months ago the one activity I have always hated doing, my answer would easily be running. I should actually use the word despise because running was the very last activity I would ever have chosen to partake in. Now, you might be asking, "Why in the world Melissa would you ever sign up for a half marathon?" And my answer to you would be that I need to combat my fear and disdain of running by actually doing it. Twisted thinking I know but I need to abolish my dreaded thoughts about running and actually do it. Besides, running in a half marathon has always been a bucket list event for me. I never in a million years would have thought to myself that I actually would partake in getting something checked off my bucket list, but I am doing it!
Training for me has not been an easy go. If you are a new runner, like me, I will tell you it is HARD. Like really HARD! I ran my first 5K a few weeks after having Taylor and I felt like I was going to seriously die. Then I ran a 10K and I practically got to the finish line when I hurled all over. Don't get grossed out-If you are a runner, you can totally understand! But the drive in me, made me keep on going and training. I have worked very hard with my training and I am happy to report that I am going to conquer and run this half in a few short weeks. Well, I am going to run as much as I can, since I have had some IT band injuries along the way. I think the biggest thing to come out of my running is that I can honestly say that I LOVE RUNNING NOW. I am totally addicted and I think I am a runner for life now.
Now that running has been ruling my life for a few months, I can tell you my secret to achieving a great workout! To get you on the right path, you NEED MUSIC and good music at that. I like listening to Katy Perry, Lady Gaga, and the Beatles when I run (I know I have such different  music tastes). Once you have your playlist set up, you need a good pair of earbuds so you can actually hear your music. I can't even tell you how many times I have bought the cheap earbuds on the plane and end up running with them. I am constantly putting them back in my ear and it ruins my whole training day. This is long a thing in the past now with the new and totally awesome Intel SMS Audio BioSport Earbuds.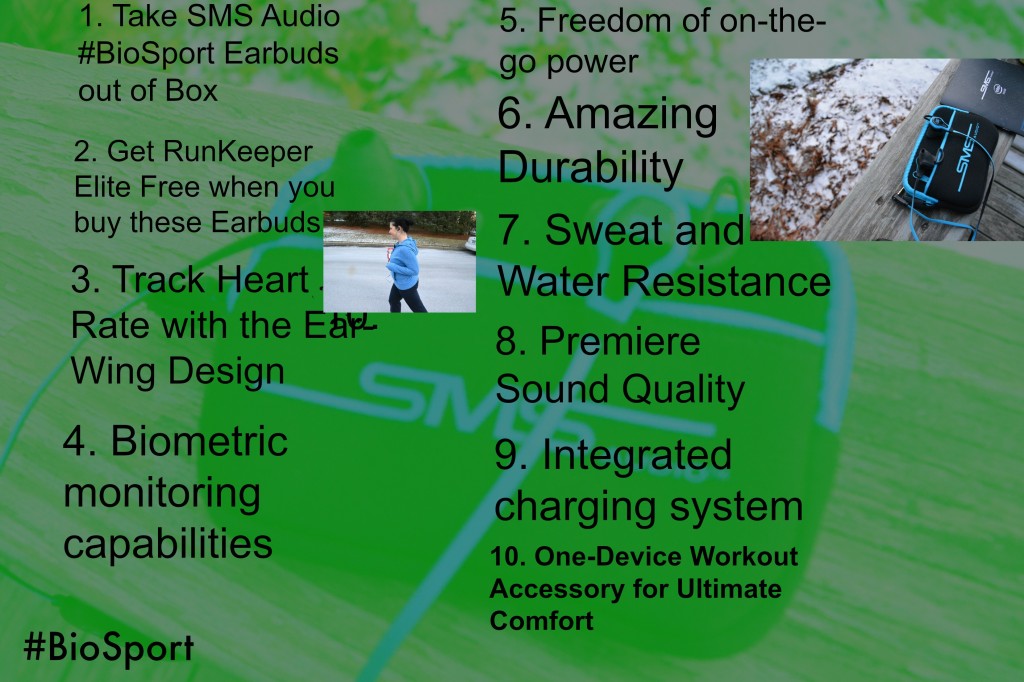 Runners love to share our favorite running finds, to help each other out,  and mine is definitely these Intel SMS Audio BioSport Earbuds. These are a One-Device Workout Accessory for Ultimate Comfort. When I first received them, I instantly took them out of the box and the very first thing I noticed was how fashionable and sturdy these earbuds were.  They came in a box with the actual BioSport biometric earbuds with built-in microphone, protective carrying case, ear gels, manual, and a RunKeeper Insert. They looked awesome but the real test was actually putting them on and getting some training action in with them on.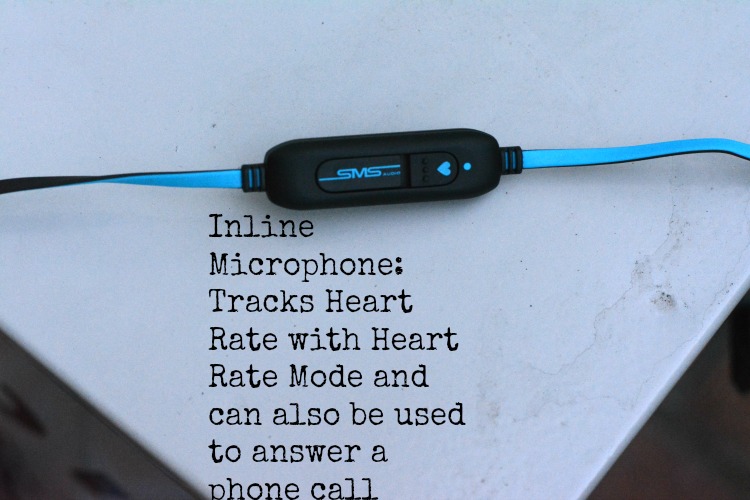 It was quite easy to put them in my ear and they are seriously made to fit just about everyone and anyone! The reason is, is because the Intel SMS Audio BioSport Earbuds come with three different sized ear gels and they are made to fit even the smallest ears. Trust me I have some of the smallest ear holes you can imagine and past earbuds just fell out. With these though, I put them on and they stay put! Once I had them on, I cranked up my music and the sound was incredible. With these earbuds, you can even control what song you want to play by a single, double, triple, or long press on the inline microphone to allow you to play a song, go to the next track, repeat a song, ore even launch voice recognition. So when my Michael Jackson Beat It song ended and I wanted to hear it again, I was able to do that readily with the press of a button on the BioSport Earbuds. Don't judge- This girl loves her Michael!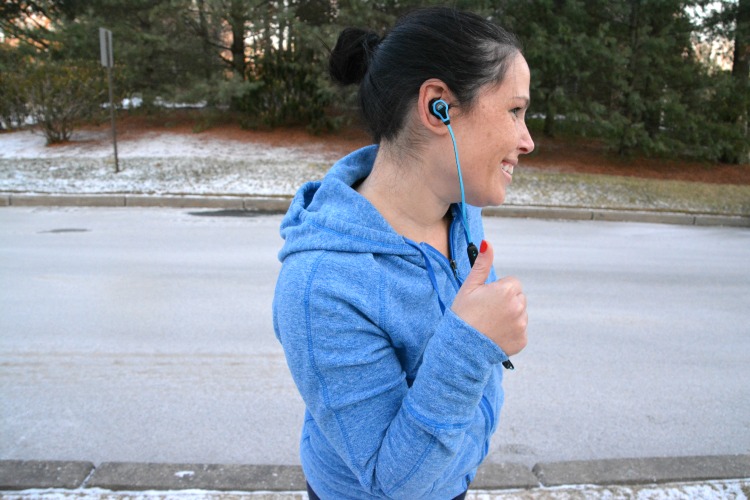 One of my all time favorite features of these earbuds is the fact that they act as a heart rate monitor.  BioSport improves the consistency of data collection with an ear-wing design that sits deeper in the ear canal for continuous, real-time heart rate monitoring.  This ear wing goes right into the canal and you will not be able to feel it at all. It will sit there and measure all your heart rate activity. Fusing fitness with technology, the built-in sensor continuously measures heart rate while dynamically removing noise signals caused by the body's motion during a workout. Seriously, how cool is that?!!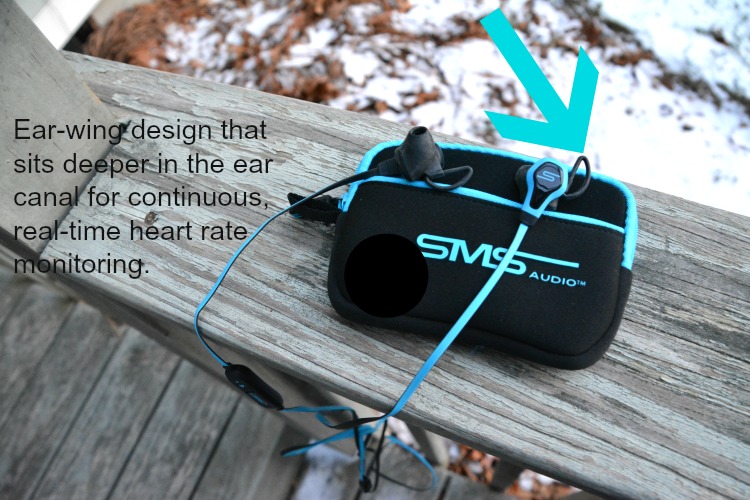 I know you are already impressed but I need to add that they are completely sweat and water resistant. This girl sweats, and sweats a lot, but I do not need to worry with these earbuds. I can run my miles, sweat away on the treadmill or outside, and be perfectly safe. They are also ultra durable to resist chipping or scratching.
Lastly, when you purchase these earbuds, you will get a free month of RunKeeper Elite, which is my go-to-app when I run. If you are training currently, you are at a disservice if you do not check out this app. It has been a real lifesaver for me and now I can hook my SMS Audio BioSport Earbuds with the app and it will keep track of my heart rate. I told you that these earbuds are wicked cool?!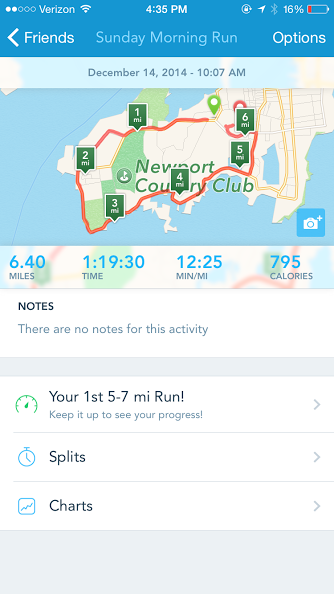 So, if you are running, go ahead and pick up the SMS Audio BioSport Earbuds today. You can find them at Dick's, on Amazon, or on SMS Audio. If you purchase on SMS, you can get  20% off SMS BioSport Headphones using code BioSport20. US only.  Expiration date is 1/31/15 so hurry!
In conclusion, purchasing the SMS BioSport Earbuds would make your fitness goal much more attainable. Once you purchase the SMS Biosport Earbuds, simply follow these steps:
1. Take the BioSport Earbuds out of the box.
2. Set up the free Runkeeper App to get keep track of your heart rate results with the Heart Rate monitor that is included with the Earbuds.
3. Put the Earbuds in your ears and fit with one of the three different gel sizes.
4. Make sure the Heart Rate ear-wing ring fits deeply in ear canal to keep accurate measurements.
5. Put on music and start jamming!
6. Look at your wonderful heart rate monitor tracking after and see ways you can improve with your training.
7. Have fun!
Have you tried running? What is your #1 tip for training for a race?