*I received product for review. All my opinions are my own and not swayed by outside sources.*

Taylor is now officially a big girl- 6 months old. She loves to giggle, smile, roll, and most of all sit up like a big girl. One of her favorite pastimes is to sit with her brother and sister, and watch them play. For this reason, we were so happy to receive the Mamas and Papas Baby Snug for her to sit in.
The Baby Snug is made by the wonderful company Mamas and Papas and is loved by moms all over the world. With this seat, it can be used for various ages and at different stages of their beginning lives. The first stage seat is suitable for babies 3-12 months to sit in. It comes with a removable tray that features fun activities that you can use the seat with or take out, if your child prefers. This is the stage we are currently in and this is one of her favorite seats.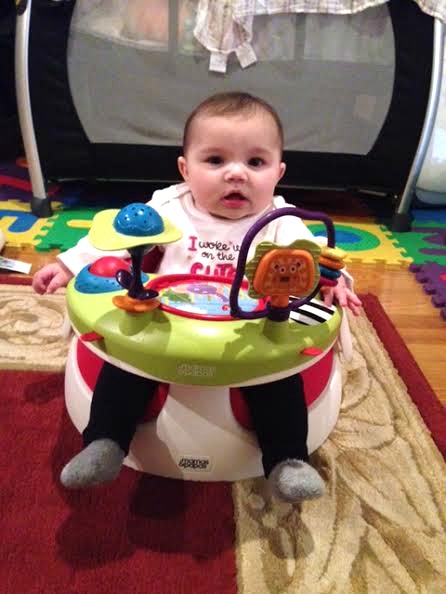 We prefer to use the Baby Snug with tray and she will sit upwards of 30 minutes at a time in it. Sometimes she just chills in her chair and watches her siblings, and other times, we give her some baby food when she is sitting in it. It comes with an infant positioner for added support. What makes this seat unique is there is an extra wide base so it makes it more stable on all seating positions.
Besides the great ergonomics of the seat, it is an easy seat to wipe down. I simply take a towel to wipe off spill and the insert can also be cleaned separately. We take this seat with us wherever we go since it is very lightweight and extremely portable. When we go to friend's houses, this is one of the baby essentials we bring with us. It is a seat that can be inside or outside, but it is recommended for only even surfaces.
Once they outgrow the baby stage, the infant positioner can be removed and it turns into a second stage seat for those 12 months and older. This seat is made to last for babies 3-18 months.
This is definitely a baby must have for any mom out there! You can purchase it on Amazon, Albee Baby, directly on Mamas and Papas, or wherever their products are sold. Give a little extra support for your baby and you!