I've always tried to stay healthy. I watch what I eat. I'm an avid runner. I feel like I've got my healthy living regime down to a well oiled machine. Now I've got another tool to add to my healthy living arsenal. Green juices, especially Evolution Fresh. They're loaded with veggie goodness as well as a ton of vitamins and minerals. All of which help me to stay healthy, happy, and energetic. I'm participating in the Evolution Fresh blogger campaign and received compensation as part of the program, but all opinions expressed are my own.
Green Juices get me Going
I just had baby number three not long ago, and it took me a while to get back into working out. I had the whole recovery period, and then I had to ease back into the physical activity. It's been going great so far, and I thought I had everything I needed for maximum health benefit. That was before I tried Evolution Fresh green juices. They are great! I've never had as much energy as I have now. That's important to me, because between three kids, a day job, a blog, and working out, my energy level needs to stay high. To keep that energy level high, I need all the nutrition and healthy physical activity I can get.
That's where Evolution Fresh green juices come in. I got on board with their #3DaystoGreen Movement, and I'm so glad I did. They help keep my energy levels high, which leads to a better workout. That leads to increased energy. So it's pretty much a round robin of goodness. My running has improved and so has my overall health. I just feel better than I did before, and I didn't feel bad then!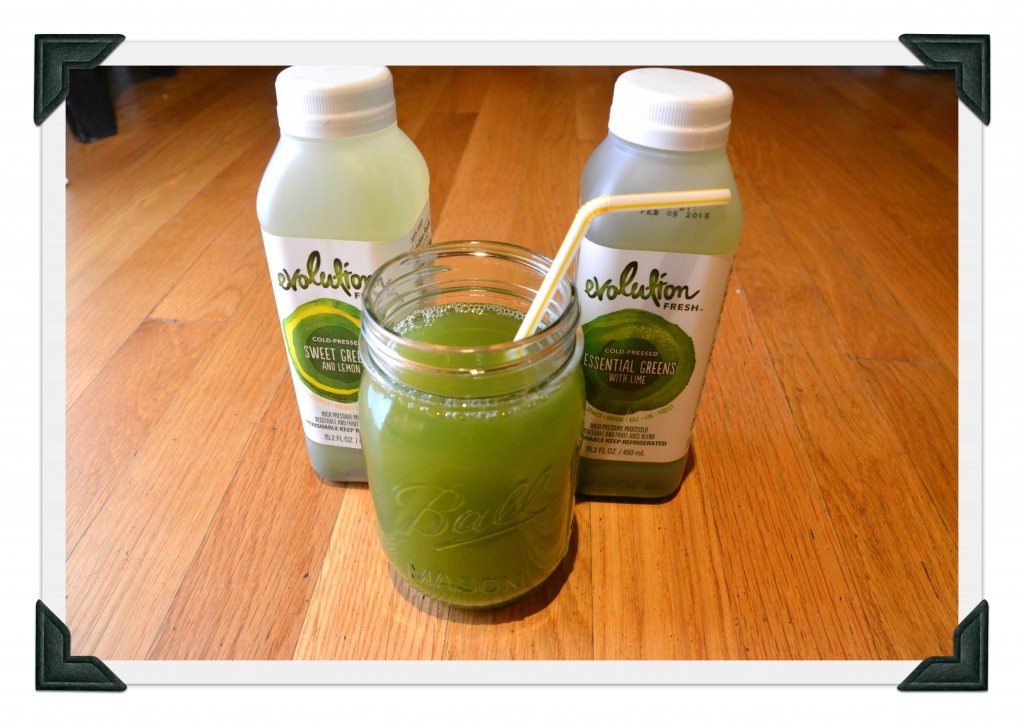 Evolution Fresh Green Juices are Here
I'm part of the #3DaystoGreen Movement, and you should be, too. These green juices make me feel great, and they're so good for my body. Every green juice from Evolution Fresh  has 10g of sugar or less per serving, and there are no added preservatives, sweeteners, or flavors. They also come in a great variety of flavors including Sweet Greens and Lemon, Essential Greens with Lime, Organic Sweet Greens and Ginger, and Smooth Greens. My personal favorite is their Essential Greens with Lime flavor.
Evolution Fresh green juices are available at a Whole Foods market near you, and I encourage you to check them out. I guarantee that all that veggie goodness will have you feeling healthier and more energetic in no time. So grab a bottle of Evolution Fresh and become part of the #3DaystoGreen Movement. And between January 2nd and February 28th, you can enter to win one of 25 great prize packages from Evolution Fresh. Boost your chances of winning by entering up to three Evolution Fresh UPC codes! Remember, all it takes is three days to feel great.