*This shop has been compensated by Collective Bias, Inc. and its advertiser. All opinions are mine alone. #OwnTheGalaxy #CollectiveBias*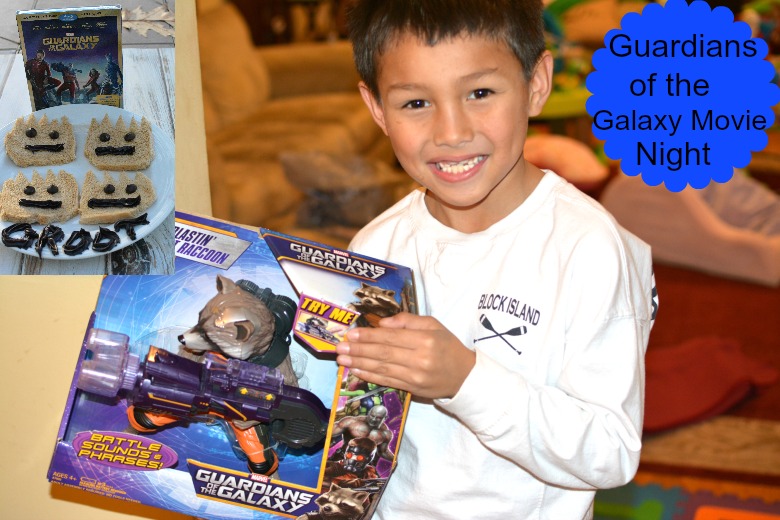 Up until I met my husband, I will fully admit that all I watched was "chick" flicks. However, the day we met, he told me that he was a huge superheroes movie fan and to fully gear up because a lot of our movie nights will revolve around action and superheroes. I went into this movie genre with an open mind and will now admit that I absolutely love these type of movies. Even my kids, much prefer to watch these movies, rather than the typical "kids" movies. That is why we were so excited when they saw Guardians of the Galaxy in the theaters. It got rave reviews from all my family members. Since I was wicked pregnant, I did not get a chance to see it until just this past week. Ironic enough, they played Guardians of the Galaxy on the plane going to Florida and I sat and watched all of it while baby Taylor slept peacefully  in my arms. My kids and husband were dying to see it again but with only one headset on the plane, mom won out on that one. However, now they can watch all the Guardians of the Galaxy  they want because this momma purchased the awesome movie when it came out on DVD this past week at Walmart.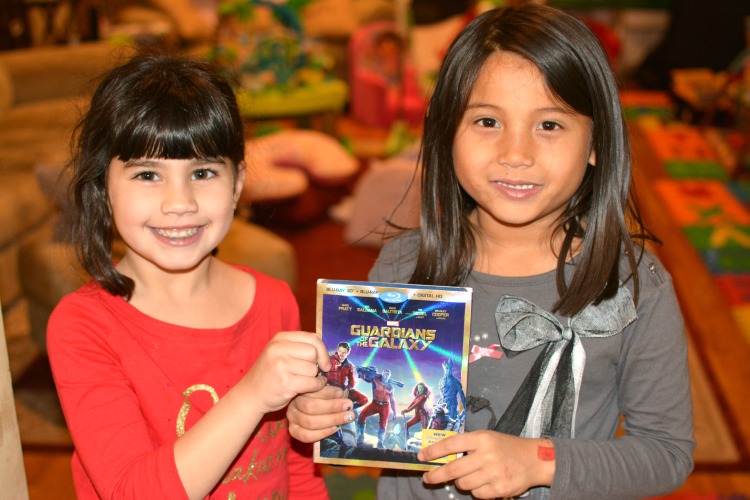 I immediately  went to Walmart and purchased the Guardians of the Galaxy DVD in the movie section at Walmart.  When you purchase the DVD you will get an exclusive Character O-sleeve and exclusive music zinepack. You will also receive a 64 page magazine with cast and crew interviews, exclusive behind-the-scenes photos and trivia PLUS a custom "cassette" laptop decal. Once I got the DVD in my cart,  I had to run to the toy section because an idea hit me when I was buying the Guardians of the Galaxy toys. I wanted to throw a Guardians of the Galaxy home screening party for my kids and our best friends.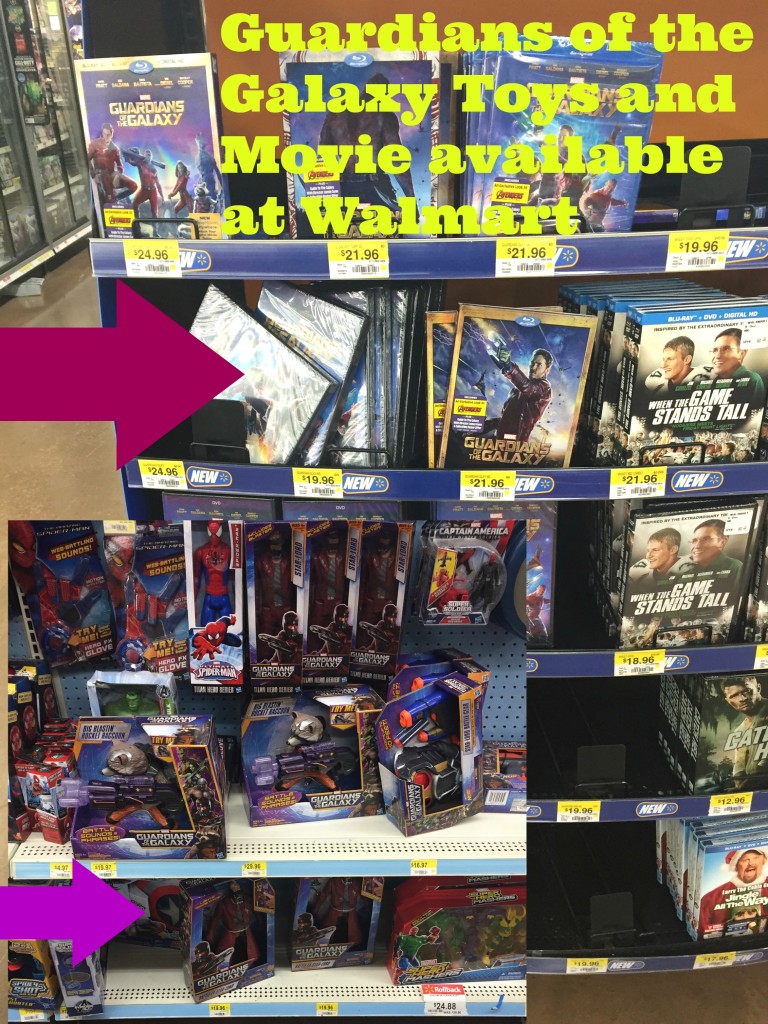 I wanted to throw this party because my best friend, Steph, is the most amazing person who ever walked the face of this earth. She has been there for me throughout the years and I wanted to give back by letting her kids come over to party, watch the DVD, and then gift them with Guardians of the Galaxy toys. I knew they would go gaga over this because her kids (6 and 8 years old) love the movie, as much as my kids. I knew it would be a fun party for all of us.
How to Throw a Guardians of the Galaxy DVD Holiday Screening Party: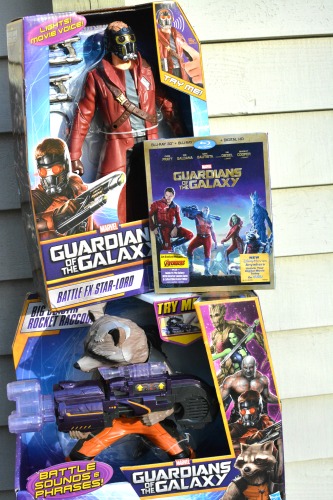 1. Buy Galaxy of the Galaxy toys at Walmart to get in the gift giving mood. I found out that Walmart had so many wonderful toys such as Groot, Drax, Rocket Racoon, and Star Lord figurines. They also had full sized options, as well as Lego superheroes and GOTG soundtrack zinepacks. I knew once my friend Steph came over with her kids, I can gift them with all the fun toys that I bought. Who wouldn't love these toys that support one of the most funniest and action movies of 2014?!  The kids were so excited to receive their toys!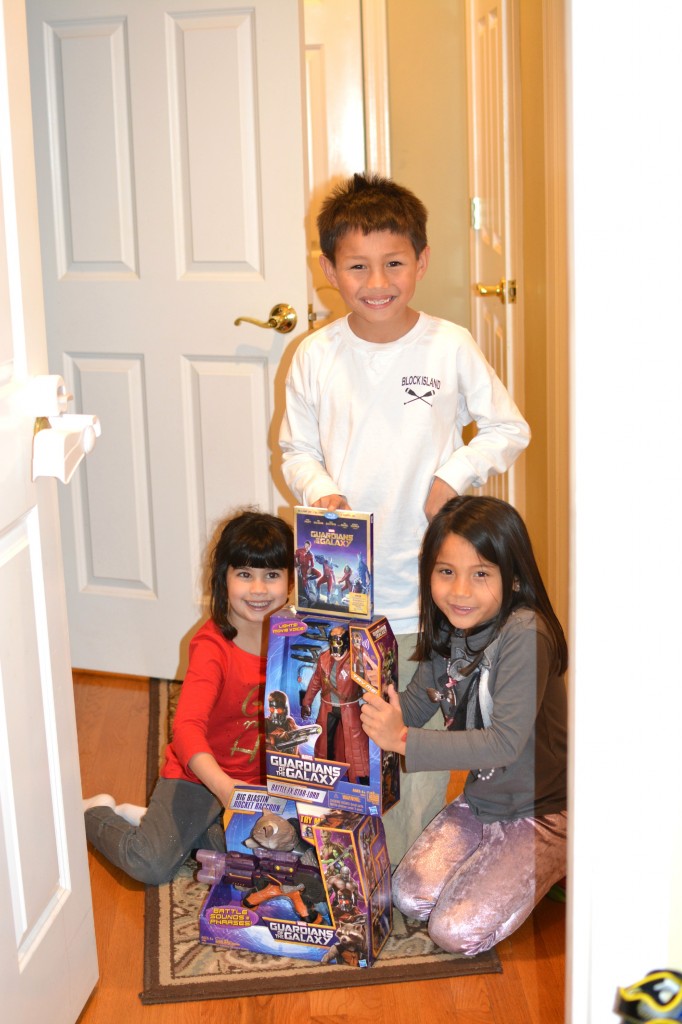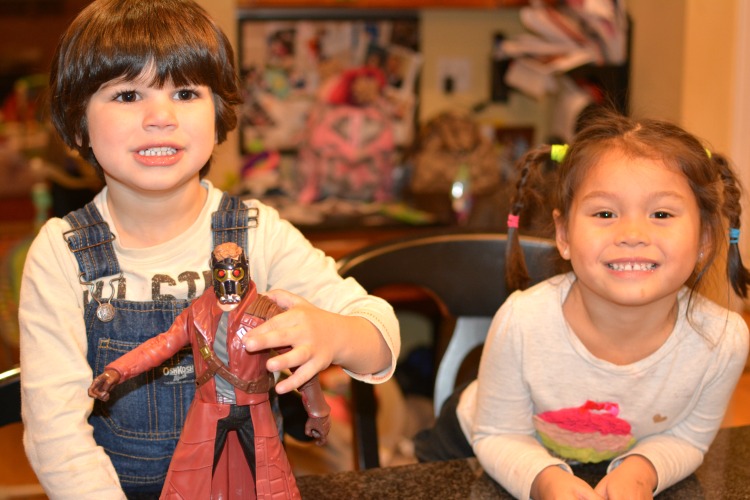 2. Make Groot Sandwiches for a great side dish for your holiday party.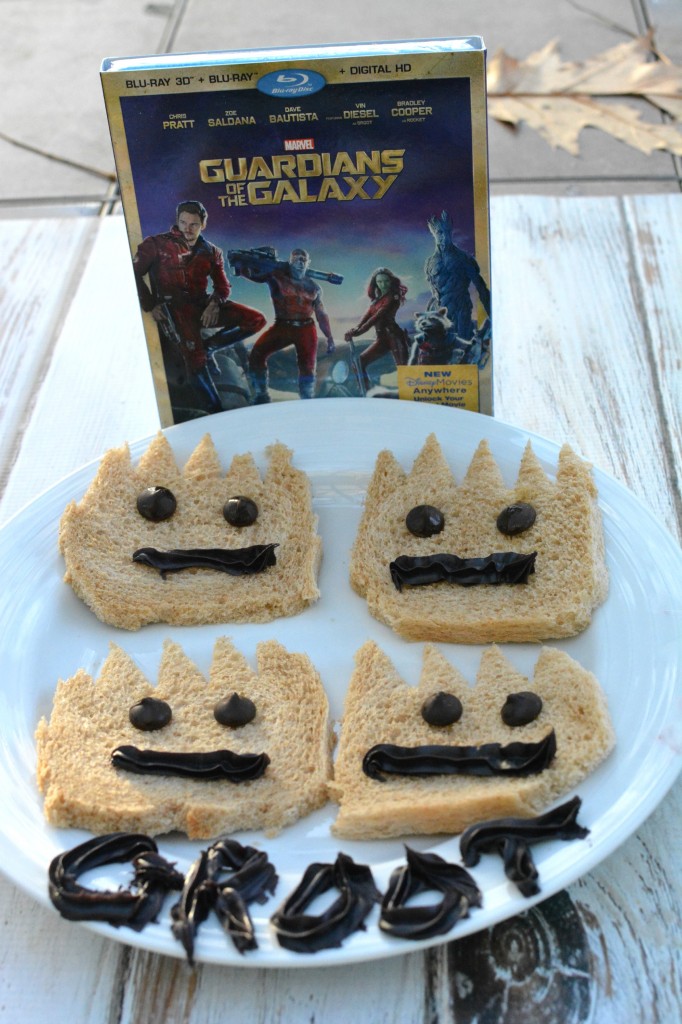 Groot Sandwiches Ingredients:
8 pieces of wheat bread,  1/2 cup dark chocolate morsels, 1 TBLS olive oil, and black frosting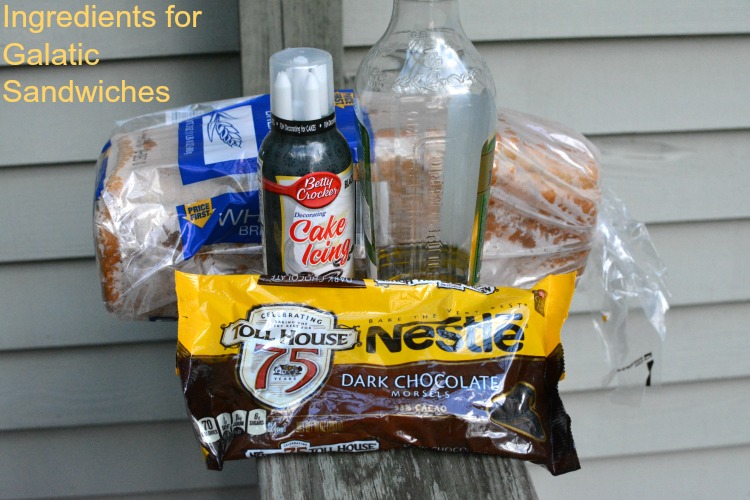 Directions:
1. Take 8 pieces of bread and cut into the Groot head shape. You can use a sharp knife to cut the head part and then round out the bottom of the bread.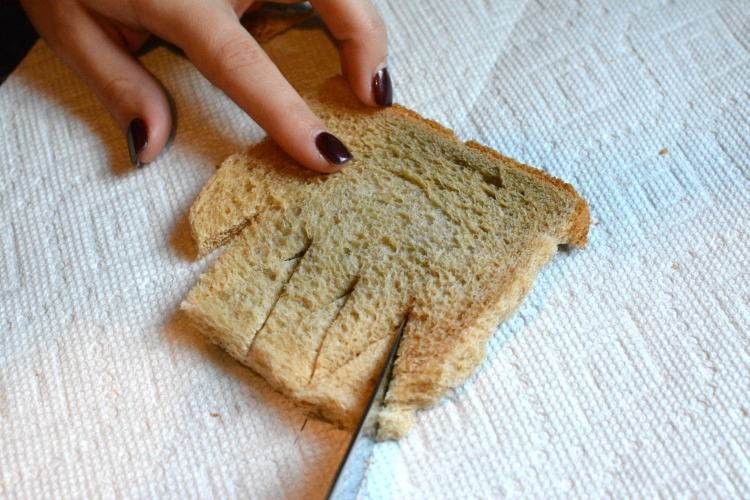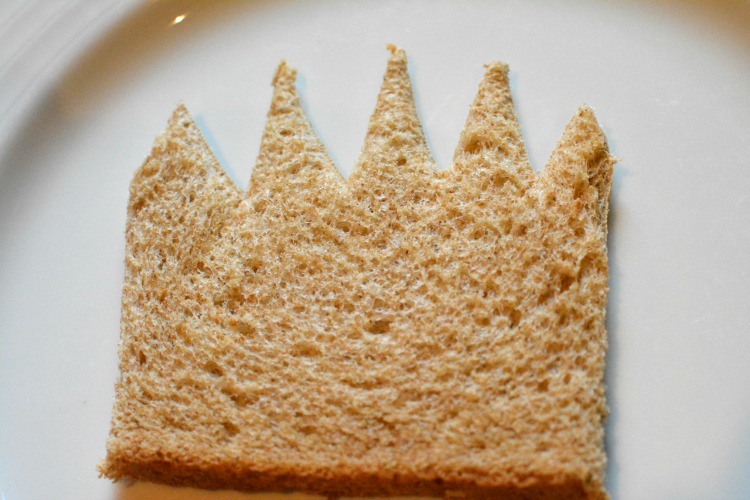 2. Use 2 dark chocolate morsels as the eyes. Dip into olive oil to make them stick as "eyeballs".
3. Use frosting to create the mouth.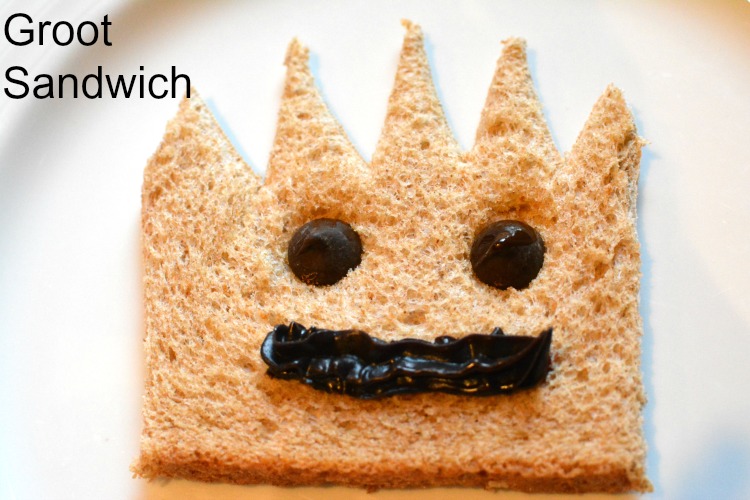 4. Add in deli meats or peanut butter for the sandwich part.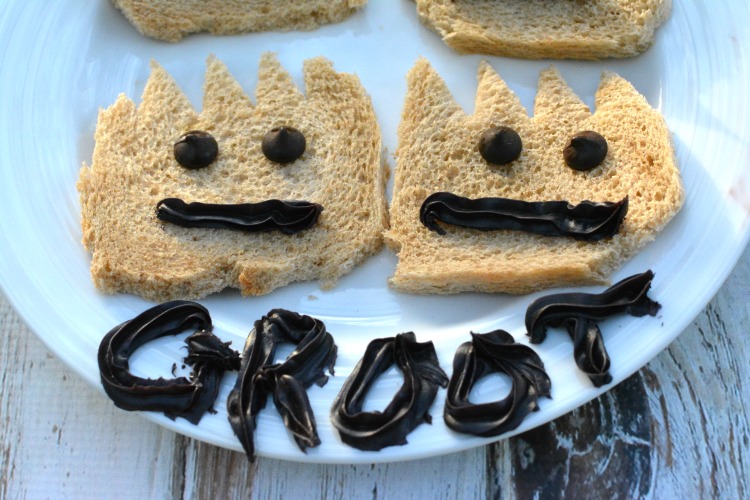 These are so easy to make and they were delicious! Since Groot, along with Drax, are the kids favorite, I knew these would go over so well.
3. Make Galatic Shooters for a great dessert!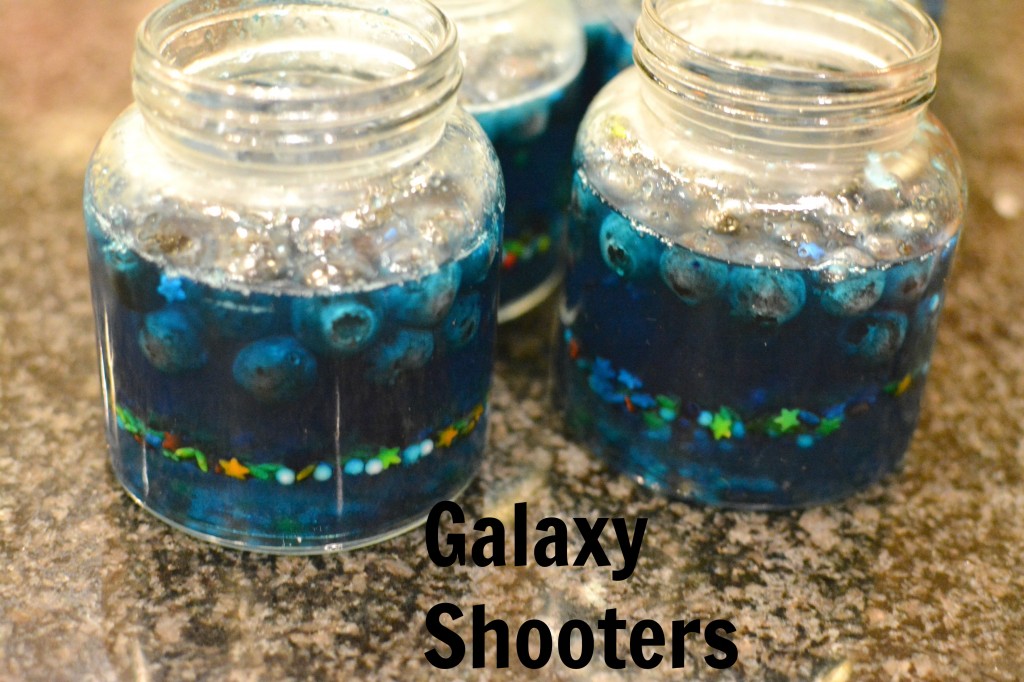 Galatic Shooters Ingredients:
– 3 package of blue jello, 1 package of blueberries, star sprinkles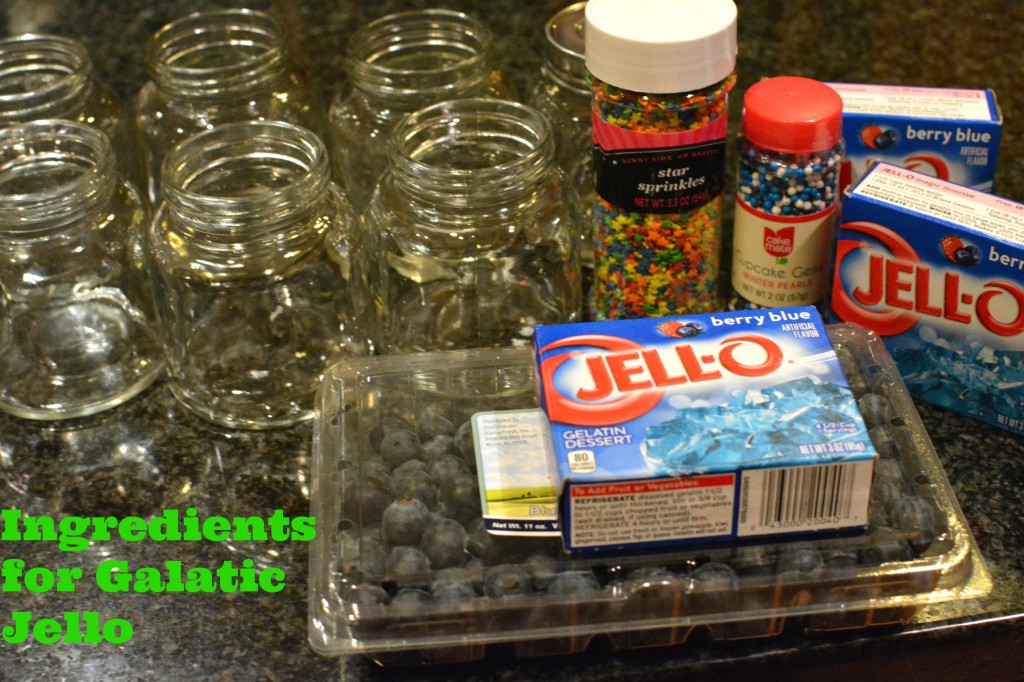 Directions:
1. Make jello according to packaging.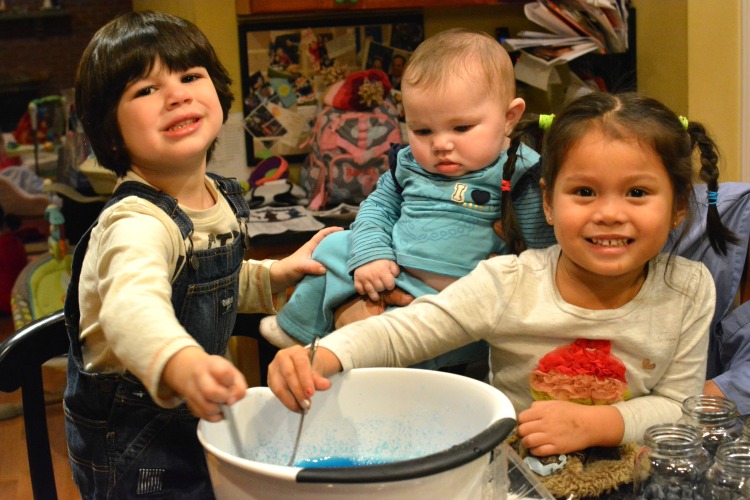 2. Line the bottom of mason jars with 1/2 cup blueberries in each jar.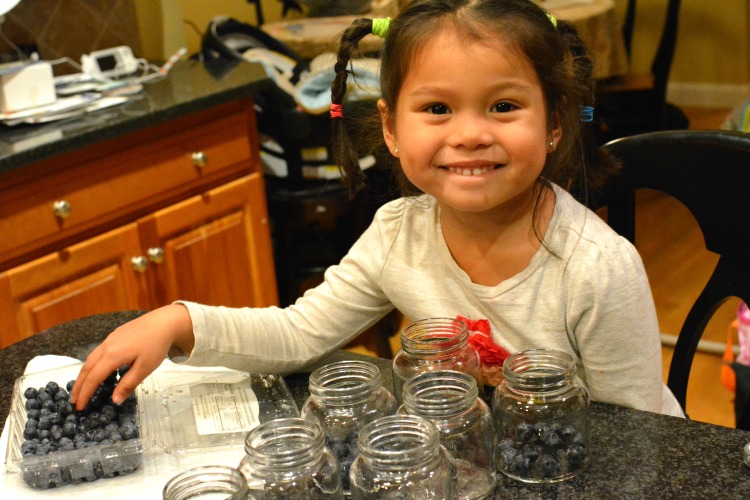 3. Top with 1/4 cup blue jello from #1.
4. Add star sprinkles and top with 1/4 cup blue jello and a handful of blueberries.
The kids sure got in the galactic mood with these shooters. I am pretty sure they were eaten even before the opening credits of Guardians of the Galaxy started rolling.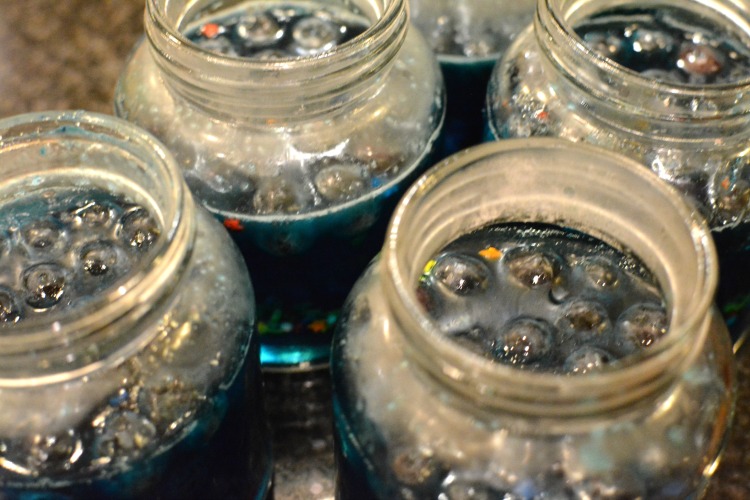 I hope I gave you some great ideas for your Guardians of the Galaxy movie party. I highly suggest picking up the Guardians of the Galaxy DVD that came out this past week at Walmart along with all the great music and toys that are available. It is easy to do a fun movie night! Now you will get a $15 Walmart gift card offer when you purchase a Groot, Drax or Rocket Raccoon figure for Disney Infinity 2.0. From 12/7 – 12/13, when you buy one of these Disney Infinity 2.0 figures, the cashier will give you a $5 Walmart gift card instantly! How neat is that?!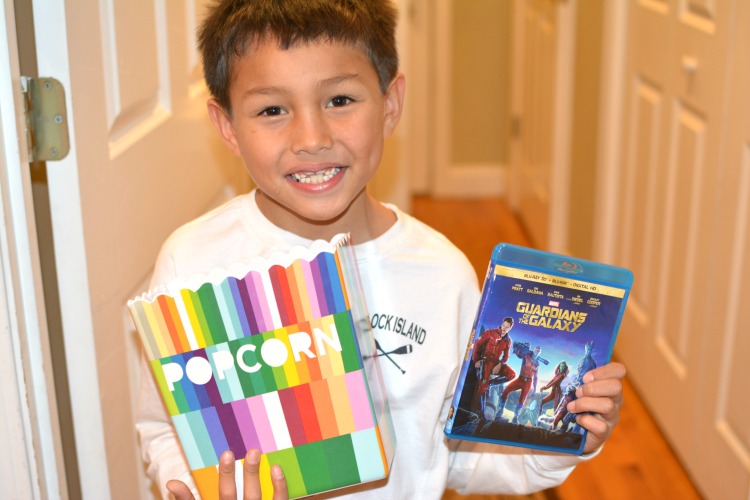 So tell me how do you create a fun movie night in your household?