Happy weekend everyone! I hope you all have a great weekend with whatever you do.
Feel free to take my button or share on social media. Definitely check out the other blogs who link up, as they all provide a great laugh!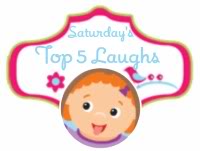 My top five laughs:
5. Taylor started to sit up this week. After a few minutes she falls. Instead of crying, she just starts laughing. It cracks me up!
4. Hayley mentioned to me that I need to let her do her homework by herself. When I tell her I can help, she tells me that she is old enough to do it herself. She is so sassy. Did I mention that before?!
3. Yep I did it again! I washed my darks and added bleach to the laundry. Ughhh..Goodbye clothes!
2. Hayley and Taylor love to belt out "Let It Go" on top of their lungs in the car. Every single time, Taylor cries hysterically! I think she had enough of her older siblings.
1. Zane is all about playing with his baby sister. However, he seems to think she could do everything he does. So much so, that he loves to share his food. I turn around and hear, "Mommy look..Taylor is eating my Pasta."" Ugh Ohh….
Now your laughs: