*This post is part of the HEALTHY ESSENTIALS® 2014 program by Johnson & Johnson Consumer Companies, Inc. and The Motherhood, who sent me a box of products and compensated me for my time. Opinions, experiences and photos shared here are all my own, and I hope you enjoy them.*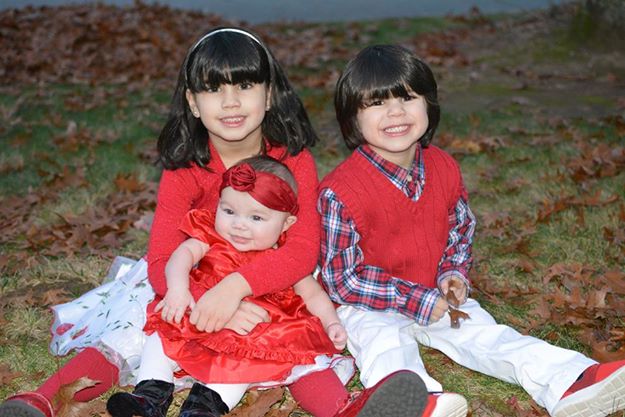 Do you have any fun holiday traditions in your family? In our house since we celebrate Christmas AND Chanukah, both my husband and I feel it is important to have fun holiday traditions that are unique to the way we celebrate the holiday season. We want the kids to have powerful positive but distinct memories of both holidays, so there are a few things we make sure to do each year with them. This year Chanukah comes first and we always celebrate by inviting some friends over, making potato latkes (pancakes), and playing the dreidel game. Though we've been doing this all along, realistically this is probably the first year the kids, well the two older ones, can really play a game of dreidel. The potato pancakes are really simple to make, I just grate the peeled potatoes, mix them with one egg, salt and pepper, flatten scoops of the mixture into flat pancakes in the pan and then fry them in canola oil until they are crisp and light brown. They are delicious served with applesauce and sour cream! Even though this is a casual event it can be tricky to host a party and still having time to look my best.
Luckily I, as part of the Johnson&Johnson HEALTHY ESSENTIALS® Team, received a box of goodies to help me get through it all looking great. Most of the products we received are ones that my family already uses on a regular basis as part of our routines like the Johnsons No More Tangles detangling spray. I mean you've seen that gorgeous head of hair Hayley has, right?! We need that spray to help detangle it every day and be able to manage that mane! As for me, the Clean and Clear night relaxing deep cleaning face wash, Aveeno positively radiant targeted tone corrector, and Neutrogena Healthy Volume Mascara are staples of my beauty routine. Needless to say the package arrived just in time to keep me looking good through the holidays. Looking good brings me to our annual Christmas tradition where we dress in matching pajamas, light the fire and drink hot cocoa while we open presents.
The reason I still need to look good, even though I'm in my jammies is that first we take a picture of all of us in front of the tree in our matching pajamas. I love both of our fun holiday traditions and these pictures are so much fun to look back at through the years. The kids are so cute in all of them, and I know I want to be able to look back at them, and feel like I look good too! This is a great time to stock up on your holiday essentials because you can visit the HEALTHY ESSENTIALS® website to get great savings of up to $35 on some of your favorite products. Just visit HealthyEssentials.com to download coupons for the month of December.