*I participated in an Influencer Activation Program on behalf of Mom Central for Sprint. I received a sample device to facilitate this review.*
Ever since I became a blogger I have become obsessed with new technology products that come out on the market. It's funny because I never was that into techie stuff before, that was more my husband's thing than mine. I loved getting him the latest cutting edge tech toys as gifts for birthdays or holidays. Well, now we are both totally into what is new, and cool, and sleek on the tech market, and one of the fun perks of being a blogger is getting the opportunity to check some of those new things first. I also love being able to share my new tech discoveries with my readers and keep all of you on the cutting edge as well! The Sharp AQUOS Crystal Smartphone from Sprint is my latest obsession.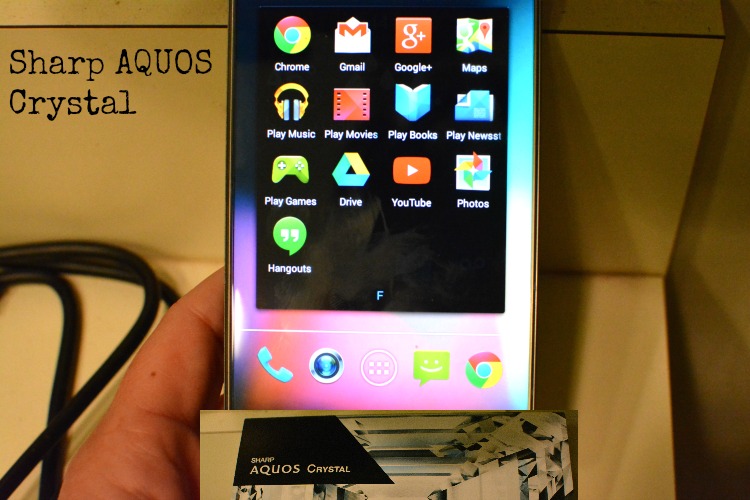 This phone is so sleek and gorgeous;  it sounds silly but I just love holding it and looking at it! It is totally unique. It's unlike any smartphone design I've ever seen before with its 5" edge to edge screen and modern design. Reputable companies Softbank and Sprint merged to bring the service for this phone to the US Market, and Sharp electronic products are known worldwide for their quality.
It is funny that these days picture quality on a mobile phone is one of the most important aspects to us. The picture quality on this phone is absolutely amazing, and that is so important to me as a blogger who takes pictures all the time on the go with my phone. Some of its photo features feel like they are out of a SciFi movie, I swear!  The colors in my pictures are probably the best I have seen on a phone to date. The night capture makes taking photos at night possible by lightening the subject and background in the photo for amazing results, and the Sharp AQUOS Crystal uses Shutter Detect to automatically snaps a photo when it detects a smile to capture the best shot!
Here is my picture taken tonight at Chanukah with the phone. This is an evening hour shot but I think it came out great!  Next up is taking the phone to all our Christmas celebrations!
The Sharp AQUOS Crystal has some other really cool features that will amaze you. It has the ability to make calls or text in a WiFi area, which is huge for saving on data usage, and has fantastic audio for listening to music. Another thing I love is the Clip Now feature that allows you the ability to take a screen shot with the swipe of your finger, and then share it easily with the custom URL it is automatically given.
Of course, with training for my half marathon I need to be able to use my phone to hear some great music. The  Harman Kardon's LiveStage with Clari-Fi Technology provides a more lifelike headphone listening experience by adding dimension to the sound. I turn up my training "Melissa Jam" mix and all the sounds come through so crisp and clear. I mostly listen to my music on my runs but also love to turn on my phone to listen to soothing music when I go to bed.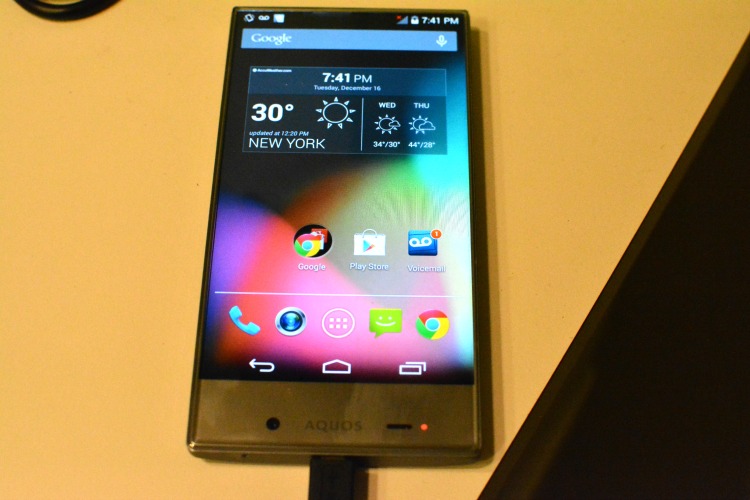 It also comes with all of the necessary Google tools we rely on like a daily basis such as Google Maps, Navigation, Calendar, search and even YouTube. I mean, how did we ever even function before we were able to carry those digital tools around with us wherever we went?! This device is a step above any smartphone I have yet to see. I need it because I have become a tech lover, and the Sharp AQUOS Crystal is form and function at its most perfect intersection. I'm pretty sure once my husband gets his hands on my new tech "toy", he's going to want one too.
If you are an app fan, you will want this phone- Trust me! It features the App Pass which is a  U.S Sprint exclusive subscription service that allows customers access to a hand-selected catalog of premium apps and games for one low monthly fee. I am a big fan of AccuWeather and this is just one of the many premium apps that is available with the App Pass.
The Sharp AQUOS Crystal smartphone will have the added benefit of running on the Sprint Spark network, which enhances the phone's LTE service, allowing for high quality video. I am a huge fan of streaming videos on my phone (checking out all my friend's Facebook/Instagram videos) and I am able to do this readily with this phone.
If you are looking for a great smartphone without the harsh price tag, definitely check out the  Sharp AQUOS Crystal today!