If you celebrate Chanukah, you know that there is very little decorations out there for us Jewish People. As we are a multi-religious family, we have the Elf on the Shelf up each night, but what about Chanukah?! Now you can get in the spirit with the Maccabee on the Mantel. The Maccabee on the Mantel is an adorable plush doll and accompanying storybook that comes in a keepsake box and teaches children about the origins of Hanukkah.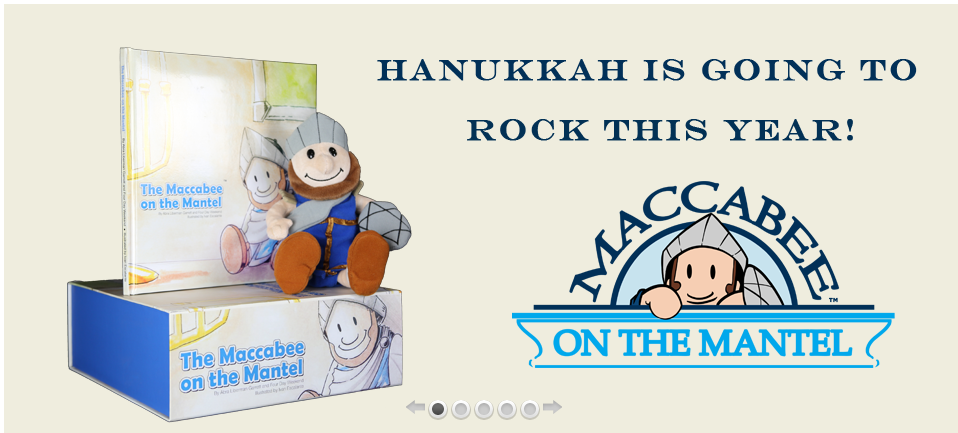 Conceived of by mother of two and pre-school temple instructor Abra Liberman-Garrett, Maccabee on the Mantel is a huggable stuffed Maccabeean soldier whose personal story in the book illustrates the escape of the chosen people from the brutal King Antiochus. Raised with sometimes lackluster Jewish holiday traditions, she became more passionate about teaching the origins of Hanukkah while raising her children in Dallas.
Like so many Jews before her, Abra grew up and fell in love with a Christian. When their first child Jackson was born Abra realized she had to make being Jewish as fun and enticing as possible lest she someday see her own son sporting seersucker on Sundays. Two years later Abra and Robert had their daughter Charley, and Abra saw very clearly that despite being raised as card carrying MOTs (Members of the Tribe), her children could still easily be seduced by the siren song of a snowman named Frosty, just as she had been almost 30 years prior. Oy gavalt.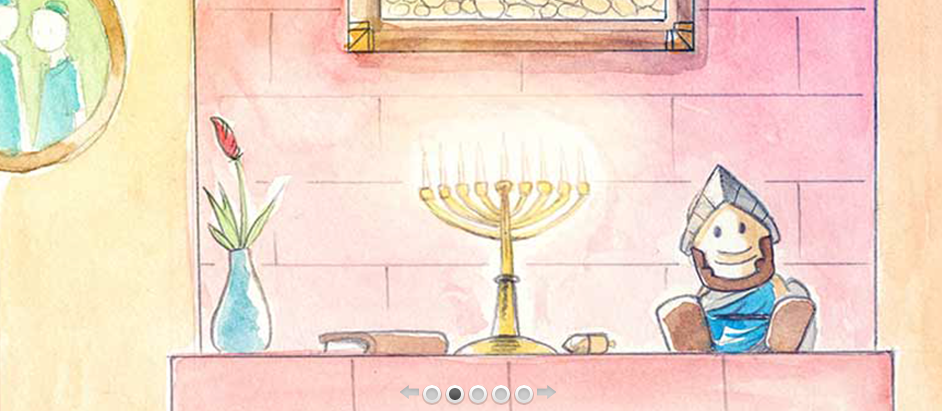 It dawned on her that the fate of the entire religion rested squarely on her shoulders. And so she conceived the concept of a disarming and charming Macabee, a little boychick who would spread sunshine and delight to all the Jewish children who had him in their home. Abra's children positively reveled in the joy of this modern tradition in the making. Now it is time to share this miracle of a Macabee with all those who are looking to create a fun family custom of their own.
With the aid of her friends at Fort Worth's legendary improvisation and comedy troupe Four Day Weekend – a group whose business savvy earned them last year's Small Business of the Year Award from the Fort Worth Chamber of Commerce – Liberman-Garrett invented a holiday product that is kid-tested and Rabbi-approved. It won Creative Child Magazine's 2014 Product of the Year Award!
Unlike other recent attempts to cash in on the holiday "buddy" phenomenon that seems to cross across cultures, Maccabee on the Mantel is based in real Jewish history, and presented with materials that have been developed with the utmost educational value in mind. More than anything, Maccabee on the Mantel reminds human companions young and old – and Jewish or otherwise – about the origins of the Festival of Lights. "Hanukkah is a really cool holiday," says Liberman-Garrett. "The story is about facing insurmountable odds, fighting for your rights, and believing in yourself."
The book includes a page of activities to help establish fun family holiday traditions, as well as a page with all of the prayers in both Hebrew and English.
Be sure to check out Maccabee on the Mantel which is available on Amazon and in many temple shops. Happy Chanukah!