* I received samples for review. All my opinions are my own and not swayed by outside sources.*
These days everything in my house is girly. This does not make Zane very happy at all! He is a huge fan of trains and his favorite toys are anything from the Chuggington line. That is why we were so happy to receive the Chuggington StackTrack Brewster's Big Build Adventure Play-set + Chuggineers Ready to Build DVD!
Once we received the DVD, we put it on right away. Zane and Hayley were beaming ear to ear when watching. Zane loved watching all the Chuggineers make all the construction to build bridges and tracks. He put on his hard hat and watched this movie over and over again.
Here is a synopsis of the movie:
**The strongest and most dependable construction crew in Chuggington is 'Ready To Build' in the newest Chuggington DVD from Anchor Bay Entertainment. A brand-new collection of five fast-paced adventures – including the extended new special slated to premiere on Disney Junior this fall, "Chuggineers Ready To Build" recently made tracks to retailers nationwide. In this special collection of hard-working adventures – including the "We are the Chuggineers" music video! – Brewster joins Chuggineers Zack, Fletch and Tyne to build tracks, bridges and tunnels, make repairs, haul heavy loads and more! Featuring new wagons and machines, including the massive yellow Mega Chug Crane, and new friends Payce, the tunnel runner from Tootington, and Cormac, the cheeky forklift engine, "Chuggineers Ready To Build" will help Wilson, Brewster, Koko and little trainees at home discover important lessons about safety, responsibility and teamwork. SRP $14.98. Available now on Amazon.com.**
Once we were done watching the movie, we had the Chuggington StackTrack Brewster's Big Build Adventure Play-set set up for him. Since we are giving this to him for Christmas, we had Hayley be the tester of this playset. She absolutely loved it. The dynamics of this playset are truly second to none. Setting up the Play-set was quite seamless and in the end we had the chance to have 3 levels of elevation and multiple layout position. Hayley was able to take the engines on all different paths from one to end to the next. There are so many innovative features that allow you your kids to take train play to the next level.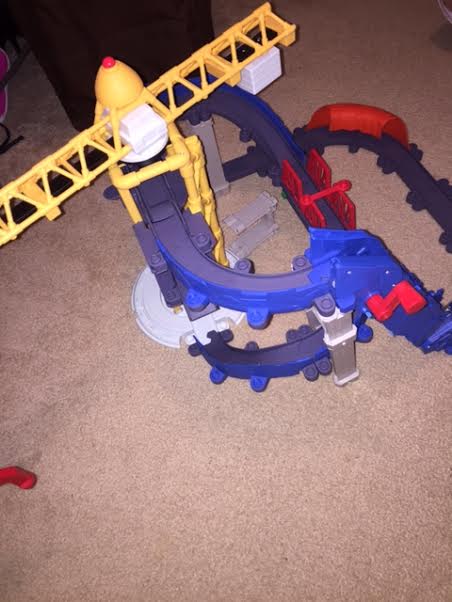 One of the neatest features is the working escalator that takes the engines back to the top so they can go speeding back down again and again. She was able to take Brewster for a ride on the elevator so he can get to the top, operate the fun crane, and repair the broken track.  I have yet to see a play-set have such awesome features before. It really incorporates all the love the Chuggingtons into this.  This set is based on the extended new Chuggington TV special airing on Disney Junior that aired this fall. It allows all kids to showcase the importance of helping each other out, as well as independent play. The importance of safety is also shown in this set. The Chuggington StackTrack Brewster's Big Build Adventure Playset take train play to new heights with the Chuggington StackTrack system! SRP $49.99. Ages 3 years+. Available now at Toys R Us and Target.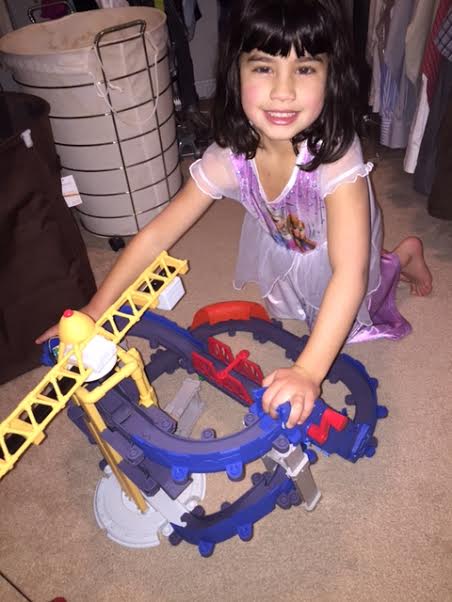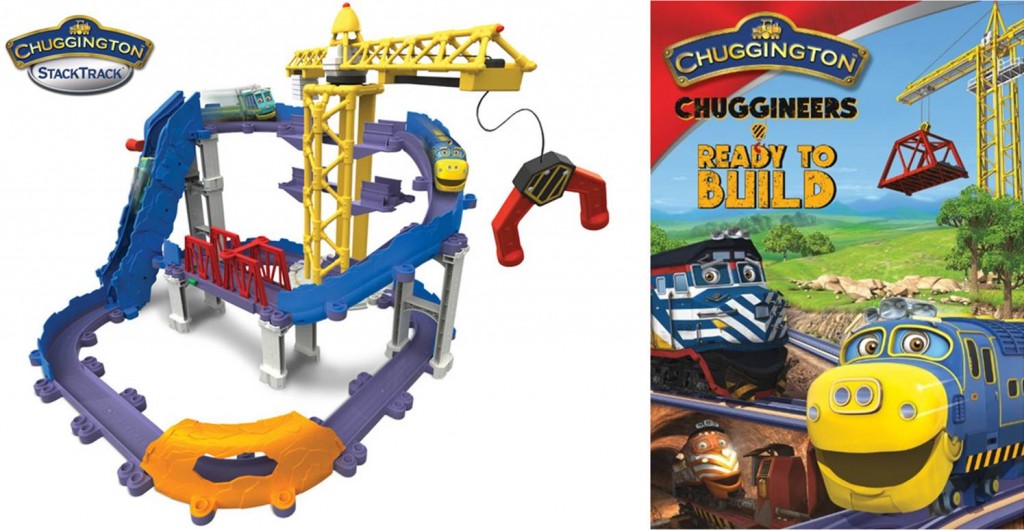 My kids loved both of these items and I think it will be an awesome holiday gift for the little train fan in your life. Hayley gave both video and play-set an A+ and we are both excited to see Zane's face when we present this to him for Christmas. Happy shopping and Happy Holidays everyone!