*I work with Vtech on reviews. All my opinions are my own and not swayed by outside sources.*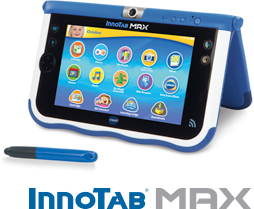 As a blogger I use my tablet a ton, and you know how kids are! The second I pull it out to get some work done they are all over me to play on it, and relentlessly bug me until I hand it over. Not the most effective working conditions I must say. Of course my tablet is a full on grown up device filled with important work documents, and with access to all sorts of stuff potentially popping up on the internet. Needless to say I am always worried when they play on it that they are going to find something, or erase something I need. You have no idea how thrilled I was at the opportunity to review the InnoTab® MAX, VTech®'s newest tablet with Android™ learning content. With it's kid-safe Wi-Fi and parental controls the kids finally have their own tablet to play on and can stop absconding with mine! With the VTech® InnoTab® MAX I have found a solution for the kids that gives me piece of mind.
My kids have grown up learning from VTech educational toys, games and cartridges as it is so I feel like they are growing into the next level of VTech products. The cartridges of VTech games that we already own can be used in the tablet along with the apps it comes with and many other available ones that are just as educational and fun as the rest at VTech's Learning Lodge® app store. One of my favorite features is the Premium VTech Kid Connect™ which is where I can text with my kids. This is an amazing way to communicate with them while I'm at work. It also allows us to send voice messages, artwork and photos back and forth. I crack up at the stuff they send me and it has really helped me feel connected when I am away from them.
The InnoTab MAX design reflects great insight into the minds of its intended demographic, kids ages 3-9 years old, and perfect for my set. Everything is so intuitive and easy for them to figure out how to navigate. I love how independent it makes them feel to be able to figure everything out by themselves on it. The games and apps provided by VTech are as educational and fun for my kids as ever but rising to their growing sophistication (if you can call it that!). I am so grateful for their line of products that has really evolved as my own kids have.  I've come to depend on VTech for reliably appropriate and safe play time for my kids that mixes technology and learning in a way that their little minds just soak up. These days when I pull out my own tablet to get some work done and the vultures attack….I mean my sweet children want to play on it….I pull out their very own tablet and let them have at it, and finally can get stuff done!
Here is some additional information about this great learning tablet:
–VTech's 4th generation kids' learning tablet features its fastest processor yet with up to six times the processing power of previous generation and a 7" high-resolution multi-touch screen display
–InnoTab MAX offers the best of both learning worlds with access to more than 650 educator-endorsed, age and stage appropriate learning titles as well as carefully cultivated educational Android apps that can be purchased and downloaded through VTech's Learning Lodge® app store
–The tablet comes with 15 onboard apps including Premium VTech® Kid Connect, My Magic Beanstalk, Movie Maker, Art Studio, Wonder Cam Max, E-Reader with Story Dictionary and more
–InnoTab MAX also comes with one free Toca Boca app and two additional free apps that can be downloaded from the Learning Lodge
–Other InnoTab MAX features include a built-in rechargeable Lithium battery and kid-safe Wi-Fi so kids can explore appropriate online games, videos and websites that have been pre-selected by VTech
–Parental controls allow parents to manage their child's apps, web access and tablet time, as well as view a progress log
Giveaway: One winner will receive the InnoTab Max (ARV: $110). This giveaway is run via rafflecopter so click read more to see the actual giveaway. The only mandatory entry is to tell me who you want to gift this to in the comment section proceeding the post. While the other entries are optional, I highly suggest filling it out to increase your chances of winning. US only. Good luck!
a Rafflecopter giveaway