Happy weekend everyone! I hope you all have a great weekend with whatever you do. This weekend I am heading to see the big Lehigh-Lafayette College Rivalry Game at Giant Stadium. I can't wait.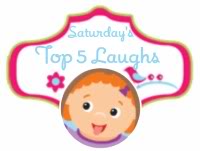 As always, come link up any cute or funny post. Definitely check out the other blogs who link up as they all provide a great laugh. Feel free to share this blog hop or take my button, although this is not necessary.
My top five laughs:
5. Hayley the other day told me that she was going to sleep over her friend's house one night. I told her that was fine and I just needed to ask her mom. She told me, "Mom..I already did. Why don't you trust me?! Ughh…" Her exact words. Need I say more.
4. Zane went on a field trip this week to see  the lumber place near us. All of the kids had to get up and say their names and something about themselves. They were all pretty shy until my Zane rose, yelled out his name, and proceeded to tell everyone his whole life. That kid!
3. Every morning, Zane and Hayley have been singing It's a Small World. Hayley has been showing Zane on You Tube the song so both of them now know how to sing It's A Small World in French.
2. Hayley told me the other day that she needs to have more freedom to do the things she wants. Basically, she told me I am always in her face. Well.. Hello..You are 6!
1. My two younger ones and then two minutes later, Zane drops Taylor! Oh boy!

Now your laughs: