*This is a partnered post. All my opinions are my own and not swayed by outside sources.*
Miravan, LLC is set to revolutionize formula feedings and reduce the stress of middle of the night feedings with Moozi, an innovative new single-serving pod system that simplifies the bottle making process, creating perfect temperature formula bottles in under a minute at the touch of one button. It's an all-in-one system that gives parents a stress-free, safe and easy solution to the current complicated formula feeding process. Prior to Moozi being available in retail and online stores in late 2015, the company has created a Kickstarter campaign to help fund the product, which began in early November and is available here: bit.ly/MooziLV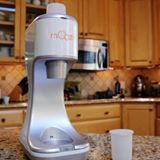 Moozi is to baby formula as Keurig is to coffee. "As a full-time working parent, I dreamt of a product that would simplify the dreaded middle-of-the-night feedings. I imagined a simple one-button solution with an easy reusable pod that worked as simply as my Keurig coffee machine. And now that dream has come true," said Miriam Kutcher, President and Founder of Miravan, LLC. "I've been asked several times why I think this is the right product and the right category and the simple answer is that more than 85% of the 3.5+ million babies born each year in the US use formula bottles in the first year. The stressful and time-consuming steps to prepare formula bottles are faced by most new parents and caregivers, so it's time we had a solution."
The feature that truly differentiates Moozi from anything on the market is its' unique patent-pending dry release system which keeps the formula and water separate until they mix in the bottle. Since they don't mix in the machine, the channels stay clean. This reduces bacteria growth and keeps the system running smoothly time and time again.
Multiple sensors are in place to ensure safety and proper functionality. There is a sensor in the water tank, so Moozi won't operate without water. There is also a sensor to control the water temperature to heat to a regulated body temperature setting. In addition, there are sensors to detect that a bottle is in proper position and that the lid is closed. Moozi works with most upright wide-neck bottles and all formula brands thanks to the reusable pods, giving the parent total control over what's best for their infant and how much formula to use.
Before Moozi even hits retail shelves in late 2015, Miravan, LLC is offering potential backers an advance offer to purchase Moozi through their Kickstarter campaign at a discounted price of $125. Backers who would like to support Moozi, but don't need one for themselves, can choose the pledge option to donate a Moozi to help a family in need. Miravan, LLC has partnered with several non-profit organizations. The campaign ends December 13th.
Be sure to follow them on these social media sites:
Facebook: facebook.com/moozibaby
Pinterest: pinterest.com/moozifed
Twitter: twitter.com/moozifed