*This is a sponsored post with Wet Ones. All my opinions are my own and not swayed by outside sources.*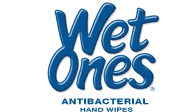 With three kids, my family needs all the germ protection we can get. That's why I love Wet Ones antibacterial wipes. They're the perfect option for those times when soap and water aren't available. This holiday season, there is going to be a lot of traveling for us between airplanes and trains. To assure my kids are not getting those dirty germs on them, I always make sure to carry Wet Ones in my pocketbook at all times. Without Wet Ones, I would be at a loss for what to use to get rid of those germs and dirt off of my children. Who wants sick kids this holiday season?!
Antibacterial Wipes are Convenient
I love my kids, but they are messy beasts! I think most kids are, really. Whether it's food, dirt, or "mystery mess", my kids can get pretty dirty hands. I don't like dirty hands at all. Dirty hands lead to sick kids, and sick kids are zero fun.
We try to make sure the kids wash their hands every time they come in from the outside world, every time they eat, and every time they've done anything remotely messy. Dirt is one thing, but germs are even worse. Did you know that most viruses can leave on surfaces for up to 24 hours? Sometimes, it can be even longer than that.
The hands must stay clean! Especially now that the holidays have come. We'll be headed to several homes, touching door knobs, car doors, and everything else along the way. That's why we keep Wet Ones around at all times. When the kids' hands are messy, and there's not bathroom to be had, Wet Ones antibacterial wipes are a convenient way to get rid of germs and messes in a pinch.

Wet Ones Antibacterial Wipes are a Great Fit for my Family 
We're an on-the-go family, and we need on-the-go solutions for dirty hands and faces. Wet Ones is our answer. They are America's number antibacterial wipe, and they're proven to kill 99.99% of bacteria, making them just as effective as gel hand sanitizers.
Why Wet Ones are Great
Kill 99.99% of bacteria
Perfect for on-the-go cleaning
Proven to be as effective as gel hand sanitizers
Thick wipes wipe away germs AND dirt
Hypoallergenic – contains aloe and lanolin
Three convenient sizes
Two fragrances – Fresh and Citrus Scent
Comes in a 40 count canister, 15 and 20 count travel packs, and a 24 count box of individually wrapped wipes
Whether we're at the park, hiking, at a holiday event, or just at a play date, Wet Ones antibacterial wipes are all I need to keep my kids clean and germ-free on the go. Tuck them in your kid's lunches and bring them on all your holiday trips, and you will be sure to be protected with Wet Ones!  They are the holiday must-have!