*This is a sponsored post. All my opinions are my own and not swayed by outside sources.*
Over the counter drugs are great for minor colds and bugs. The problem is there are so many. Dr.OTC helps you navigate over the counter options.
 I'm not a fan of going to the doctor. It takes time and effort that I can devote to other things. If I'm not running a fever, I opt for over the counter medications to help me and my children get through the yucky times.
Over the Counter is Great for Minor Ailments 
If I or my kids don't have something dire like an infection or an emergency, going to the doctor is pointless. They'll only tell me to get over the counter medications for whatever ailment we might be suffering from. So why waste the time, effort, and money when I can just hit the over the counter aisle to begin with?
Here's the thing about the over the counter aisle, though. It has a lot of stuff. I mean A LOT. Sometimes I know I need something, but I don't know what. That's where Dr.OTC comes in.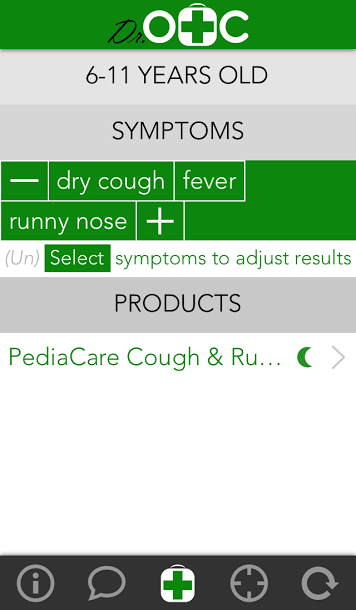 Dr.OTC Makes Over the Counter Simple 
We all know that there are literally hundreds of over the counter medications and products for everything from cold and flu symptoms to warts. With so many available, it's hard to know what I need. Dr.OTC is an awesome app available in the App Store that narrows it down for me based on my symptoms and recommends products for me to use. I love it because it makes feeling better quick and easy.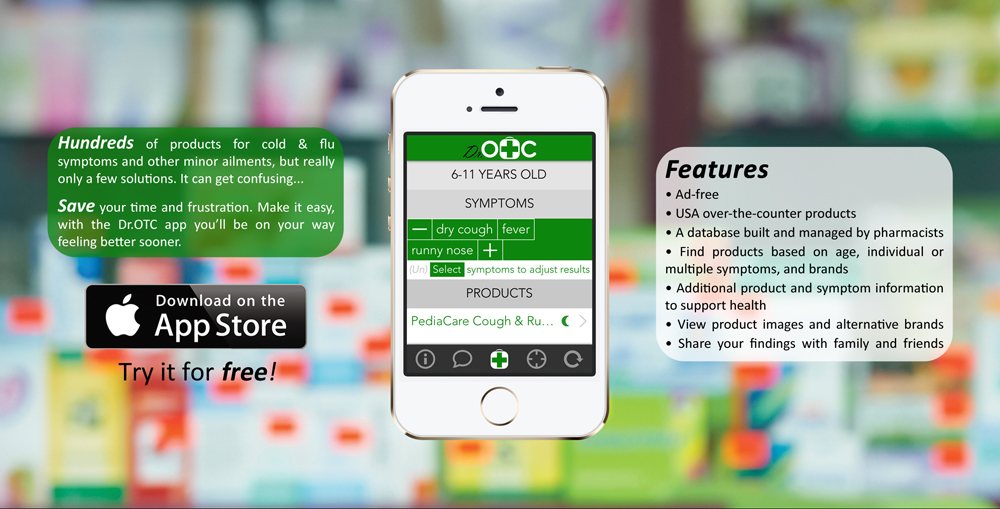 How Dr.OTC Works
Of course, Dr.OTC covers cold and flu products, but they also offer help for a wide variety of other minor conditions which can be treated with over the counter products.
Just a Few of the Conditions Dr.OTC Addresses
Cold and flu
Acne
Arthritis
Athlete's foot
Constipation
Eczema
Heartburn
Insomnia
Sunburn
Warts
This is what makes Dr.OTC such a great app. It covers hundreds of common ailments and helps me find the right over the counter treatment for them.
Dr.OTC Features
Dr.OTC not only helps me navigate the huge amount of over the counter options available, it also makes it simple. It has a very user friendly interface. That's great because when I need to use this app, I'm probably going to be feeling like garbage. That is not when I want to be navigating a difficult app.
Features
Ad free
Only USA over the counter products
A database of over 900 products and 380 symptoms
Database was built by pharmacists
Sleek, simple user interface
Continuous database updates
Search based on age, single or multiple symptoms, and brand names
Additional product and symptom information to help you narrow your search
Ability to view product images and alternative brands
Ability to share results with family and friends
I love Dr.OTC it has made treating myself and my family's minor colds and boo boos so much easier. That's why I'm excited to let you know that you can try it for free for seven days. If you don't like it, simply let the trial period expire and you won't be charged until you resubscribe.
Give Dr.OTC a try, and say good bye to needless doctor appointments and frustrating over the counter searches. It's awesome!
For more information, visit Dr.OTC at
Website: www.drotc.com
App Store: https://itunes.apple.com/us/app/dr.otc/id828240619