*This is a sponsored post written by me on behalf of the Credit Karma™. I find this information very important and am glad I can relay it to all of you. All my opinions are my own and not swayed by outside sources.*

Growing up who knew how important our credit scores would be someday?! As an adult, your credit score, calculated by credit rating companies based on your fiscal responsibility and earning to debt ratio, impacts almost all major areas of your life. Job potential, buying a house, buying a car, even student loans for education. Luckily my husband and I have both always been responsible with our credit and it shows on our credit reports, but when we were buying our home and looking into the best mortgage rates possible I thought about some of my friends in New York City racking up huge credit card bills they were not always able to pay on time. They, nor I, did not realize those actions could impact future big life opportunities. With a good credit score you are able to get better interest rates and save a ton of money down the road. Because credit cards and the type of lending our generation rely on, was sort of new when my parents were bringing us up, they never talked to us about the importance of maintaining a good credit score. Of course they encouraged us to be responsible with money, but it is different when you understand the long-term impacts of your behavior. I will be sure to teach my kids about it when the time comes.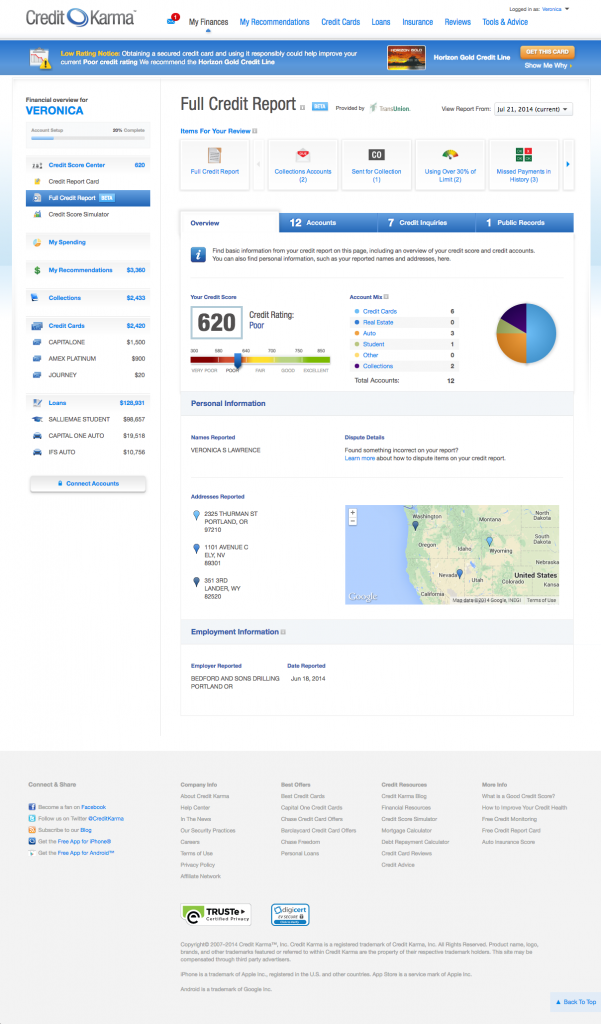 In the meantime a great tool for assessing your needs, possibility and credit score is called Credit Karma™ and helps to put you in control of your credit data that's out there. The daily credit monitoring used by this service is an added layer of protection against credit card fraud or identity theft to begin with. The service also matches consumers with the best financial services based on their own personal accounts for the most successful partnerships and credit approval. With the tools provided you can take control of your credit and finances, and the weekly credit score and report provided by the service are free.
Once you realize how important your credit score is in life you certainly work hard to maintain a pristine record, but for many it is overwhelming not knowing what that score is, or ways to improve it. The only way to really take control of your finances is to find out and make sure you are on the right course through a service like Credit Karma. When you are ready to purchase your dream house, get a new car, go back to school or apply for a new job, you might be happy to have all your ducks in a row.
There are many different things that can impact your credit score that you might not even be aware of, for example did you know that it looks bad on your credit score if you cancel a credit card? You would think that would look good, right? Or if you are shopping around to refinance and too many people request your credit score in a short amount of time, that sort of thing puts a dent in the number. It doesn't seem fair that when your are trying to get credit, it can drive your score down, but that is just the way it works! Trust me, when those times come, you do not want to be surprised by a glitch in your credit report, and have to put those dreams on hold. Good Karma is always a good thing to have, and having Credit Karma on your side is the way to go!
This is a sponsored post written by me on behalf of the Credit Karma™