****This shop has been compensated by Collective Bias, Inc. and its advertiser. All opinions are mine alone. #DisneyBeauties #CollectiveBias****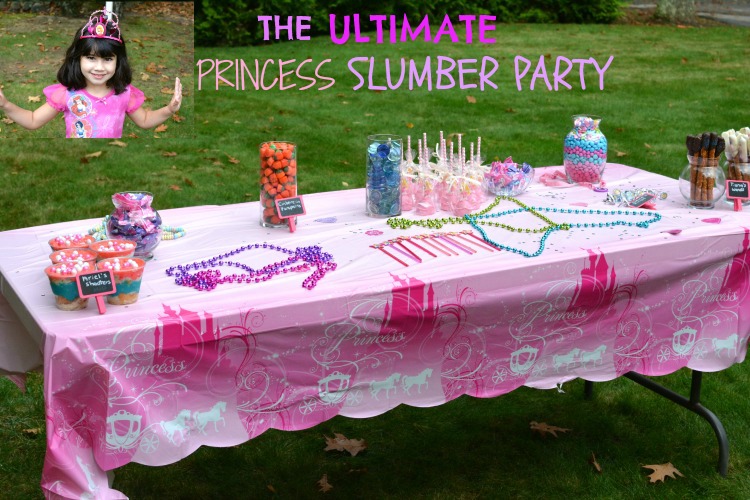 For Hayley's past birthdays, we have done everything from pumpkin picking to gymnastics parties. The one party I never did was one at my own house. I knew it was a big venture to take on, but my Hayls really deserves the party of the century. The girl has stepped up beautifully to be my big helper to her three month old sister, Taylor. I have relied on her so much and she has never failed to disappoint me in the last few months, or actually in the last few years. To provide her excitement for her 6th birthday, I decided to let her have her first sleepover at her own ultimate Princess slumber party. This party could not have come at a better time because the Sleeping Beauty DVD (one of her and my favorites) was just released from the vault, and I knew it would be a great feature addition to her slumber party.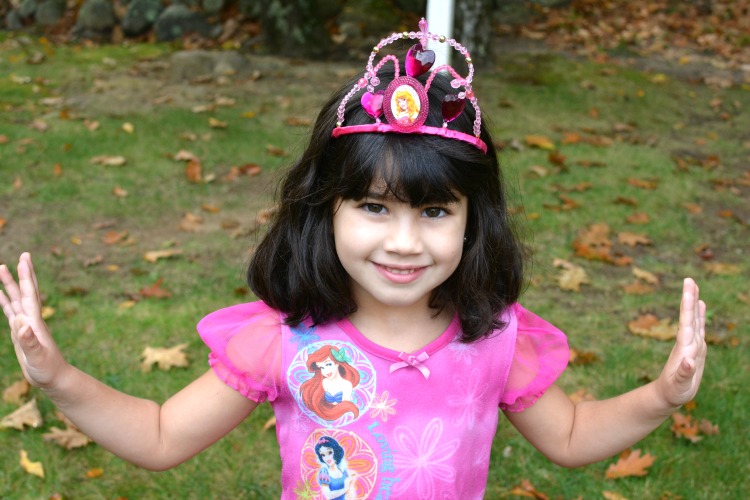 To start out, I needed to venture to Walmart to buy the Sleeping Beauty DVD as well as all things princess to get the party planning rolling. Once I got the DVD in my cart, I headed over to the party planning section and went a little crazy in the princess decorations. You name it and it went in my cart-princess napkins, princess plates and cups, princess invites/thank you cards, princess table decorations, and of course, princess pajamas. Did I mention that this was a princess party? Hahaha!!! Once I headed home, I started planning out my party and was up for a few nights just sketching what I wanted her party to look like.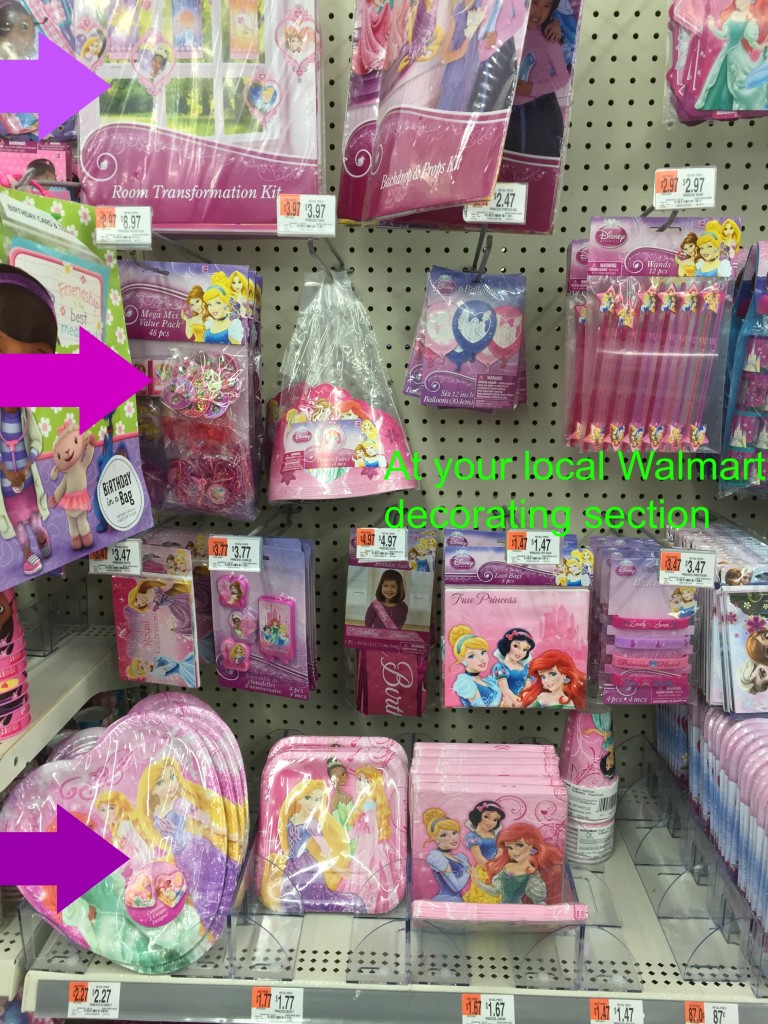 The very first part of the planning was sending out the invites. I decided since this was going to be a slumber party, the girls needed to wear their princess pajamas. We started our party late, around 4 pm, so pajamas was a great choice. Then when it was time to go to bed, they just needed to roll into bed after a fun filled party.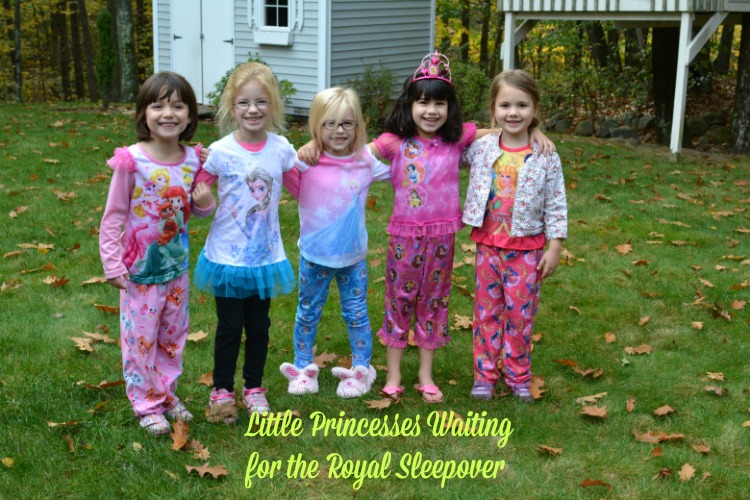 On the day of the party, I decided I was going to have three tables to accommodate what Hayley wanted for her first slumber party. On the first table, I decided to do a few recipes (all princess related) so the girls can have special treats for the outside portion of the party and then for the movie screening.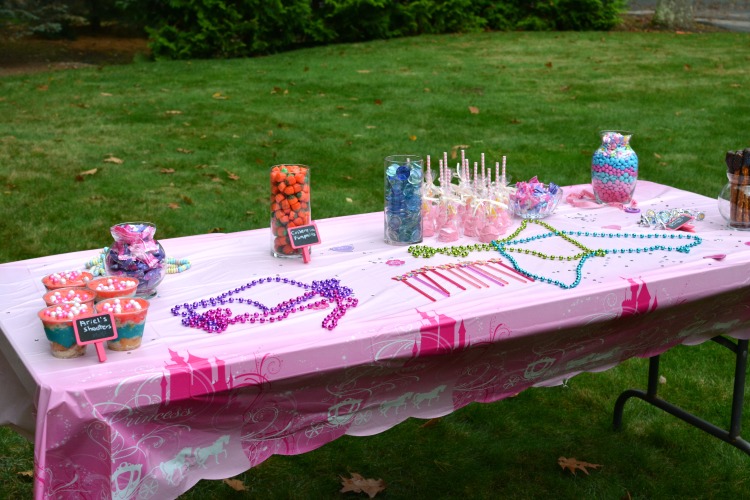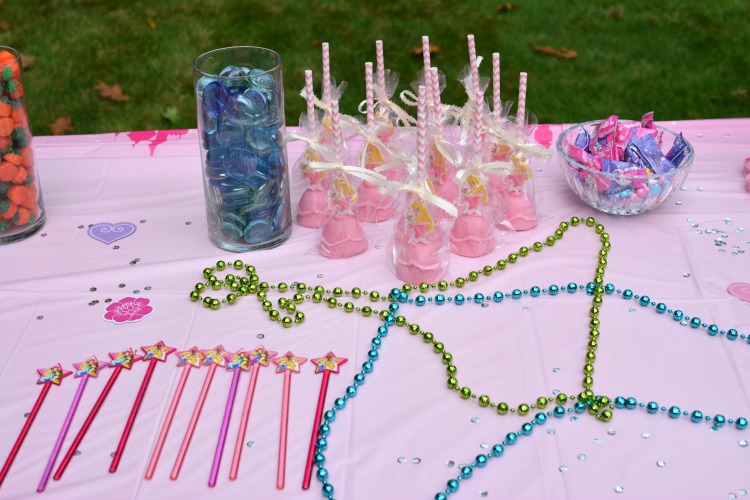 Here are some of the princess recipes I made
Tiana's Wands:
Ingredients-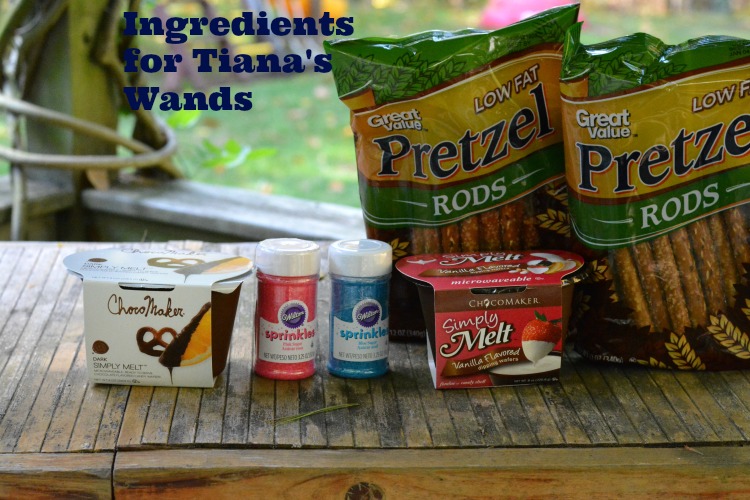 -2 bags of stick pretzles
-white and dark melting chocolate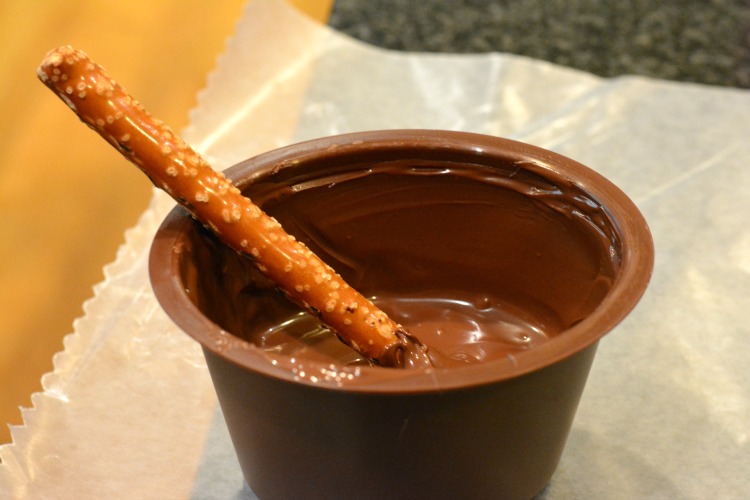 -blue and pink sprinkles
Directions-
Put 12 pretzles on one wax sheet and 12 pretzles on another wax sheet.
 Melt white and dark chocolate according to directions.
Take end of pretzel and dip into white melted chocolate. Repeat for 12 pretzels. Then take the next 12 pretzels and dip into dark melted chocolate. Let cool for about 10 minutes.
Top with pink and blue sprinkles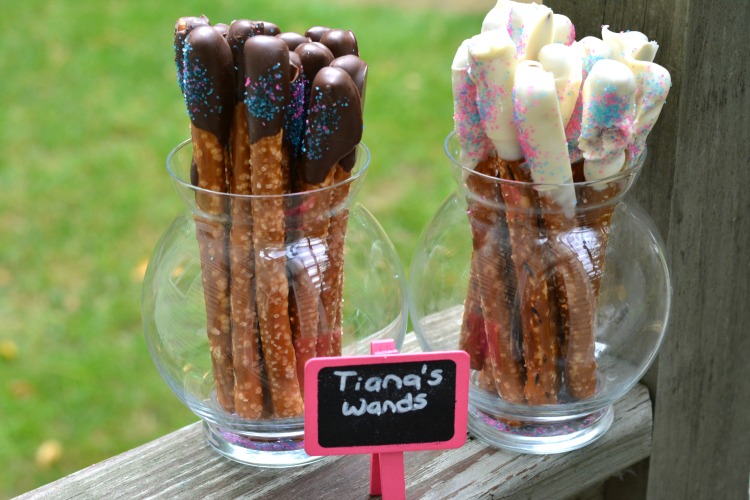 Ariel's Shooters:
Ingredients-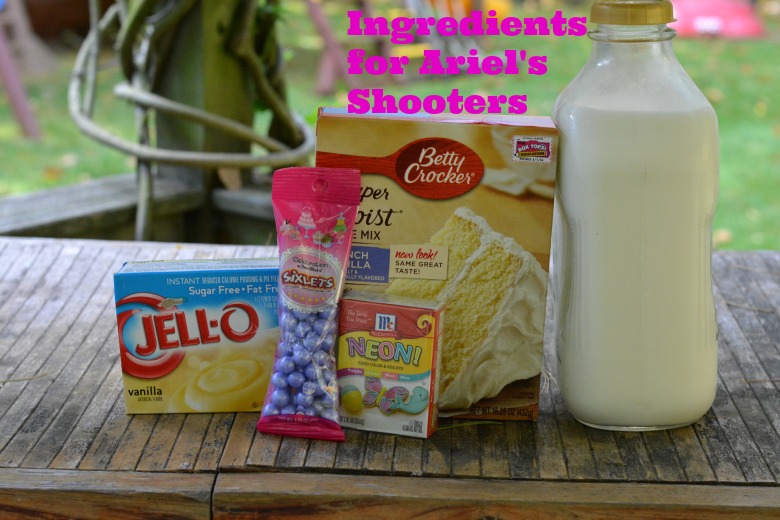 -2 packages of vanilla pudding
-four cups of milk
-blue and pink food coloring
-white cake mix
-decorative candies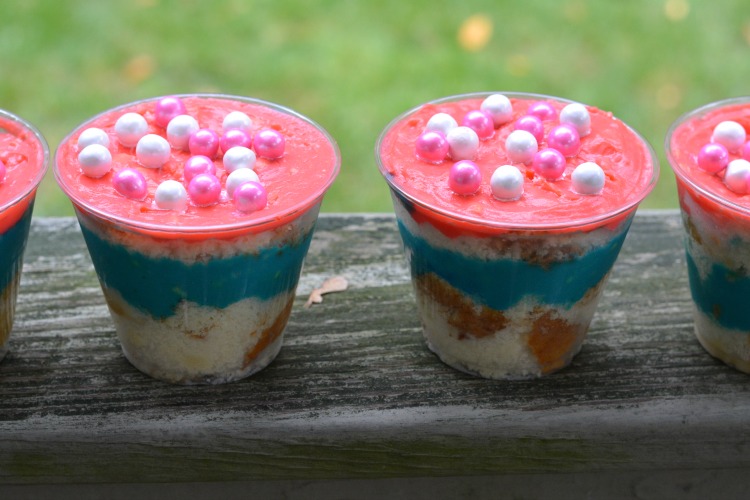 Directions-
Make white cake mix according to the directions on the box. Set aside cake once cooled.
Make 2 bowls of vanilla pudding mix according to directions on the box. Once it is beginning to set, add pink food coloring to one bowl and blue food coloring to the other bowl.
Start layering cups with white cake mix, blue pudding, cake mix, and pink pudding. Repeat layering till the top of the cup. It will make about 5 cups.
Top with decorative candies and serve.

I used table signs to make the princess party really shine such as TIana's Wands, Cinderella's pumpkins, Sleeping Beauty Cake pops, Ariel's Shooters, Rapunzel's punch, and Belle's rings.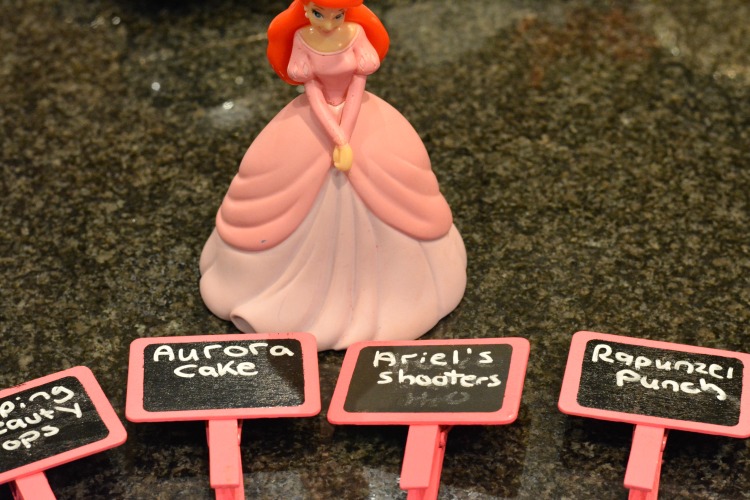 Then on the second table, I lined up princess cups with popcorn so when the Sleeping Beauty DVD viewing part of the party was ready to begin, we were all set. I also made Rapunzel's punch for the times when the princesses needed a drink.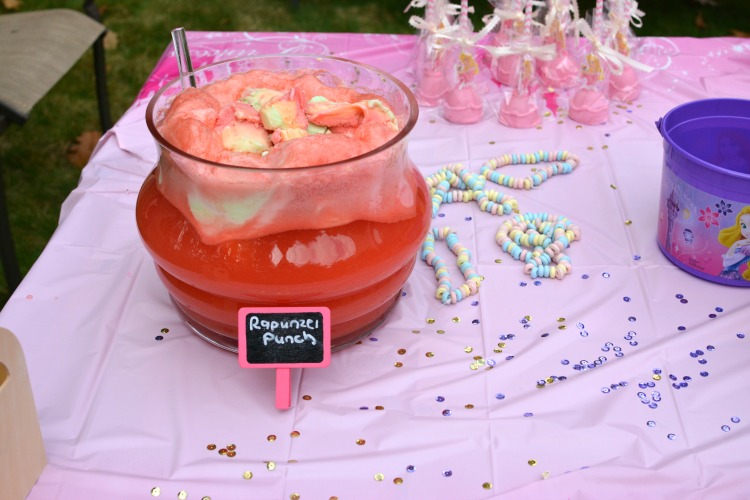 Lastly on the third table, I set it up to do a Princess art and craft project. I decided to have the kids paints purses, fairy wands, and princess necklaces. I knew to keep 6 years old entertained craft projects were in order!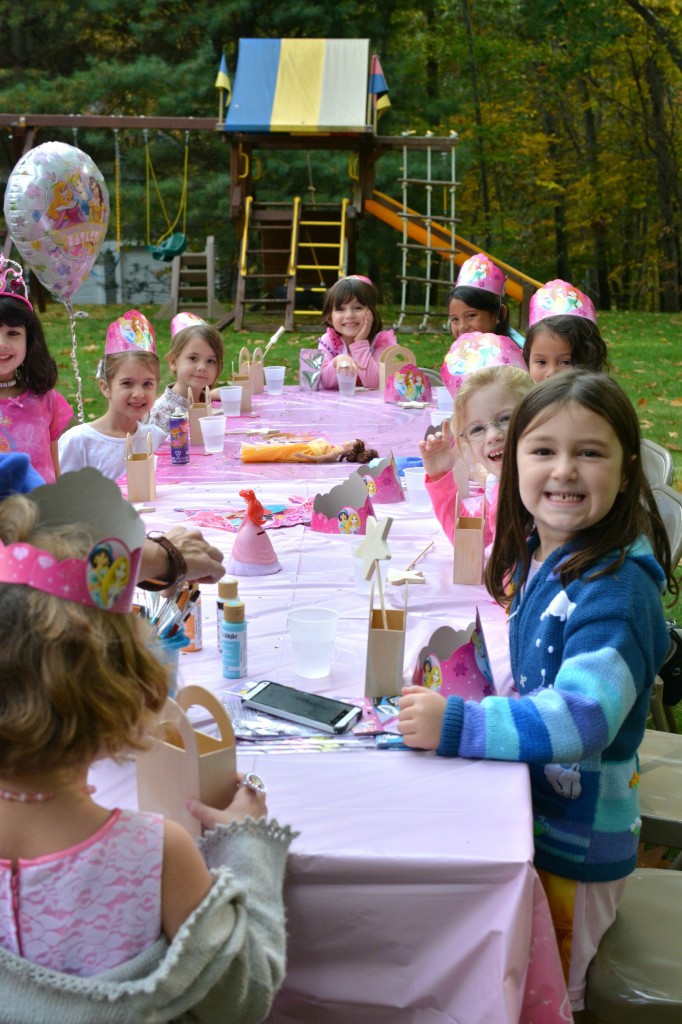 Then the day of Hayley's 6th birthday Princess slumber party arrived. All the little princesses came in with their finest princess pajamas ready to start the party. They instantly were enchanted with Tiana's wands and gobbled them up in no time at all.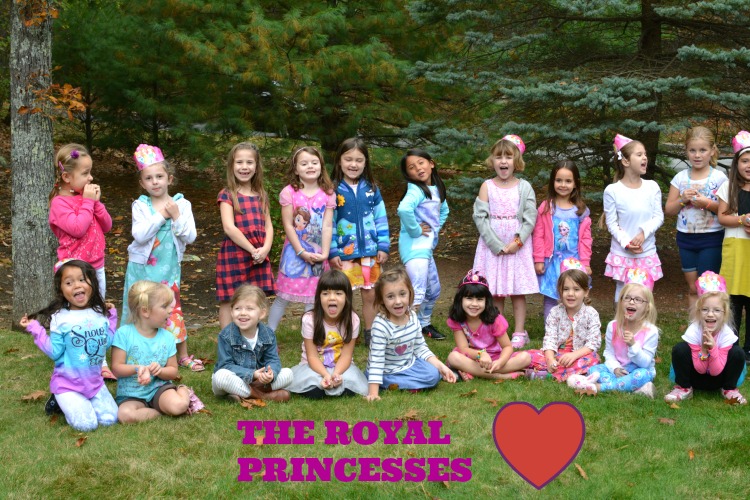 Once all the little princesses greeted one another, it was time to make some magical wands and purses. The kids had an absolute blast doing this. I thought it might be a little too much for them (we had about three crafts) but an hour later, they were asking for more! It was great fun!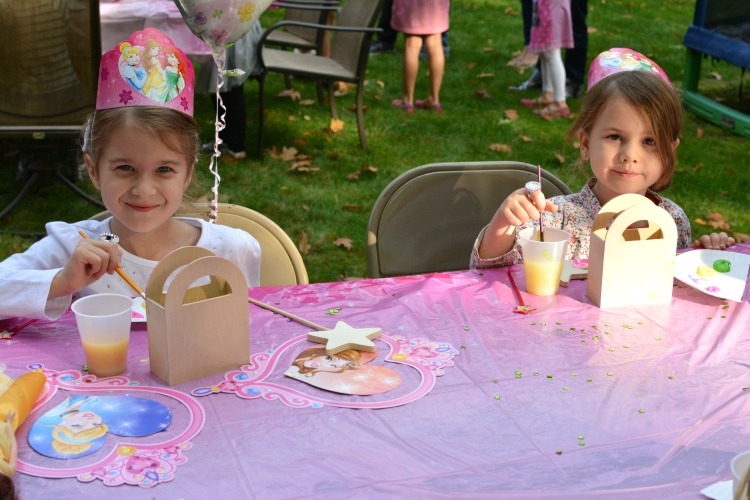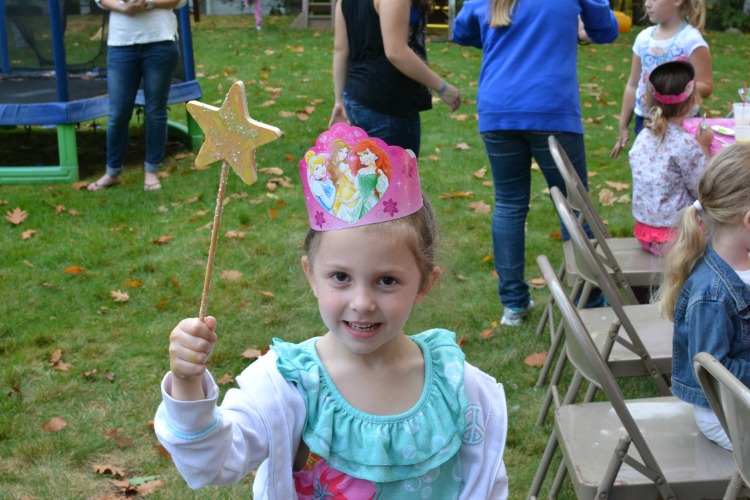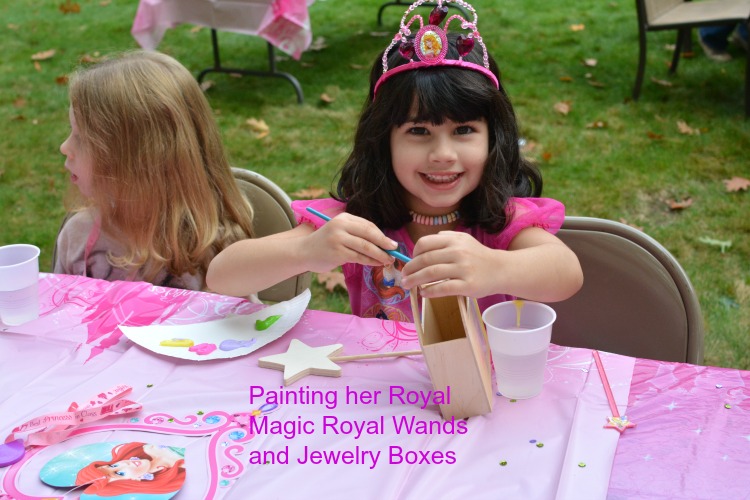 Look how awesome their crafts came out:
We ate some sandwiches and then the moment the girls were waiting for- the cake! We had a Sleeping Beauty cake with cake pops! We used the smashing Princess plates, cups, and napkins.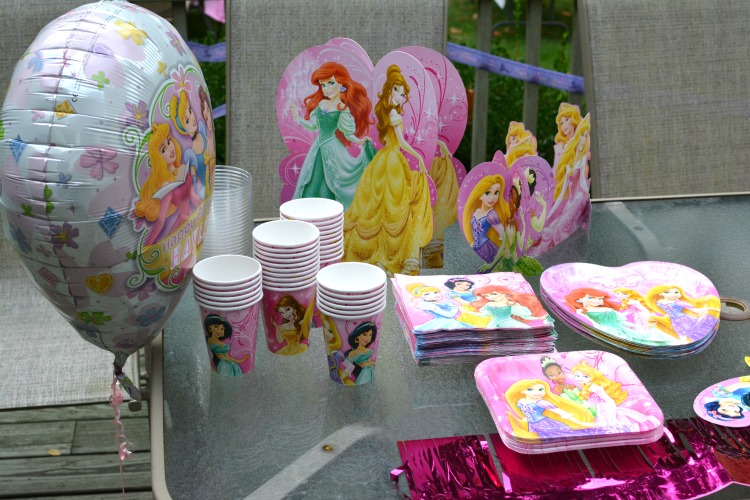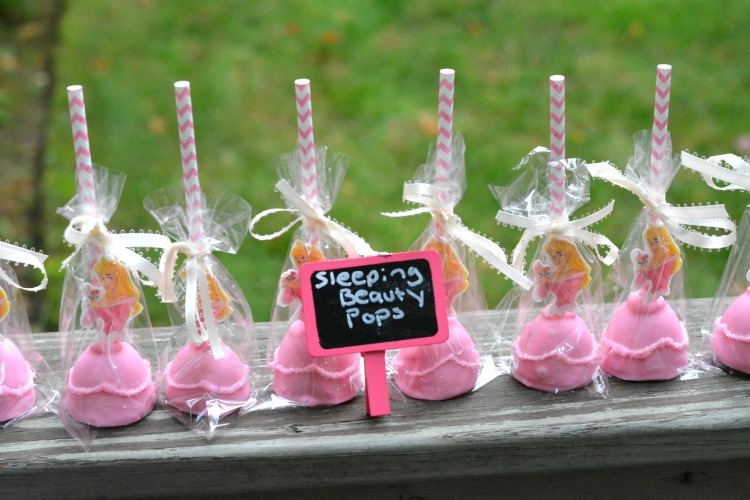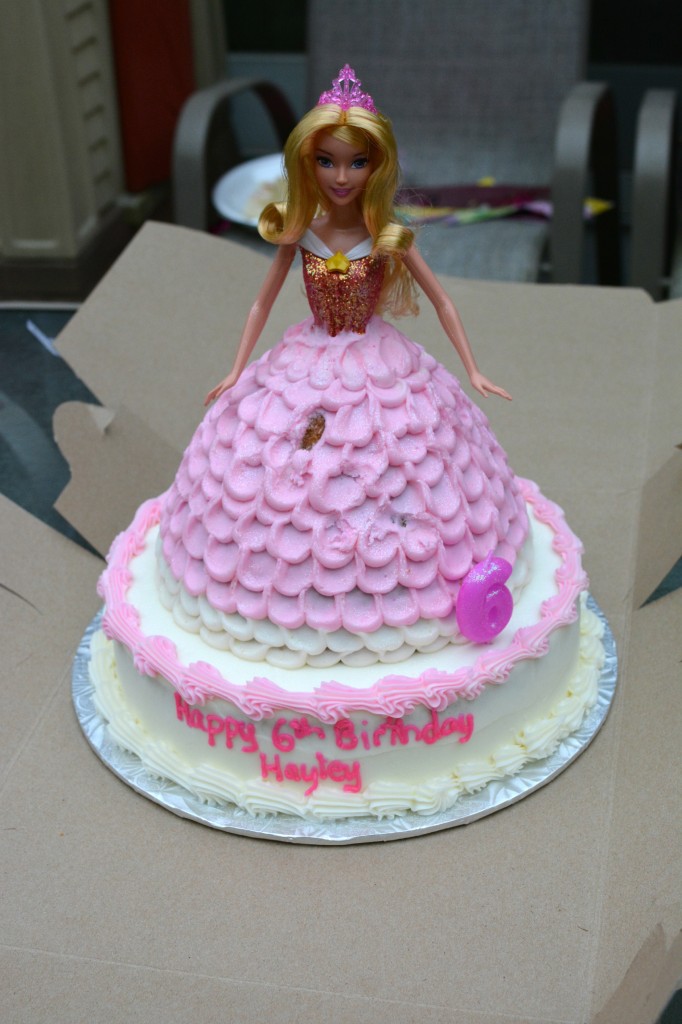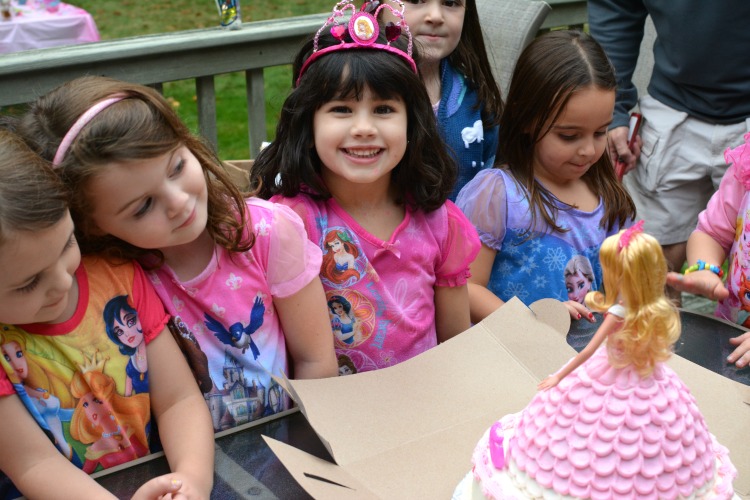 Finally, it was time for the girls to grab their popcorn and head on downstairs to see Sleeping Beauty. While it was Hayley's third time seeing it, many were newcomers to this Disney classic. For the entire 1.5 hour, no one said one word. It was incredible how much they enjoyed it and it put smiles on all of our faces. If you have little ones, you definitely don't want to miss out on showing them Sleeping Beauty. Be sure to hurry and buy it today at Walmart because once it is back in the vault, you never know when it is going to be released again.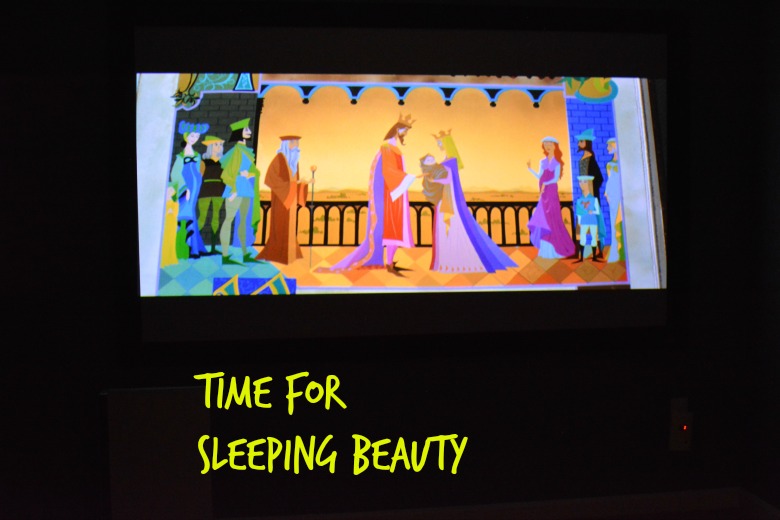 Once they finished the movie, it was time for the Royal Sleepover. Being the first sleepover at my house, I did not know what to expect. Turns out it involves a lot of chitter chatter and staying up to the wee hours of the morning. I think I fell asleep somewhere around midnight and they were still talking! It was a really fun experience for Hayley!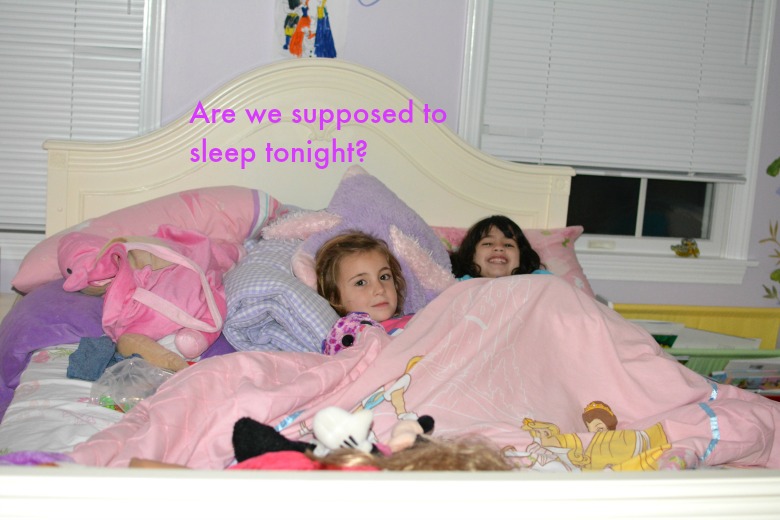 We truly did have the ultimate princess sleepover. If you are looking to host your own, check out these tips and most of all, enjoy!