**I wrote this review while participating in a campaign for Mom Central Consulting on behalf of Playskool. I received product samples to facilitate my party and review, and a promotional item to thank me for participating.**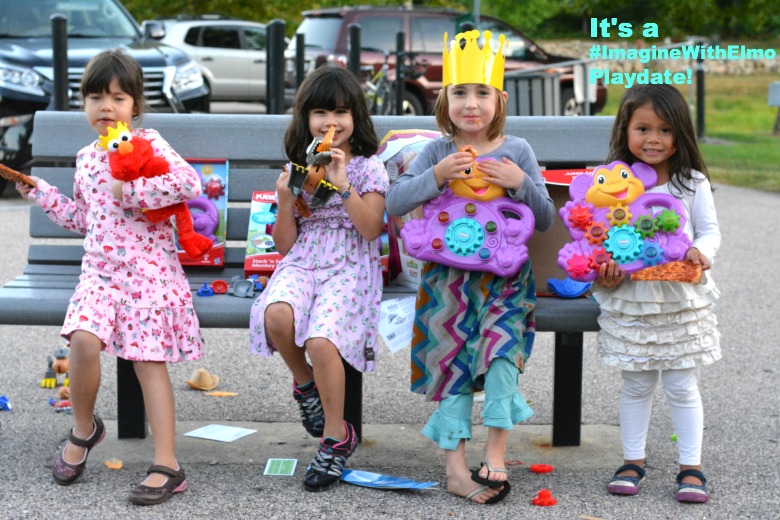 A few weeks ago, Hayley and Zane invited a few of their friends to our local park for a fun-filled Playskool Playdate party. There were two reasons that I was so excited to have this party. One was of course every kid loves toys and it keeps them occupied/happy for hours!  The second was the toys we received were from the Hasbro/Playskool line, which happens to be a company everyone in my town is very familiar with. We are Rhode Island based and since Hasbro is a local company to us, all our children have been playing with their toys for years. We are big supporters of their entire toy line!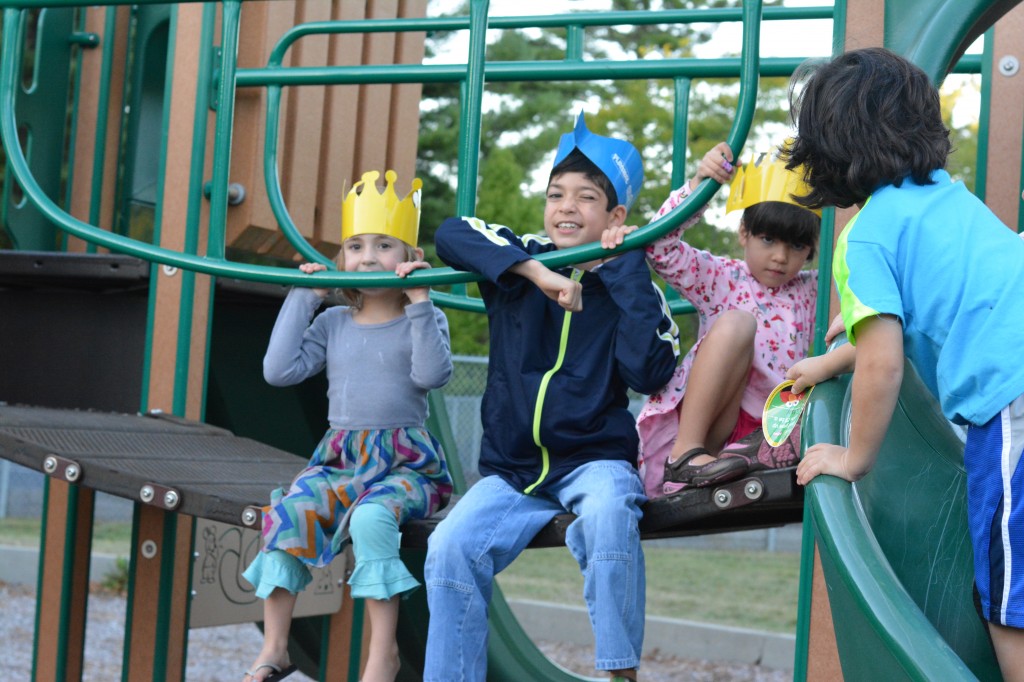 To prepare for our #ImagineWithElmo  party, I invited over 7 of Zane and Hayley's friends who ranged in age from 3-7. We received a large selection of toys to play with and give our feelings about once the party was over. At the end, of course, their little friends were able to keep the toys.
Some of the toys we received were: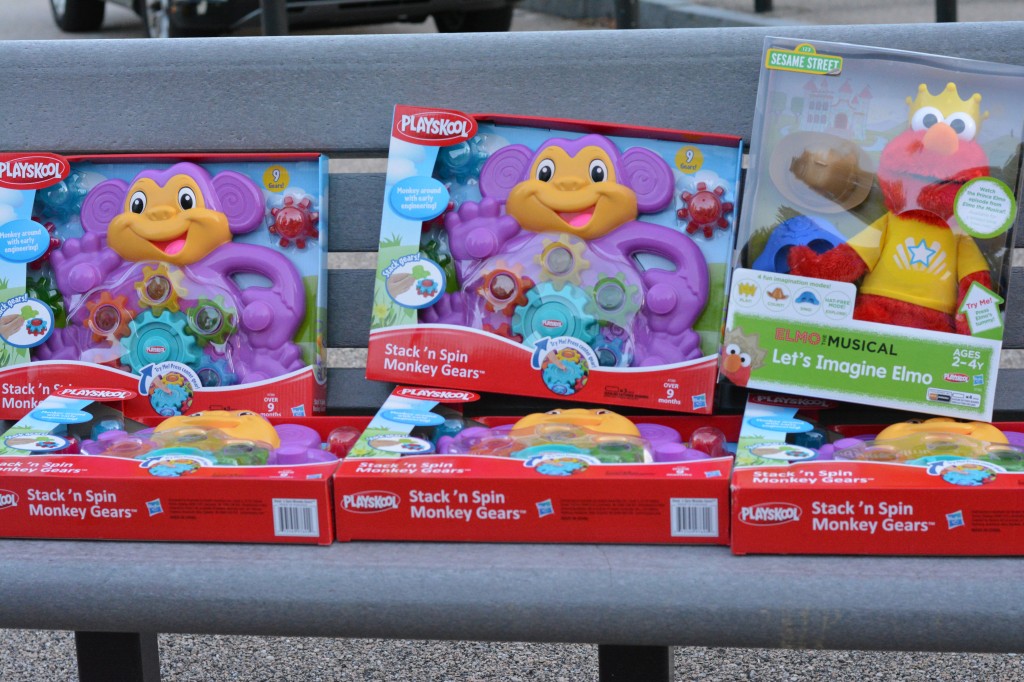 -Let's Imagine Elmo Doll
-Stack N' Spin Monkey Gears
-Transformers Mixable, Mashable Heroes Optimus Prime and Grimlock toys
We also received Let's Imagine Elmo hats for the guests and "When I grow up I imagine I'll be….." Elmo stickers. To set up, I put all the toys on the bench and set up the hats, as well as stickers, for the kids to enjoy when playing with these toys. I also made sure I ordered pizza, chips, and juice boxed to get the party started.
Once the playdate day came around, the kids were just so excited! As each of the kids entered the Playdate Party, they each picked their own Let's Imagine Elmo hat.  Some of the hats were crowns which the girls mostly picked. They wanted to be the princesses to rule over Elmo in the kingdom. Then the boys mostly choose the boat hats that were provided, as they used their imaginations to venture to the far away waters with Elmo. Each of their own hats matched the hats included with the Elmo doll that could be used to hear Let's Imagine Elmo come to action.   I absolutely love how the kids use their imaginations and what better way then through play! After their hats were picked out, the parents helped the children put on their sticker telling what they wanted to be when they grow up. Of course, Zane said he wanted to be a firefighter and Hayley the tooth fairy. I wonder if these are going to change in the future! HAHA!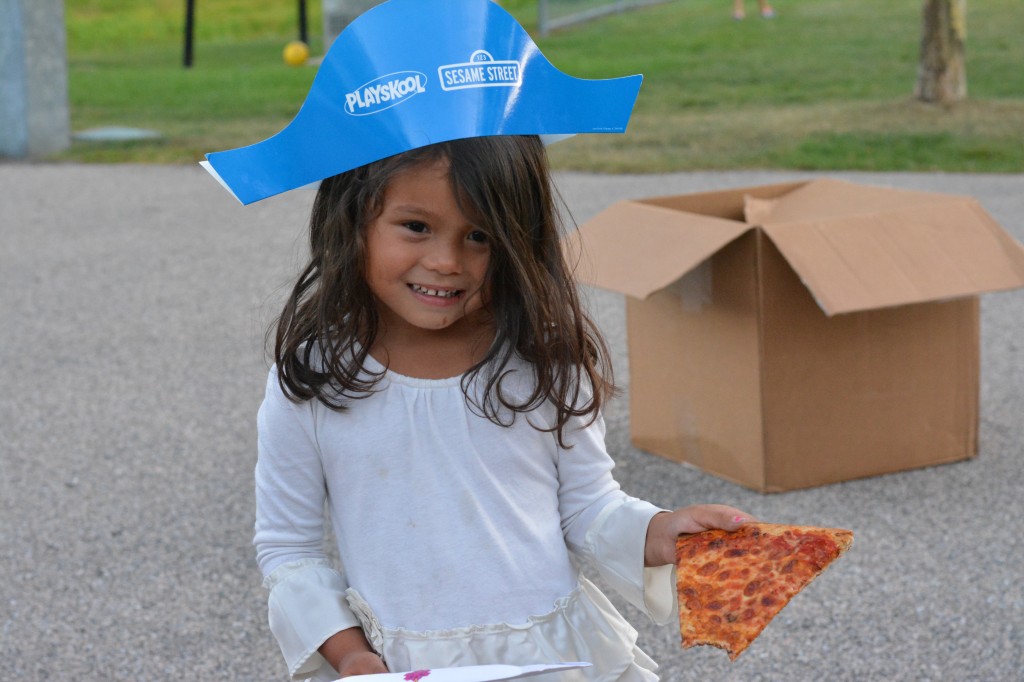 After eating dinner, the kids got around to playing with all the amazing toys. They first started by doing imaginative play with the Let's Imagine Elmo Doll.  Most of the kids are obsessed with Sesame, so they greatly enjoyed the Let's Imagine Elmo. They were able to visualize themselves in the Elmo musical on Sesame Street and bring it to the playground with this wonderful doll.  This doll stands 13-inch Elmo and comes with three different hats that unlock different imaginary themes and play modes: Prince, Cowboy, and Sea Captain.  Most of them either wanted Elmo to wear the prince or sea captain hat, although my Zane visualized Elmo as a true cowboy. Of course, because if Zane was not going to be a firefighter, the next on his list is Cowboy!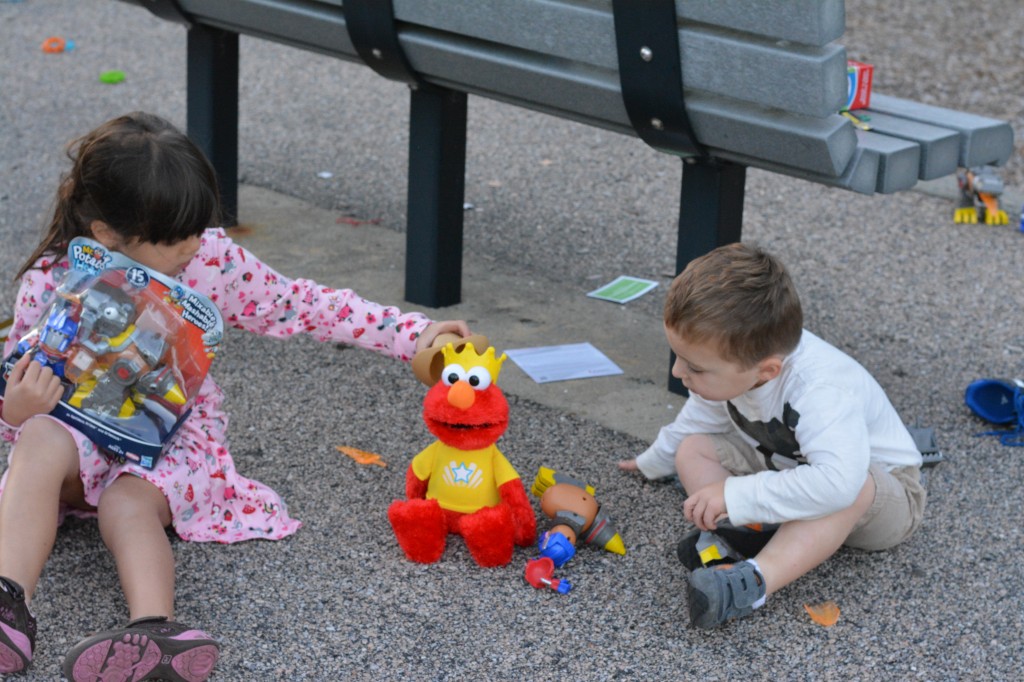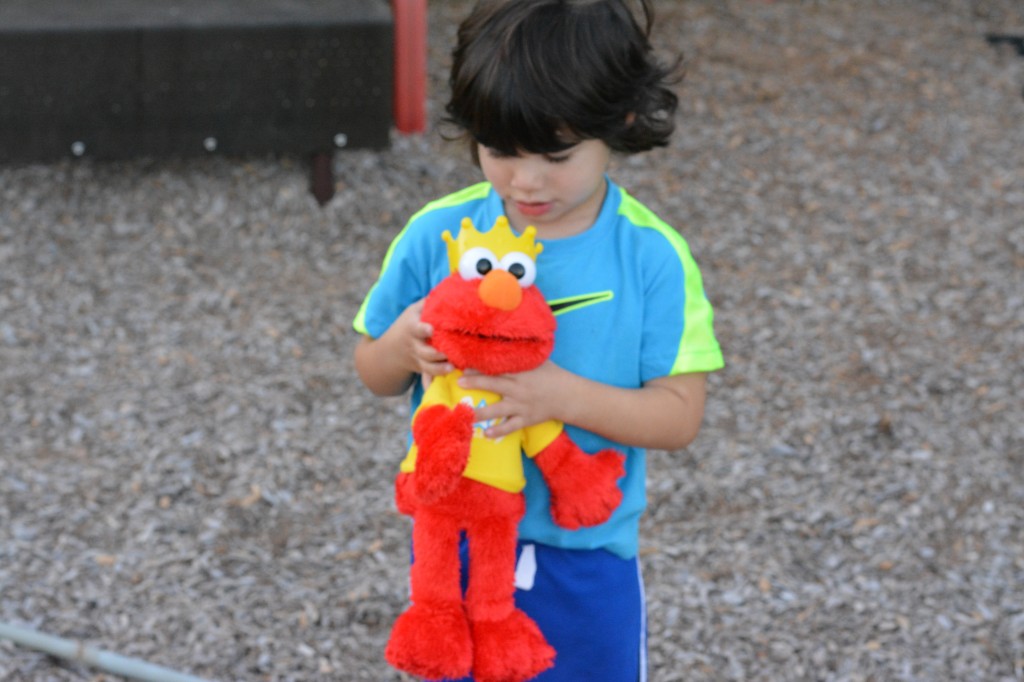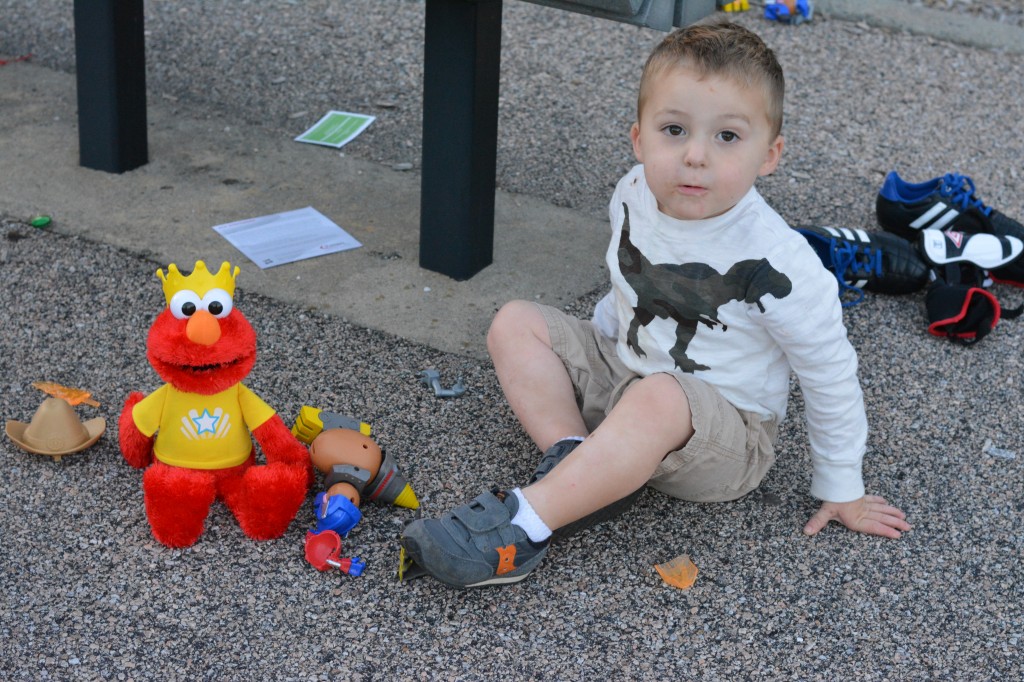 The way the Let's Imagine Elmo doll works is when your little one puts the crown on Elmo, Elmo pretends to be Prince Elmo and plays a game of "Prince Elmo Says." If your child puts on the cowboy hat on Elmo, Cowboy Elmo will count up to 20 with your child and then sings a reward song when they reach 20. Finally, the sea captain's hat lets Elmo imagine he's an ocean-going captain, and he'll start up a sounds-of-the-sea identification game.
The kids had so much fun trying on the different hats and seeing how each character of Elmo comes to life. Even when Elmo is not wearing a hat, he still is very interactive and loves to be played with, tickled, and his favorite dancing! Oh and Elmo loves to have his nose tickled!!
Some of the other toys the kids had fun with with were the  Stack N' Spin Monkey Gear which little ones can build up the fun by placing colorful gears all around their monkey friend's belly, hands, and feet. Kids' sorting and stacking skills will be rewarded with a delightful visual experience. This is the ideal toy because it encourages hand-eye coordination and the cause and effect situation which is important for little ones to learn. It also tremendously helps out with fine motor skills. They also enjoyed the  Transformers Mixable, Mashable Heroes Optimus Prime and Grimlock.  New for 2014, the MR. POTATO HEAD brand combines mini spuds with Mix & Mash play in a two-inch scale featuring everyone's favorite TRANSFORMERS characters! In this, Optimus Prime spud partners up with Grimlock spud to battle the Decepticons! Squeeze the Grimlock figure's eyes and watch as his jaw chomps and launches a projectile! Includes one two-inch potato body and three pieces to construct Optimus Prime spud and one four-inch potato body with parts and pieces to construct Grimlock spud.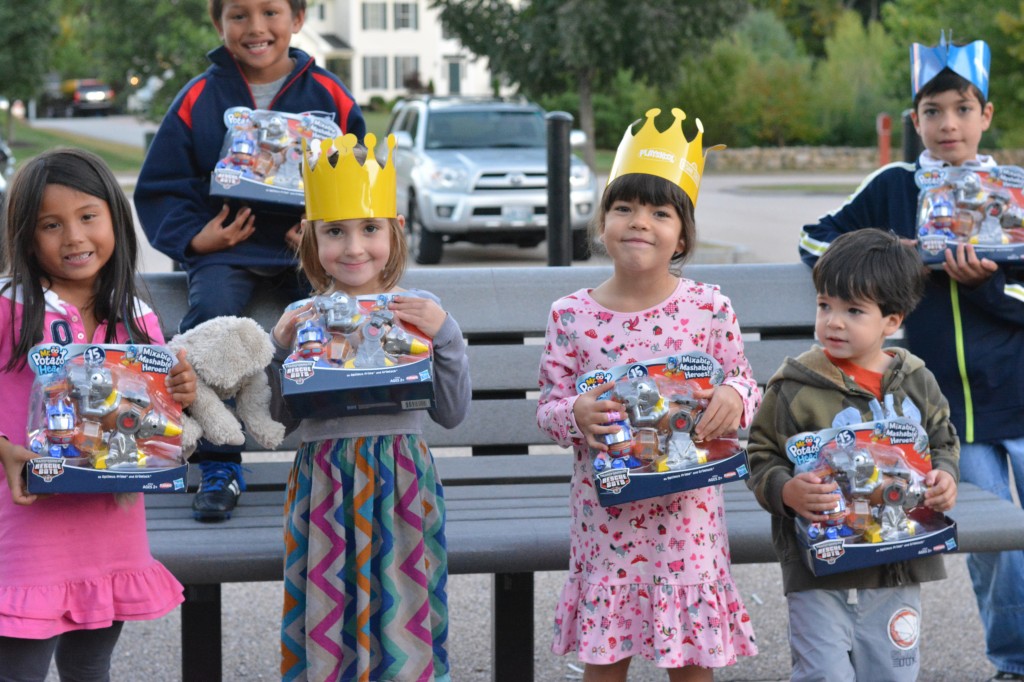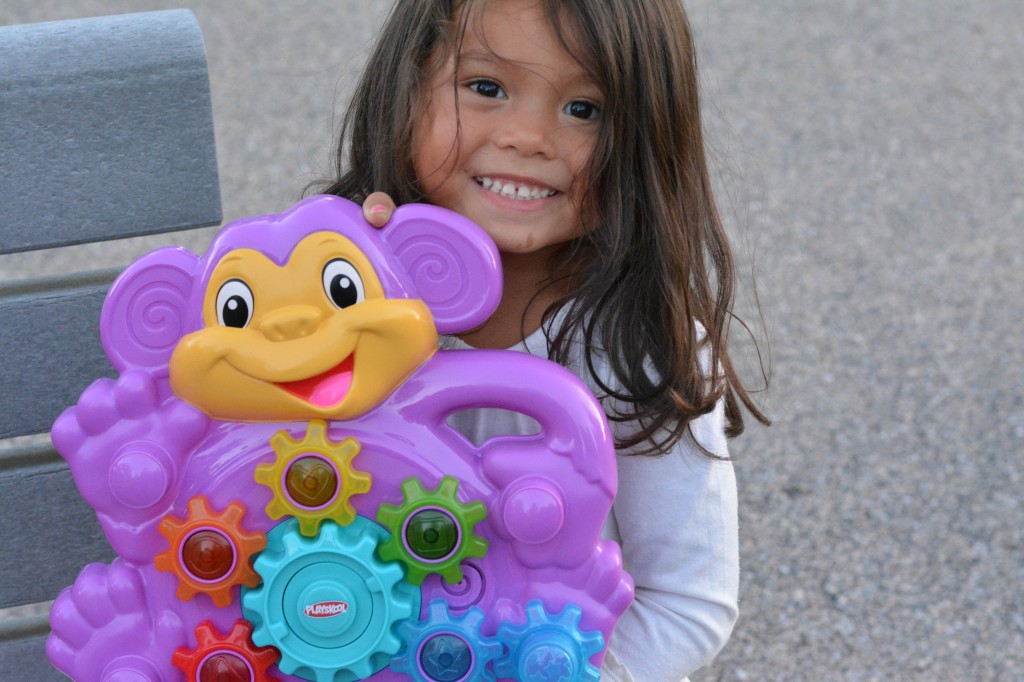 We had an amazing playdate with Let's Imagine Elmo and the other great toys PlaySkool provided. Hayley went home that night thinking I was the best mommy in the world. Truth be told though, I am a huge advocate of them playing with these toys to promote dexterity, learned skills, and imagination. After all, imagination is truly the key to a young person's life.  These toys are perfect for young hands and designed to enhance developmental skills through play, parents and children alike!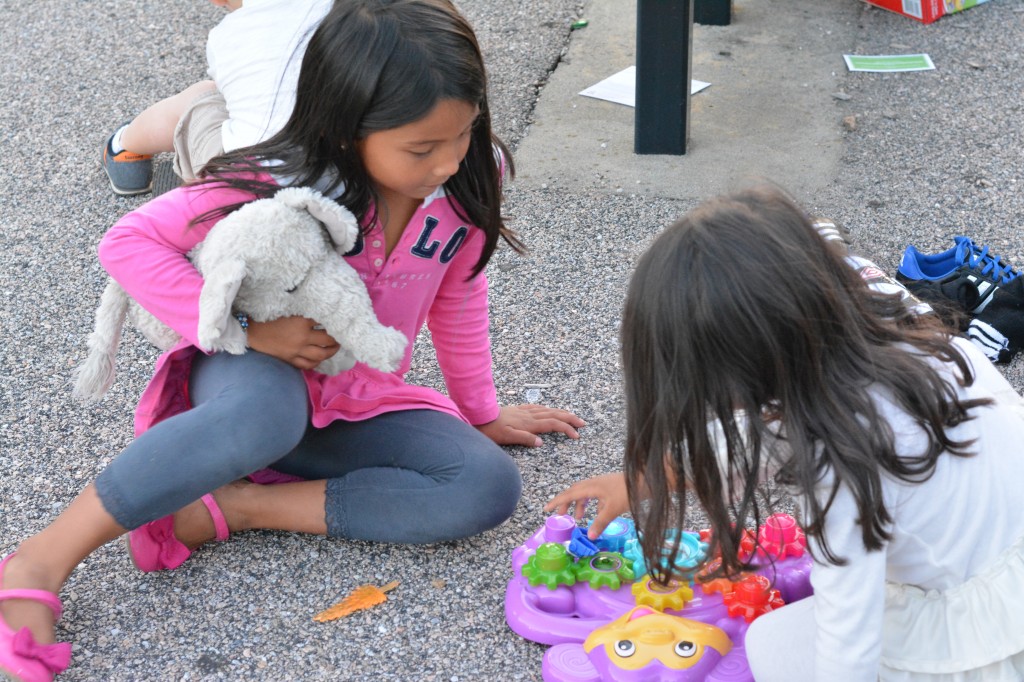 I encourage you to check out the Let's Imagine Elmo doll today! After all, the holidays are coming soon!