**This review was made possible by Double Duty Divas and Pampers. I was provided the featured product free of charge to facilitate my review, but all opinions are 100% mine.**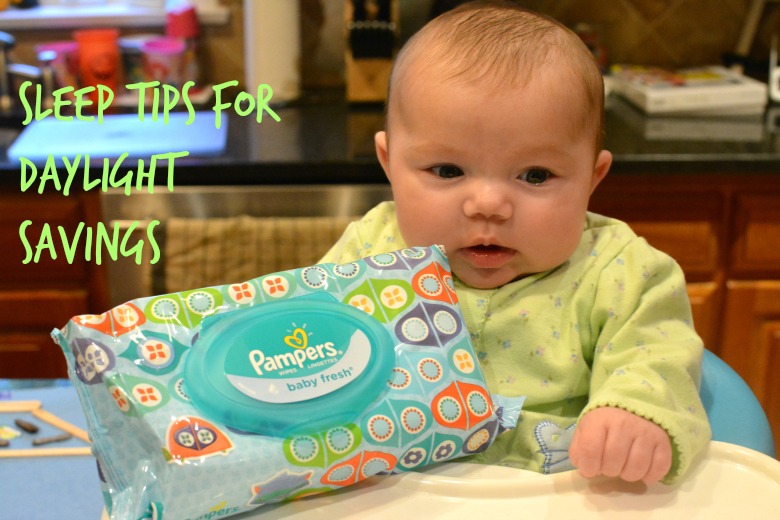 So shall I dare say that Taylor is almost sleeping through the night… Of course, she is not in her crib yet so things can change drastically but right now we are getting between 8-12 hours out of her at a time. Amazing if you ask me! However, the dreaded day that most parents fear is coming up on November 2nd- Daylight Savings! I wish they would do away with this, but in reality, I don't see that happening for a long time. So to help myself and all moms/dads out there, I thought I list some of my top sleep tips for daylight savings.
1. Make sure you start moving up their bedtime at small increments this entire week. I suggest doing it about 3-4 minutes each night so by the time this Sunday comes, you will be all set for that hour difference in setting back our clocks. The littlest changes will assure a smooth Daylight Savings transition.
2. Make sure the room is dark when putting your kids to bed and try to get them up when it is light. Consistency is key with sleep! Even if it is the weekend, do try to adhere to the same wake up and sleep time. I know you might be tempted to keep them up later at night on the weekends, but this will ultimately lead to cranking kids and no fun for anyone in the family!
3. Have a solid bedtime routine. For us, this consists of bath, book, and bed. We try to start our schedule every night at 6:30 pm for a 7:30 bedtime. If you follow a routine, it makes putting kids to bed much easier.
4. Let them go to sleep with their lovey or pacifier. If they are young (like Taylor's age), a pacifier might help with them sleeping. Of course, this should not be used forever but it is okay if they are babies. If they don't take a pacifier, try a favorite blanket or stuffed animal.
5. Make sure that your babies/toddlers stay try all night long. The #1 reason Taylor wakes up at night is she is wet. No baby or child likes to sleep in urine- Would you? In fact, in a 2013 survey conducted by Pampers, they  found that nearly one-quarter of mothers (24%) felt that a dry diaper was the number one thing that enabled their baby to sleep through the night. For this reason, we use Pampers as our go to diaper!
Pampers is so committed to keeping baby dry during the most important parts of their day: love, play and sleep. Through Pampers' extensive research on sleep, they've learned that babies are more vulnerable to waking up when they're wet. Unlike other diapers that offer two layers, Pampers diapers have three absorbent layers that provide up to 12 hours of overnight dryness protection. It's Pampers hope to minimize sleep disruptions so that little ones get the sweet slumber they deserve and need!
We know once we put Pampers on Taylor, she will be all set for a good night sleep and will not wake up wet! This equates to a happy baby and an even happier mommy! Sleep is essential for little ones to grow so why prohibit that by making them sleep in wet diapers that do not absorb. Be sure to check out Pampers diapers today so mommy/daddy/baby can all have a great night sleep!
Good luck to everyone with the sleep transition on November 2nd! Hopefully these tips will help!
Twitter Party Alert:
The #PampersSleepChat Twitter Party will take place on Wednesday October 29th at 9pm EST.
TO RSVP for this party click here: #DDDivas
To participate, follow your hosts @DoubleDutyDivas, @BridgetteLA, @CeceliaMecca @AngieKcom @WhatMommiesNeed @RamblingChick, and the main sponsor @Pampers.
Twitter Party Prizes Include:
· Prize 1 – Twinkles Nightlight in Blue, 148 ct of Pampers diapers and a pack of wipes.
· Prize 2 – Pottery Barn plush security blanket, $50 Barnes & Noble gift card, a pack of Pampers diapers and wipes.
· Prize 3 – A gift card to The $125 Children's Place for pajamas, a pack of Pampers diapers/wipes
· Prize 4 – A Kindle Fire so parents can purchase baby bedtime books, an $100 Amazon gift card to purchase the e-books, a pack of Pampers diapers and wipes.
To learn more about Pampers, check them out on Facebook and Twitter today.
GIVEAWAY: One winner will receive two coupons for  Pampers Diapers and Wipes! This giveaway is run via rafflecopter so click read more to see the actual giveaway. The only mandatory entry is to tell me what is your top secret for getting your kids to sleep through the night. Please put comments in comment section proceeding the post.  Feel free to enter the optional entries as it is increases your chances of winning. US only. Good luck!
a Rafflecopter giveaway