**This shop has been compensated by Collective Bias, Inc. and its advertiser. All opinions are mine alone.  #4MoreWaffles #CollectiveBias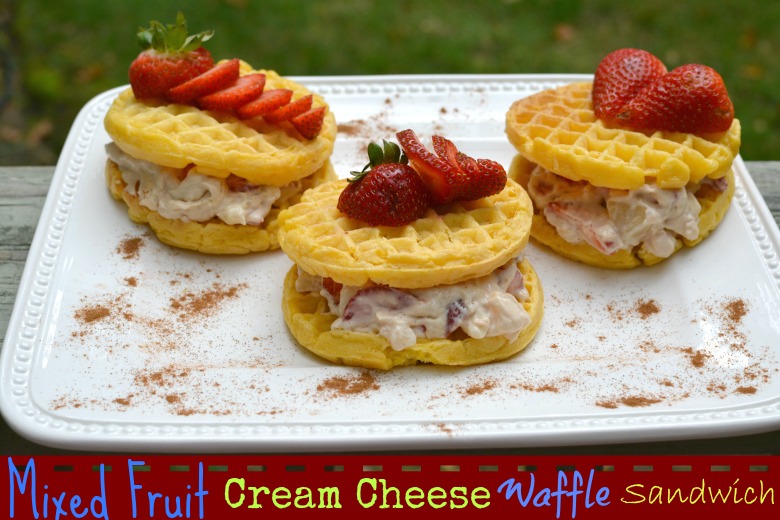 Lately, I have been in a real breakfast rut on what to cook for my family in the morning. With three kids that each like different foods, I get exhausted trying to cook their own meals and inevitably I turn to some high sugar cereal, which I know is terrible. However, they all agree on one breakfast food they like and that is Aunt Jemima frozen waffles. You know Aunt Jemima as the makers of frozen pancakes (gosh…I think they were around when I was a kid) but now they expanded their frozen breakfast to include delicious waffles! This has not only made me happy but my family now can enjoy breakfast together at the table or even breakfast on the go with these waffles.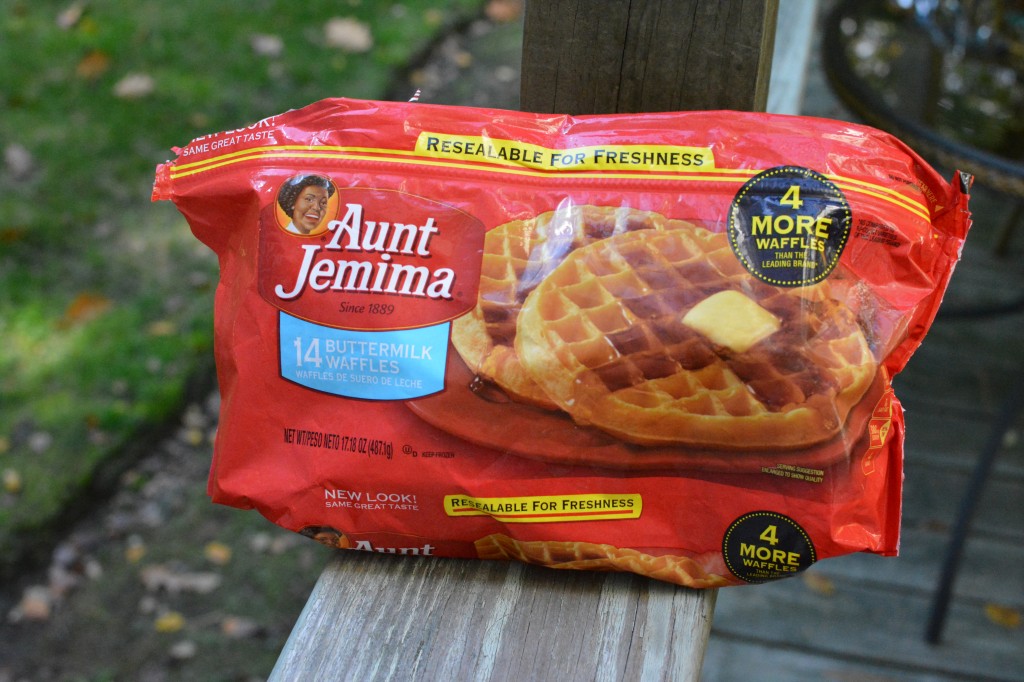 When I first heard about these waffles, I needed to try them out. After all, my mornings are totally hectic and I don't want to add more confusion to our morning routine but trying to find a breakfast for the whole family. With Aunt Jemina frozen waffles, my kids can even take these in the car with them on the way to school. I am "not"  going to admit that some mornings I am a full 30 minutes late and breakfast is not even served yet! Shhh…Don't tell my husband that I run later. I decided to simplify my life and the start of our day, by heading over to ShopRite to buy these frozen waffles.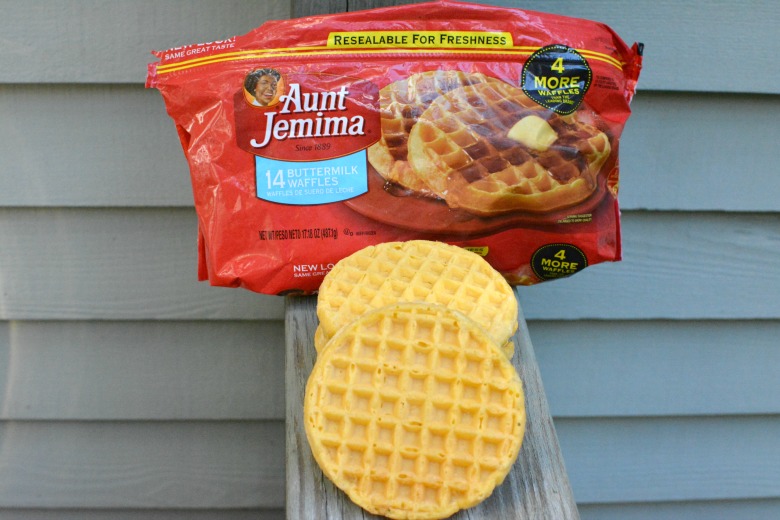 When I arrived at ShopRite, I readily found them in the frozen food aisle. Not only did they have this waffles available, but the packaging is just too great! The 14 Buttermilk Waffles are available in a red resealable package for freshness. I can't even tell you how many times I attempted to freeze foods but it ends up with terrible freeze burn. Now you will not have this trouble, since you take our your waffles, and then seal them in with this package. There is even 4 more waffles in the package, than some of the leading brand waffles on the market. To get you started with purchasing these waffles, there is a great $1.00 off coupon to use with these Aunt Gemina waffles! How neat is that?!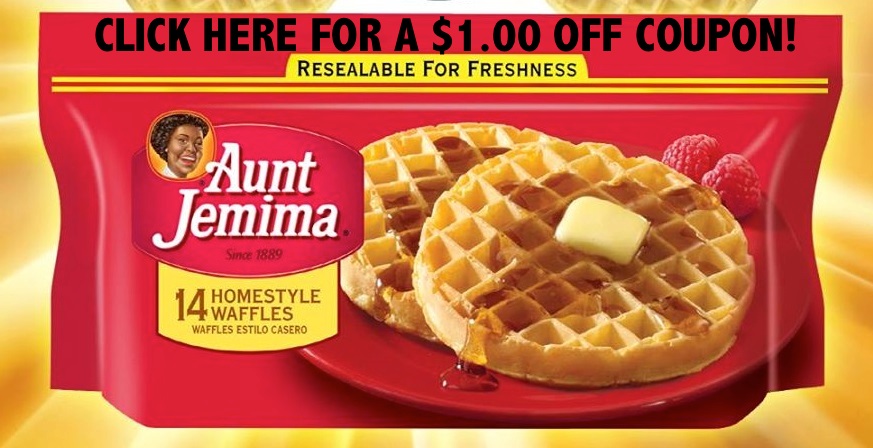 When I got home, the kids were very anxious to try these waffles. We took some out for our breakfast, and as I thought, they were a huge hit. You can pair the waffles with fruit, add your own waffle toppings, or just take the waffles for the car. My kids are notorious for grabbing a waffle for a fulfilling Breakfast on the Go! Oh and I love that there is no high fructose corn syrup, no artificial flavors, and no preservatives. That makes this mom very happy!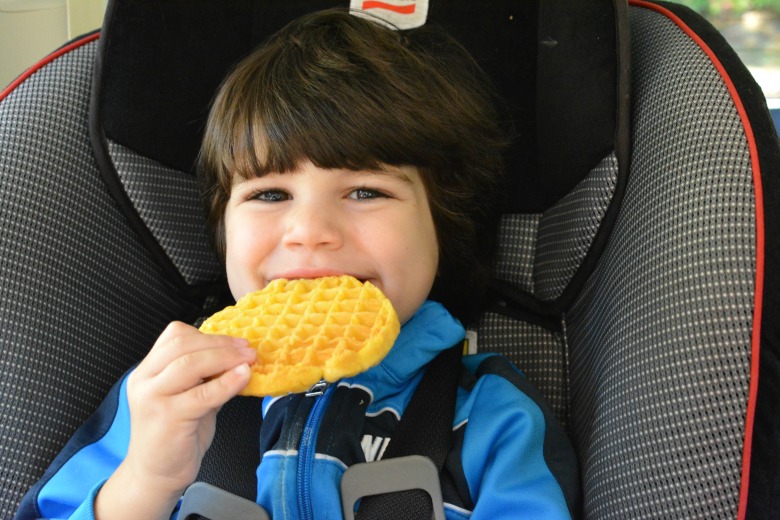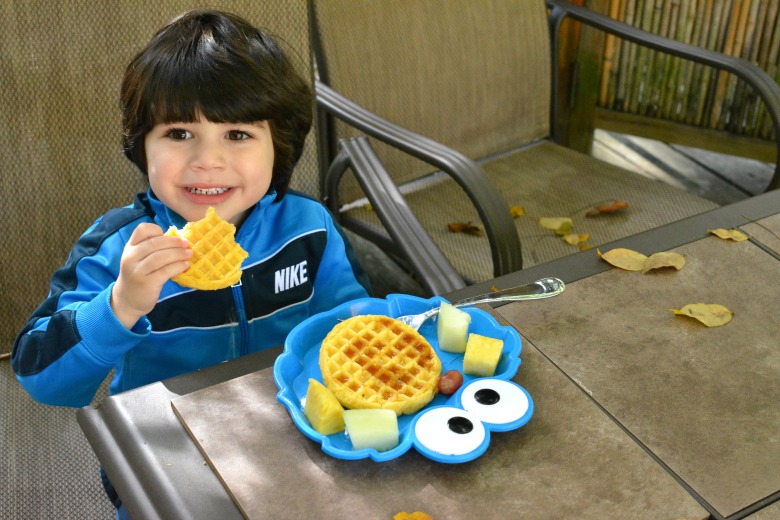 I decided I was going to spice things up for our morning breakfast by creating Mixed Fruit Cream Cheese Waffle Sandwichs using Aunt Jemima frozen waffles. This recipe is one that I myself ate as a child. It is a great breakfast sandwich that could be made in no time at all and will add excitement to your morning routine. It truly does not take much effort to make but the end result is a breakfast that your kids will enjoy time after time. You can even freeze these sandwiches and take them out anytime you want an easy breakfast.
Mixed Fruit Cream Cheese Waffle Sandwich- (make 3 sandwiches)
Ingredients-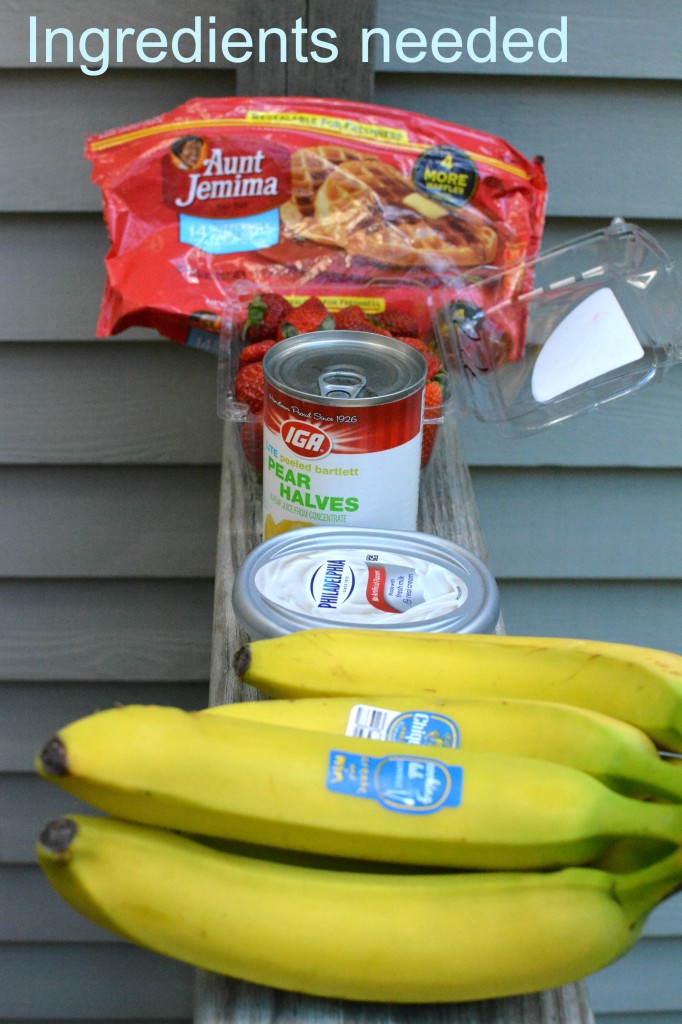 -6 Aunt Jemima frozen waffles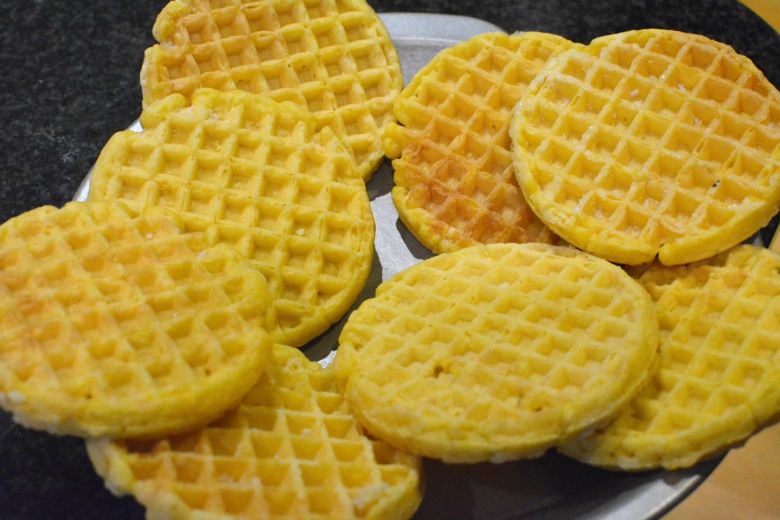 -3/4 cup cream cheese (can use light or regular)
-1 cup sliced strawberries
– 1 cup sliced banana
-1 cup pears (can use canned pears) sliced
-2 TBLS brown sugar
– 1 TBLS cinnamon
Directions:
1. Make Aunt Jemima Waffles according to packaging. I used my oven to cook until golden brown. You can also use a pan or toaster. Once cooked set aside on wax paper.
2. In small bowl, combine cream cheese, brown sugar, and  cinnamon in small bowl. You can hand mix for about 10 minutes or use an electric mixer. Make sure combination is smooth, without any lumps.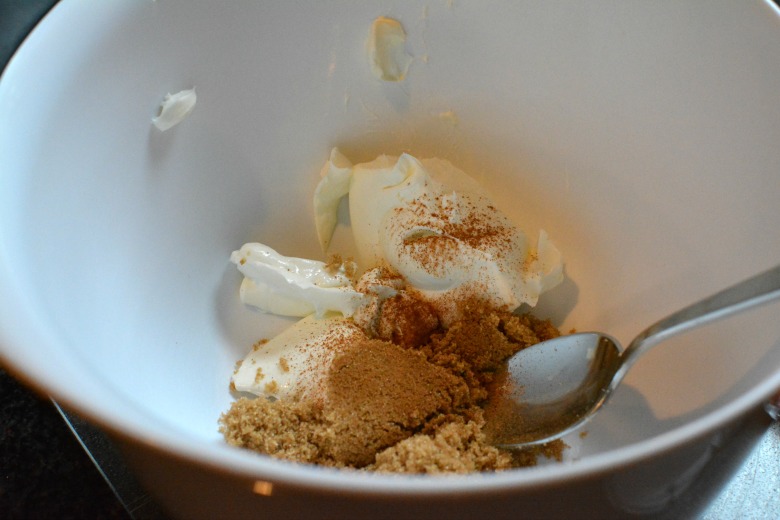 3. Fold in pears, bananas, and strawberries.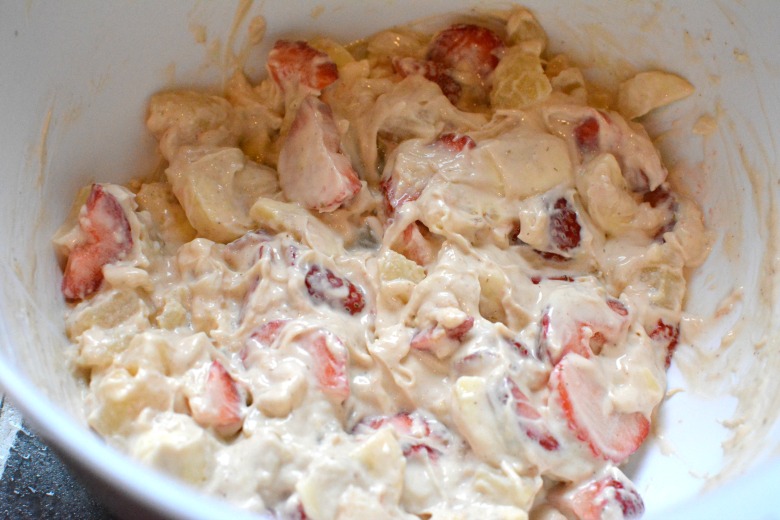 4.  Place 3 waffle sides on wax paper and spoon in 2 TBLS of #2 onto each side. Once done, top with remaining 3 waffle sides to make sandwiches.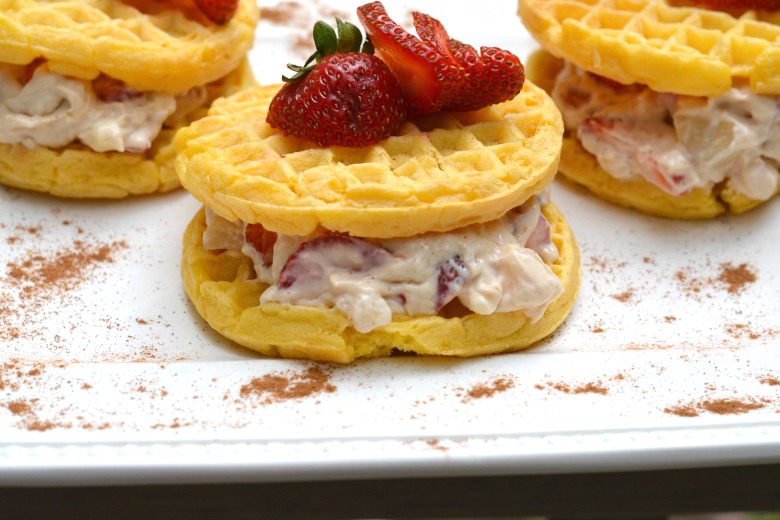 Enjoy!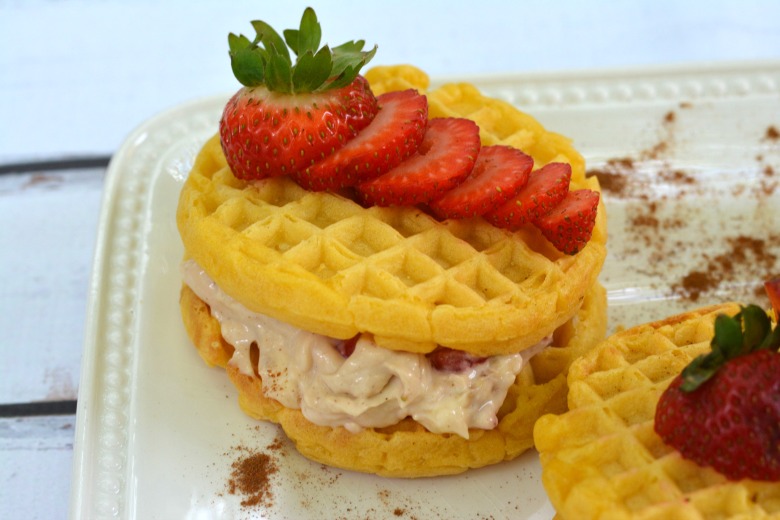 This is a really great breakfast that is easy to do, tastes delicious, and can be made in bulks to store in your freezer. If you have not tried the Aunt Jemima waffles, you are really missing out! It will make your time in the mornings much easier and allow you and your kids to actually eat breakfast, which is the most important meal of the day. Be sure to take advantage of the $1.00 off Aunt Jemima waffles to purchase yours at ShopRite and Publix today.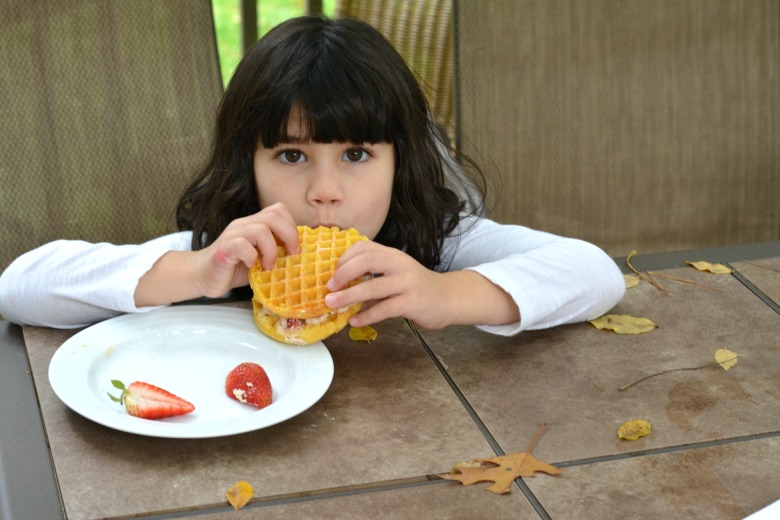 So, what creations would you make with Aunt Jemima waffles?