*I received a dress for review. All my opinions are my own and not swayed by outside sources.*

As a mom of two girls now and one boy, I absolutely love to find cute clothes. While I love to shop in malls and such, some of my cutest finds are from retail stores online and small boutiques. That is why I was so happy to hear about Patricia Gambis Reversible Handcrafted Dresses, which are absolutely darling! What is so neat about these dresses is no matter which way your child wears the dress (the way it came in the packaging or inside out), you will have a fantastic dress with unique patterns. It is basically like having two dresses in one, and being able to showcase each dress on different days of the week.
Here is some information about Patricia:
**Patricia is a designer and maker of children's clothes (6 months – 4 years old) based in Forest Hills, New York. Her collection evokes the unbounded creativity and playfulness of childhood and favors classic lines and imaginative prints. Each piece of garment is designed and constructed by Patricia which guarantees her clients the highest level of craftsmanship and sustainability. Patricia launched her children's wear collection in 2010 with her signature reversible cotton denim dress. She has since expanded to include corduroy and applique dresses, sun hats and tops. In 2013, she launched a collection of reversible overalls for boys and girls.
Patricia's design philosophy is that children's clothes should be colorful, stylish and comfortable.**
We received the Busy Bee reversible dress for Taylor and boy, does she look simply adorable when she wears this dress around town. One side of the dress features an array of bees, flowers, and colorful patterns. You can wear this dress as is, or when the weather gets cooler, simply pair it with a long sleeve top.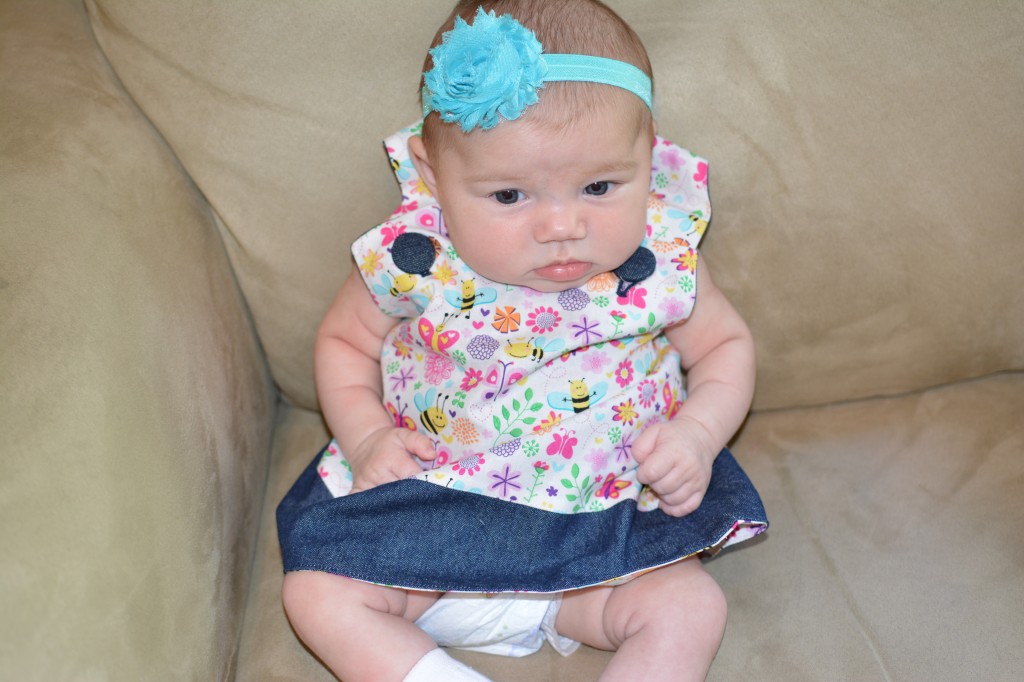 Then to have a completely different look, turn the dress inside out, and you will have a fabulous denim dress with buttons that match the patterns of the dress. The covered buttons match the bottom of the dress for a stellar look. The printed Busy Bee fabric is 100% Kona Cotton and the medium-weight denim is 100% Cotton as well.
Taylor has already worn this dress quite a few times and every single time she gets a ton of compliments on it. The dress runs from 6 months up to 18 months, and features soft fabric, that will not irritate your baby. It also has a great price tag for a dress that is so versatile.
Besides dresses, Patricia sells reversible overalls and college team dresses. You must take a look at her site,  Patriciagambis.com,  to see how stunning her clothes are. I am truly impressed with the dress we received.
Patricia is also giving my readers a  25% off  at checkout with code SUMMER. Have fun shopping!