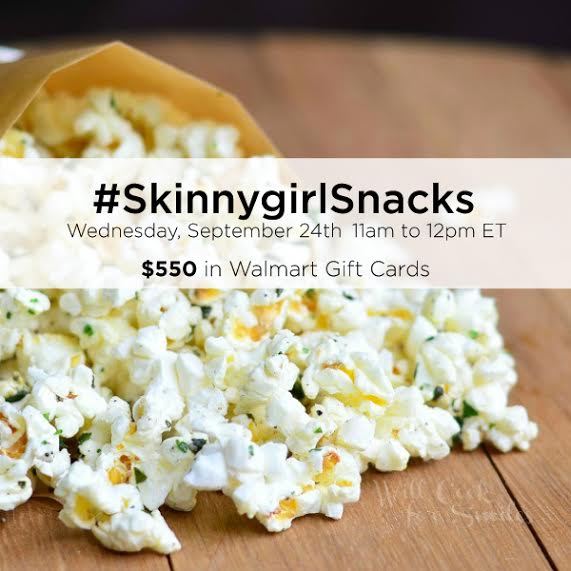 Photo Credit: Will Cook For Smiles
Do you love a good Twitter Party? You know we do and we're excited to host a party where we talk all about healthy snacking! On Wednesday, September 24th at 11:00 am ET, please join us for the #SkinnygirlSnacks Twitter Party where we'll be sharing tips on living a healthy lifestyle with some delicious snacks, and giving you a chance to win prizes!
I don't know about you but this summer, I gained a bit of weight and now I made a resolution to myself to lose it. While I tend to be a snacker, my choices have not been great at all this summer, which inevitably lead to my weight gain. Now though, I made a vow to myself to snack skinnier and one of my favorite food choices for this is Skinnygirl Popcorn. This low calorie popcorn is perfect for me to munch on when the snack attack hits. It not only tastes good but is a great low calorie snack option. Be sure to join us on 9/24, where we talk all about a balanced lifestyle by finding healthy snacking alternatives. It is sure to be a great party!
Join me and RSVP for the #SkinnygirlSnacks Twitter Party on SoFabChats!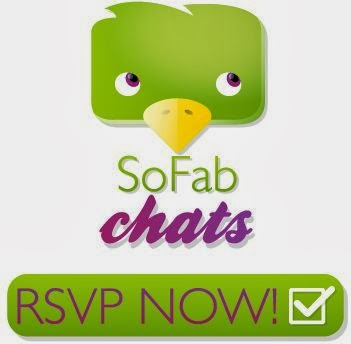 DATE: Wednesday September 24th
TIME: 11:00 am – 12:00 pm ET
PRIZES: 5 – $100 Walmart Gift Cards
EARLY BIRD PRIZE: 1 – $50 Walmart Gift Card
HOSTS: @dentistmel, @OurHomemadeLife, @xokammie, @comebackmomma,  @_Karen
Special Guest: @OrvillePopcorn 
RULES: #SkinnygirlSnacks Twitter Party Official Rules
RSVP PARTY GRID:  #SkinnygirlSnacks Twitter Party Page
TWEET TO SHARE:
Join #SkinnygirlSnacks Twitter Party 9/24 11amET Snack skinnier! Prizes $550! RSVP/Rules http://t.co/OvKRyK3HYU #shop #cbias

— melissa weintraub (@dentistmel) September 14, 2014

How To Participate In A Twitter Party on SoFabChats!
TIP: How to join a Twitter Party – sign in! Before party starts, click on the green "Sign In On Twitter" bar at the top of the page!
TIP: Who to follow at a Twitter Party? Follow the Party Team by clicking on the Twitter handle links on the RSVP page!
TIP: Want to win Twitter Party prizes? RSVP by clicking on RSVP button before you join the party, follow everyone on the Party Team, and tweet with the party hashtag during the party to be eligible!
TIP: How to win the Early Bird prize? Watch for chance to share a tweet when you RSVP for a chance to win!
TIP: Special deals and brand coupons? Keep that options checked when you RSVP for the party!
TIP: New to Twitter parties? Watch your column and Party Team tweet columns – they are slower paced and easier to follow!
TIP: Where to find Twitter Parties? Check out the SoFabChats Twitter Party Calendar to find more fun parties to attend!
Find more helpful Twitter Party Tips on SoFabChats!