* I received products for review. All opinions are my own and not swayed by outside sources.*
As a new mom, I am TIRED! Sure I am not sleeping much because she is only 11 weeks, but that does not mean, I can't look good. The problem is I have dark circles under my eyes. So not a fan of this! Lucky for me, Dermagist sent me the Eye Revolution Gel to get my eye area looking fresh again!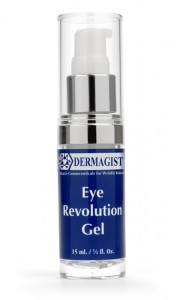 At Dermagist, you can find a wide assortment of skin care products such as neck restoration cream, original wrinkle smoothing cream, hydro-renewal hand cream, phenomenon dermal filler, skin tone correcting system, dermal revitalizing agent, eye revolution gel, complete rejuvenation system, dynamic age-defying serum, instant -effect lifting serum, eye precision system, neck and chest revival system, ultimate clarifying system, detoxifying cleanser, clarifying system for acne-prone skin, acne scars fading cream, clarifying cream for acne-prone skin, original wrinkle smoothing cream, therapeutic cleansing gel, detoxifying cleanser, hydrating spa system, and much more!
I had the chance to review Dermagist Eye Revolution Gel which I have been using for a few months now. This gel is used under the eyes for wrinkles, dark circles, and puffy eyes. I use it twice daily around the eyes and then put on my makeup. In just a short few weeks, I have noticed much less dark circles around my eye region. Gone are the days when I look like I am only getting 3 hours of sleep, even though some days I am!
If you are looking for a great eye gel, be sure to check out Dermagist. They are now selling Dermagist on the Buyer Review  site!  Place your order and save on this incredible gel!  This small bottle will last you months and retails for $99!