*We received product for review. All my opinions are my own and not swayed by outside sources.*
Sometimes, I get contacted to review a product that I absolutely fall in love with from the moment I see it!  This was the case with Up and Away's infant and children's novelty jackets. We received the Americana-themed Space Shuttle Jacket and we could not be happier! This is the ultimate space jacket for any little boy out there who likes to use their imagination. This jacket is not only super cute but it is themed perfectly for the little astronaut in your life.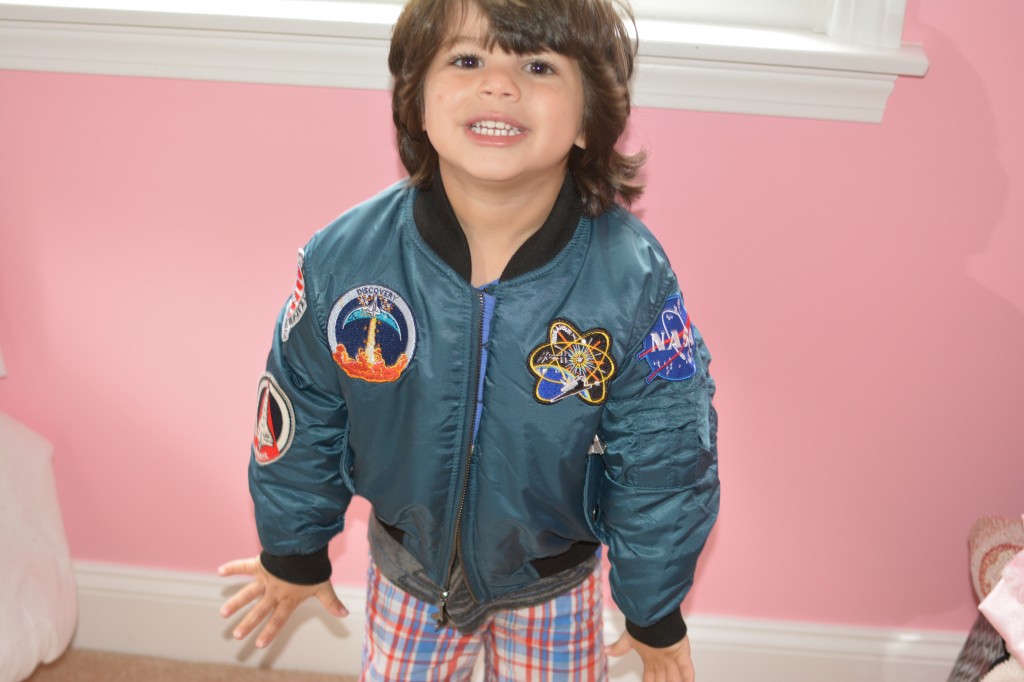 This jacket is a tribute to the retired Space Shuttle Program, and features two miniature Space Shuttle zipper pulls and five colorful embroidered patches. There are 5 space-oriented patches, including four with the names of the recently retired shuttles (Atlantis, Endeavour, Discovery, and Enterprise) and a NASA patch, on the jacket's front and sleeves. It is a grey jacket with Space embroidery all over the jacket that will make your child feel as they are part of the NASA program. Once they have their kids jacket on, they will want to use their imaginations and go around telling everyone they are space bound. This was the case with Zane anyway!
Up and Away's Space Shuttle Jacket is made of a brilliant eye appealing blue 100% nylon fabric with black knit cuffs, collar, and waistband. The jacket is quite thick so you can use it in mild temperatures or those cooler days that we are bound to have soon. It is also water resistant so do not worry if your little guy gets caught in the rain with it.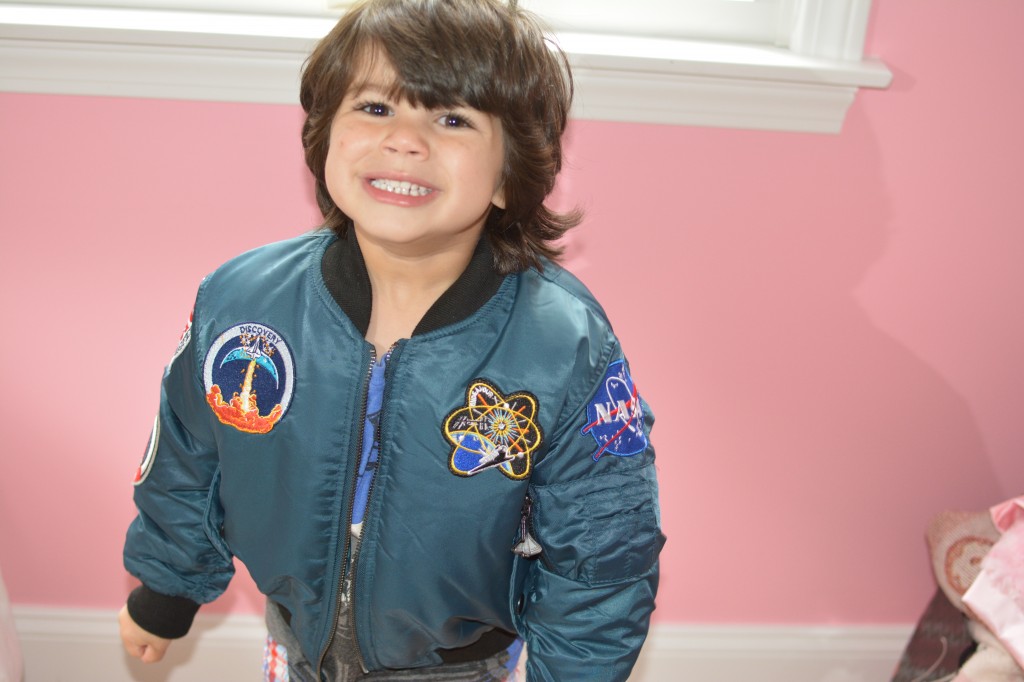 Besides the fact that this is an amazingly designed jacket, Zane tells me that it is comfortable! I can't even tell you how many times in the past he tries to rip off jackets, but this one he puts on and it stays on. In fact, I have trouble with him taking it off. He loves it so much! Kids can use our jacket for both "make-believe/play," as well as for outside warmth.
The price on this jacket is also superb! It retails for $59 dollars and can be paid via paypal on their site too! Let me tell you that with this price, you can't beat finding another jacket that is even comparable to it. It is functional, adorable, and allows your children to explore their imaginative sides. It would make a great gift too for the upcoming holiday season. Be sure to check it out today!
The Space Shuttle Jacket is sold at museum gift shops, children's retail specialty stores, airport shops, and e-commerce sites including www.jisforjacket.com.  They recommend one size larger than the age of the child.