****This shop has been compensated by Collective Bias, Inc. and its advertiser. All opinions are mine alone. I am also participating in a contest as an additional aspect of this campaign. #AfterSchoolSnacks #CollectiveBias***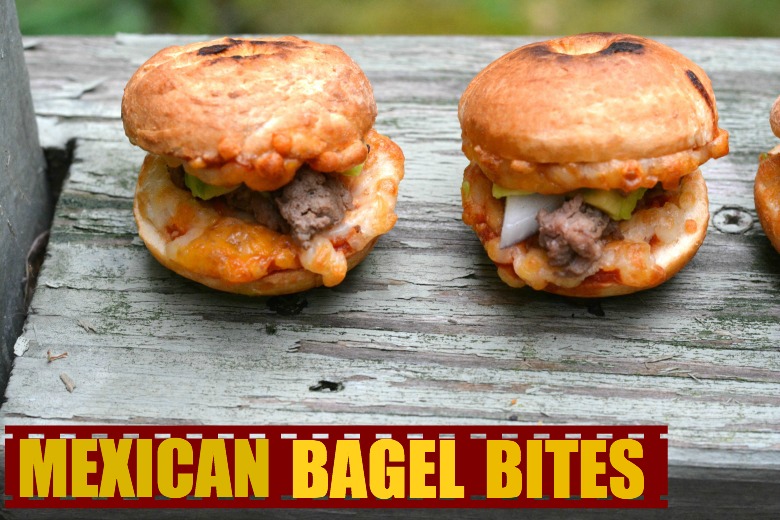 School season is officially going to start in about 3.5 weeks and I am in the process of getting organized! This year, will be somewhat more challenging because I have two kids starting school and will also have an infant to throw into the mix. School shopping is almost done but my next solution to solve is figuring out foods I can serve when they come home ravenous. I need quick snacks that will fill their bellies and fun snacks  that will encourage them to eat. Hayley is also in dance company this year and will have around 7 dance classes a week, which means we are always going to be on the go. I need great snack ideas for her to take with her in the car and on the go, to get from one class to the next. It is going to be crazy busy and I need some great snack recipes.  For this, I turn to two of my favorite foods that I grew up with- Bagel Bites and Delimex. While I absolutely love these foods just the way they are out of the packaging and into the oven, I thought I might add create some yummy Mexican Bagel Bites that will provide Zane and Hayley with great After school snacks, that would be easy to make and would be delicious! Both are also made with real and high quality ingredients.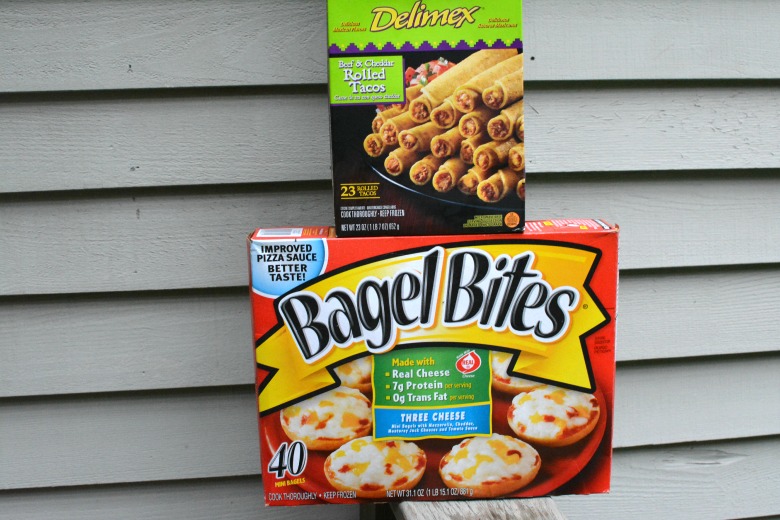 To start off my journey to creating great snack recipes, I headed to my local Walmart to purchase Bagel Bites and Delimex. I found the Bagel Bites and Delimex readily in the frozen food section. They had so many delicious flavors of Bagel Bites and Delimex, but for my recipe, I purchased the Three Cheese Bagel Bites and Delimex Beef and Cheddar Rolled Tacos. You can find a great coupon to purchase both of these wonderful products here: Bagel Bites and Delimex. I then headed to get some other ingredient necessities such as avocado, lettuce, and meat. I was so excited to go home to try out my recipe and see how it would turn out!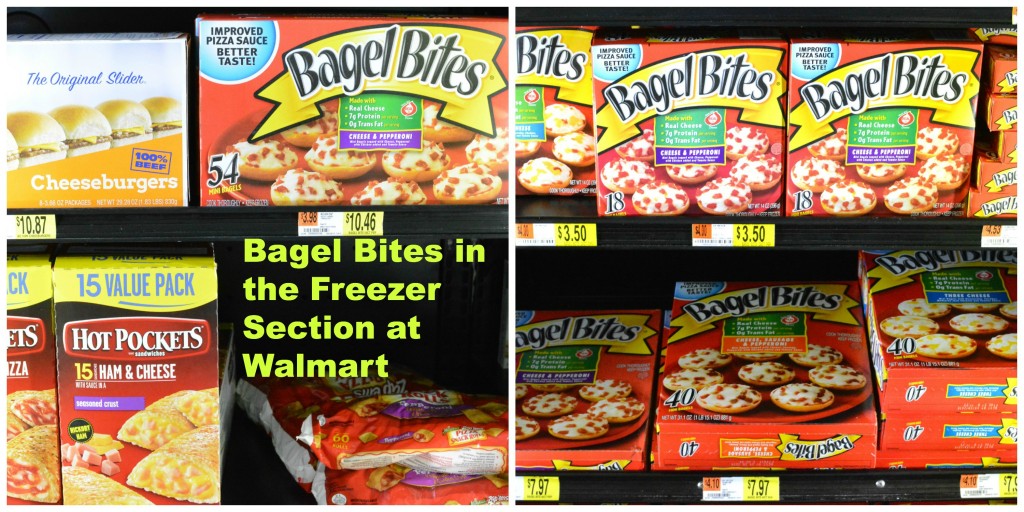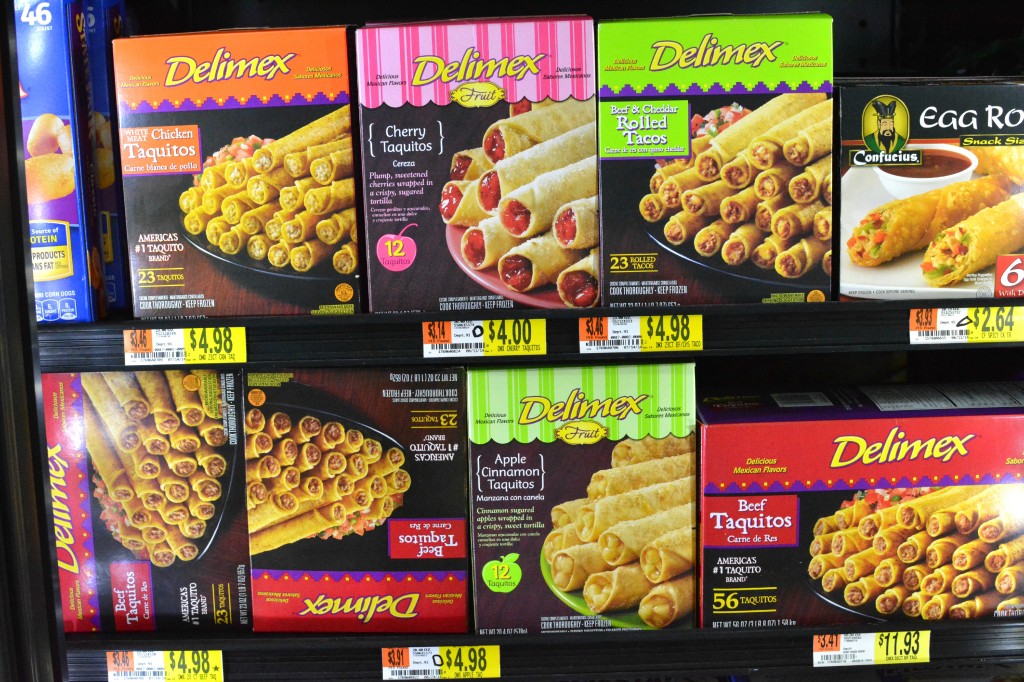 When I got home, I got together all my ingredients for my Mexican Bagel Bites but not before Hayley begged me to try out the Bagel Bites and Delimex. While I grew up having Bagel Bites always stored in my freezer, I honestly forgot about them until I visited Walmart and saw them. Now, I am pretty sure we are always going to stock our freezer with these! After all, Bagel Bites are made with real cheese and homemade sauce with 0 gram trans fat.  Kid approved and Mommy approved- What could be better?!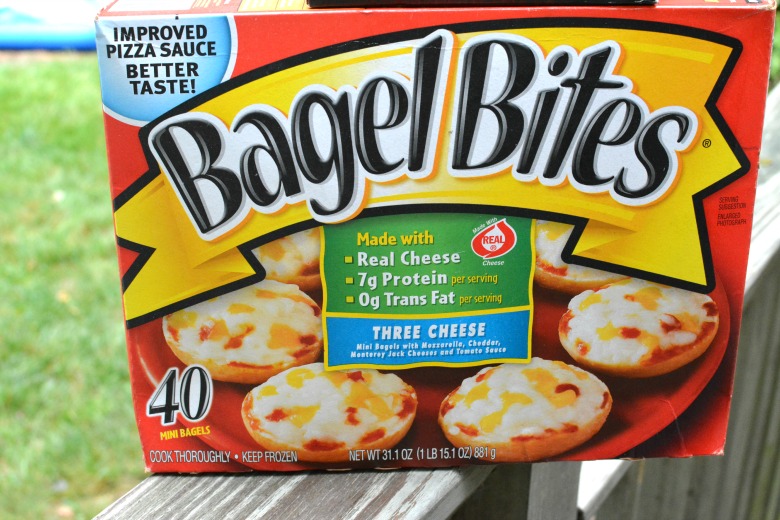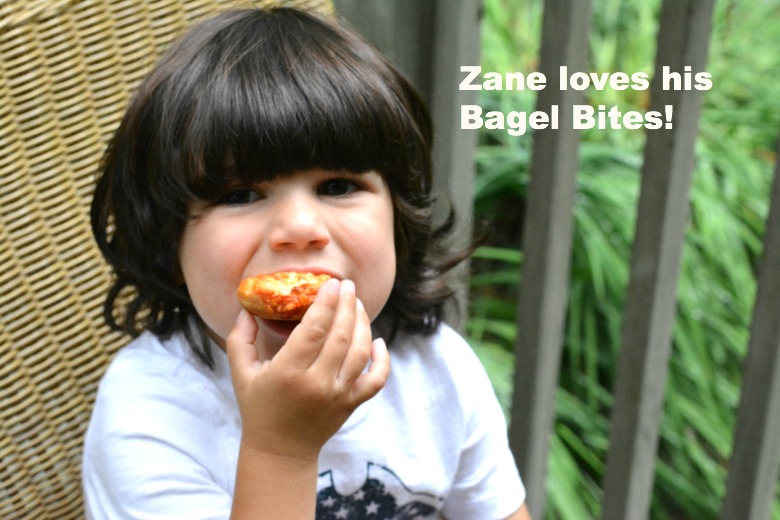 We made the Delimex Beef and Cheddar Rolled Tacos, as well, and they were delicious, both with and without adding some mild hot sauce.
Then it was off to start my recipe. Hayley wanted to be my little helper to assist me in making the Mexican Bagel Bites. After all it was going to be her special Back to School snack, so I figured it was best to get her involved!
Mexican Bagel Bites- Serving Size: 10 Bagel Bite Sandwiches 
Ingredients: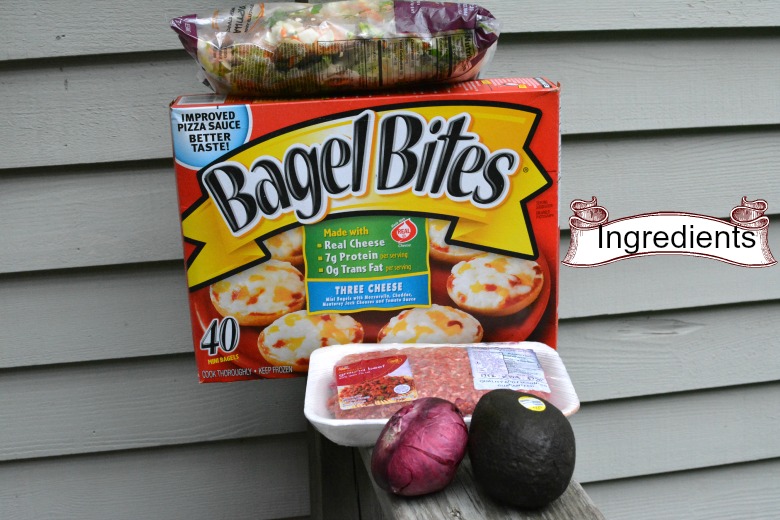 – Three Cheese Bagel Bites- 20 Bagel Bites used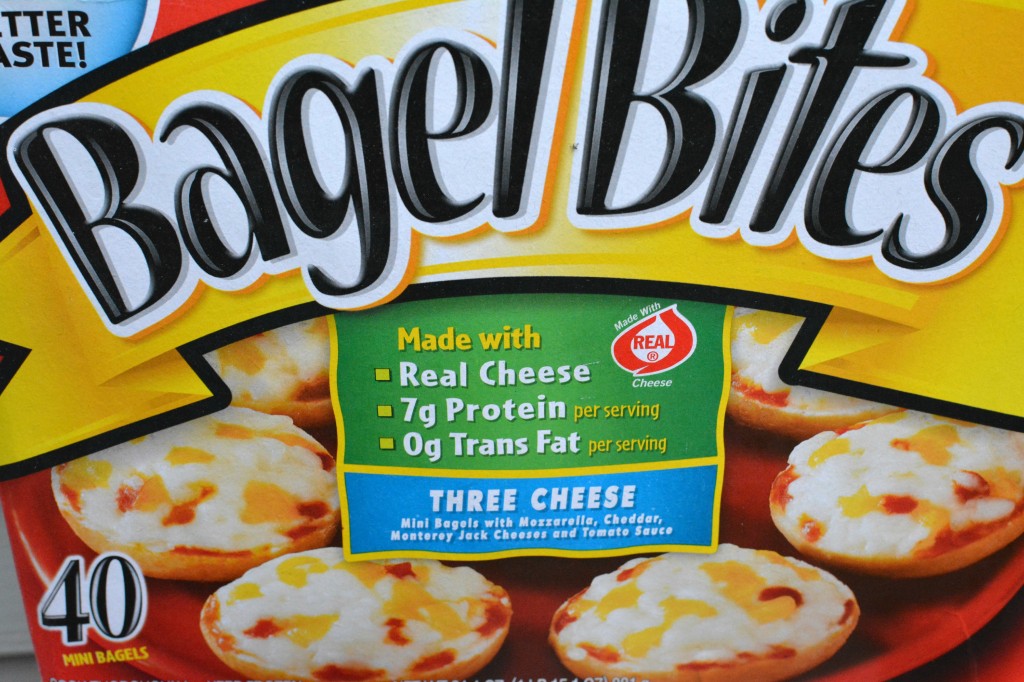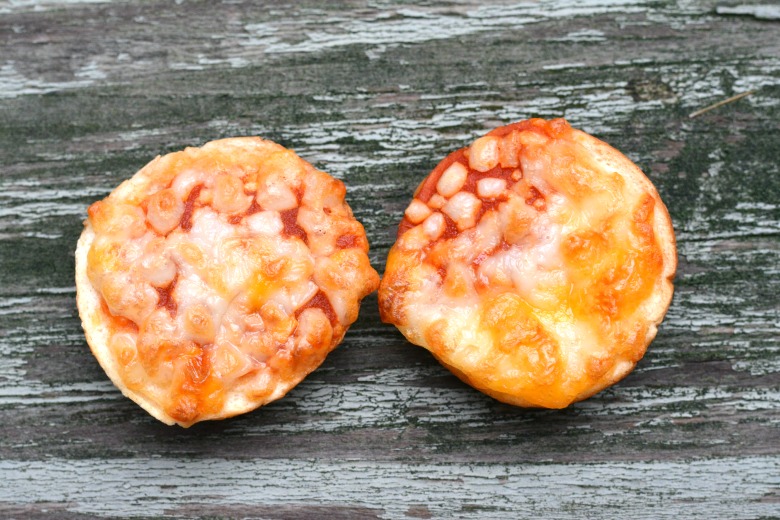 – 1 avocado chopped
-1 onion chopped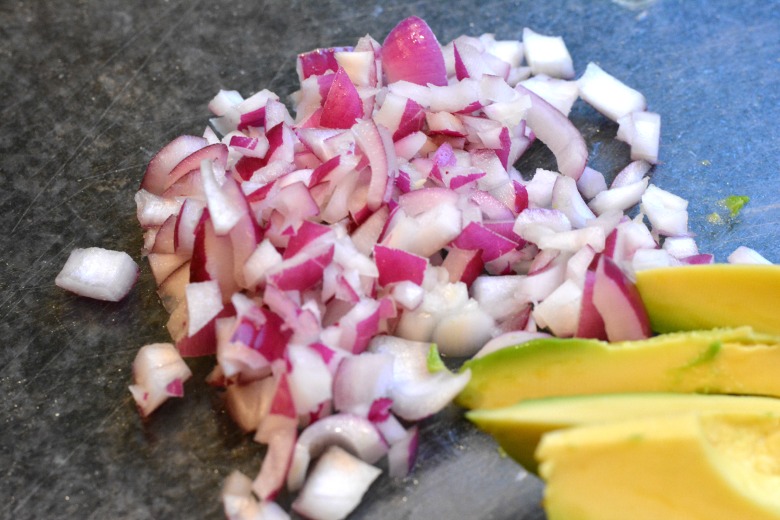 -3/4 pound chopped meat
-cut up lettuce for garnishing
 Directions:
1. Preheat oven to 450 degrees F. Put 20 Bagel Bites into the oven and cook for approximately 20 minutes.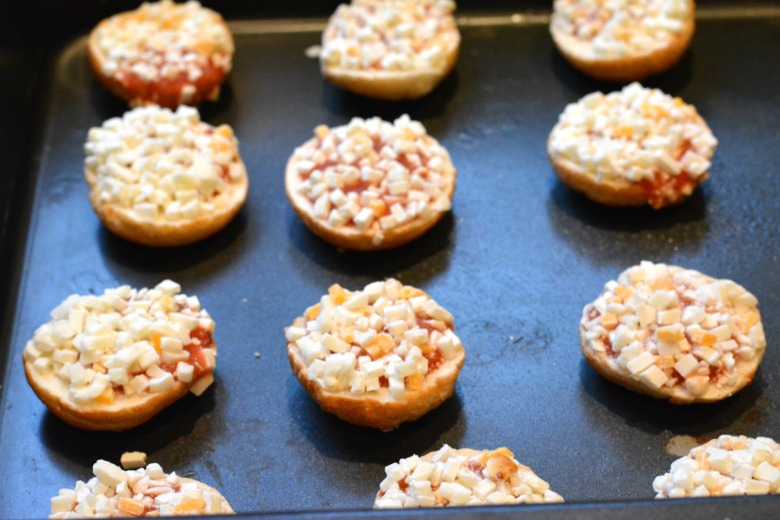 2. While Bagel Bites are in the oven, brown meat and cook until medium well. I cooked the meat over medium heat for about 15 minutes to brown it.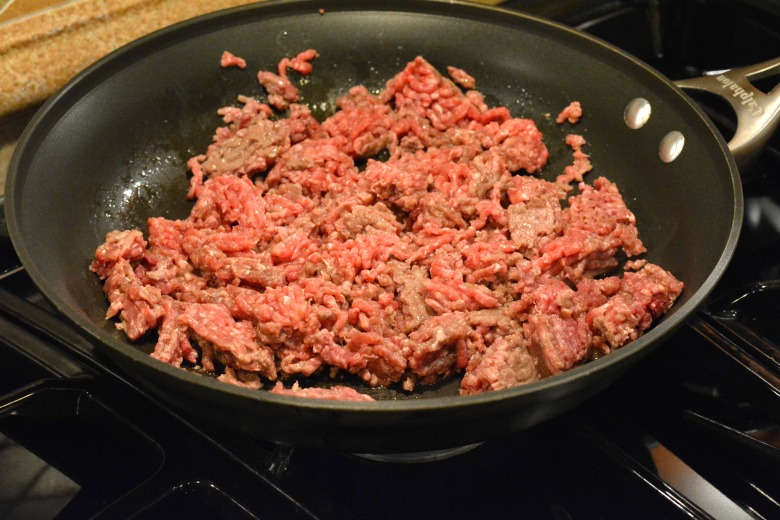 3. Chop up onion and avocado.
4. Take out Bagel Bites after they are done and add 1 teaspoon cooked meat, 1/2 teaspoon of onion, 1/2 teaspoon of avocado, and a splash of lettuce to the Bagel Bite. Top with another Bagel Bite to make a sandwich. Repeat for 10 Bagel Bite sandwiches. Enjoy!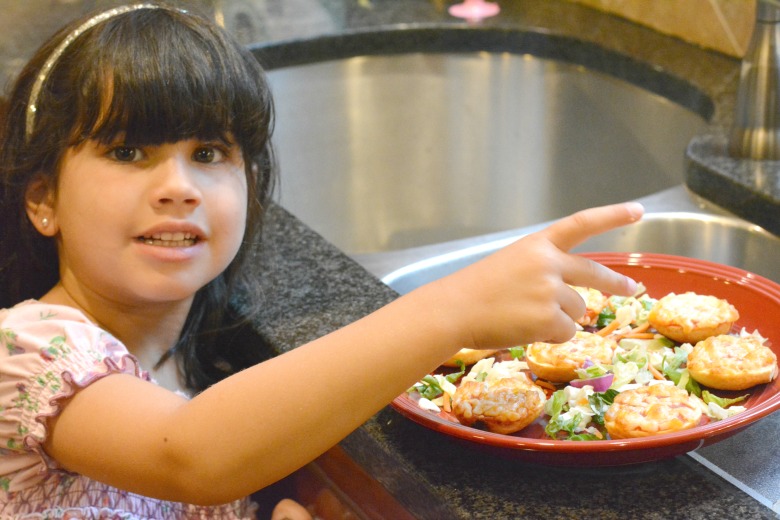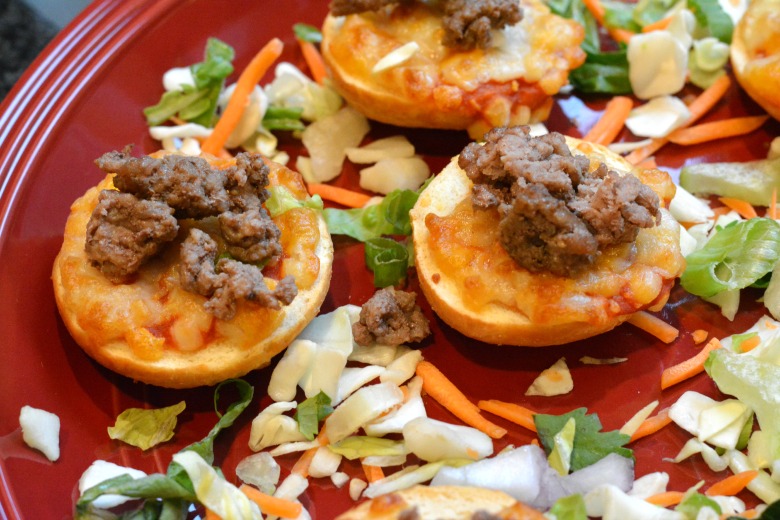 These Mexican Bagel Bites came out amazing and were so quick to make. It was fun to do some cooking with my kids to create this recipe that will provide quick snacks for after school. It will provide a great snack idea for moms like me who are incredibly busy (aren't we all) and want to allow our kids a great snack for on the go. I even think these Mexican Bagel Bites will be great to make ahead and freeze. Then you can take these snacks out and gauge how many your kids want when they come home from school, based on their hunger. Thank goodness I rediscovered Bagel Bites and Delimex from my youth!
For more information about the wonderful Bagel Bites be sure to visit their website, as well as Delimex. Along with the recipe above, I encourage you to check out other great recipes on the Bagel Bites page. Happy Back to School everyone!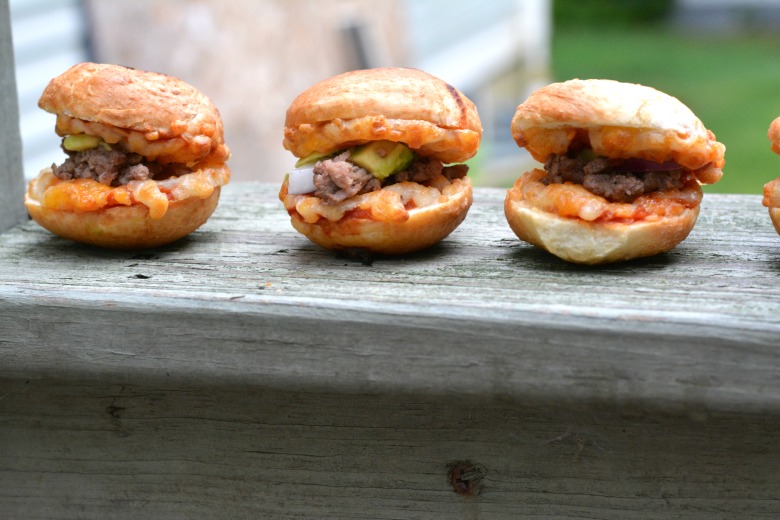 Have you tried Bagel Bites or Delimex products? What do you love about them?