*This is a sponsored post. All my opinions are my own and not swayed by outside sources.*
Have you heard of the M.O.M. Method parenting tool to help teach kids how to become more self-reliant? If not, trust me…you NEED the M.O.M. Method! The M.O.M. Method delivers a way for us moms to prepare our kids for tomorrow by teaching them valuable life skills along the way today. Let's face it there are times when we all need a built in parenting partner, and now the M.O.M. Method is here for us!
M.O.M. stands for Manage and Organize Myself, and is an online program that guides parents and kids in building time management skills through interactive Web and mobile based tools. The program has parents and kids working together to help kids learn independence, whether it's getting themselves up and ready for school in the morning or tackling homework, bedtime routines or household chores without parental nagging or micro-managing. Kids love the confidence they get when they are able to achieve tasks on their own, and parents love seeing their children able to care for themselves. Learning to be self-sufficient is a life skill that helps kids develop into happy, successful adults.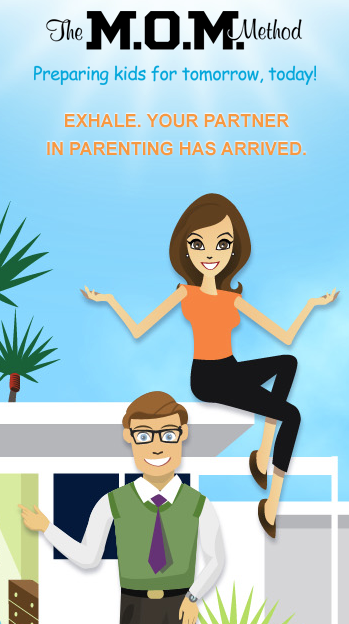 With a new baby I needed my older two to become more self-sufficient as I tend to our newborn. Things like Hailey learning to tie her own shoes or Zane being able to get himself a juice-box when he's thirsty are huge helps when you are trapped on the couch feeding your newborn, trust me! These seem like small tasks, but it makes my kids realize that they CAN do some things for themselves, and it gives them a sense of accomplishment. I love having my kids as great little helpers these days, and the M.O.M. Method gave me great tools to teach them how to get there. It helps to simplify your life and empower your children.
Using tools like point systems, reporting tools, calendars, planning, time management, and task management tools there are a ton of ways to help both parents and kids get the hang of staying organized and on-task. With a step-by-step guide kids can learn to do more and more tasks all by themselves. Kids progress in stages of independence from stage one, which focuses on time management and personal care, stage two which is planning routines and stage three tackling longer term planning and events. Each at the child's own age appropriate pace.
Now is the perfect time to jump-start your kids' time and task management skills for back-to-school season, so I recommend you give The M.O.M. Method a try. We all need a little help as parents sometimes, and using the M.O.M. Method has allowed me to get some of that help by teaching my own kids how to help themselves.