Happy Weekend everyone! I hope you are all having a great weekend. It is Saturday Laugh time. As always, come link up any cute or funny post and laugh!  Feel free to share on social media or take my button, if you wish.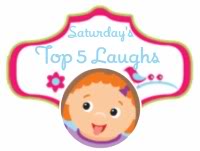 My top five laughs:
5. Zane is still confused why I don't have a belly anymore. He told his friend that mommy needs to get a belly back so I can play with it. Zane..My belly was not a ball!
4. Hayley is reading now which is a curse and a blessing. Now wherever we go, she tells me we need to stop and check out the place. For example, today she saw her favorite Ice Cream place in a different section of town. She yelled, "Mommy..You need to stop". I was confused how she knew until I realized that she is reading now.
3. Zane is a very opinionated  boy!  Today he told the waiter that his grill cheese was not hot and the waiter needed to go back into the kitchen to cook it again. I was mortified!
2. We reached a point yesterday where all three kids were hysterical crying! My husband and I just started laughing because it was just funny. There was 3 of them crying and 2 of us laughing. LOL!
1. Zane to Mommy- "Mommy, I think it is time we take a trip to visit Elsa and Anna in Disney". They need to meet me!
Now your laughs: