*This is a sponsored giveaway. All my opinions are my own and not swayed by outside sources.*
We love our house and can't believe we've already been in it for five years! It is exciting owning your own home and investing in creating the exact space that you desire to live in, and one that perfectly fits the lifestyle of your family. Of course with such little kids that is an ongoing process for us, my friend said she finally finished really decorating her home when her youngest turned 10 and she knew things wouldn't get trashed anymore. That is a long way off for us, but in the meantime we are making our home perfect for the ages of our kids now. The only thing is that after five years, and two toddlers, things are already beginning to need repair and sprucing up, and we are learning quickly how it adds up!

The average American homeowner can spend one to four percent of their home's value annually on maintenance and repairs, according to Freddie Mac. In fact, a 2013 study conducted by Decision Analyst for American Home Shield found that within a 12-month period, the typical household will spend an average of $1,302 on repairs and replacements! Ouch!
American Home shield is the nation's largest provider of home warranties, which we are so grateful to have for our home as things go wrong! Now through September 30th American Home shield is hosting a "Summer of Giveaways" that I don't want my readers to miss out on! This is an incredible opportunity to win the grand prize of a kitchen makeover! Even if you don't win a new kitchen you could still be the lucky winner of one of the $10,000 in other prizes they are also giving away like new appliances, gift cards, and other home items you will love! So if, like me, you are looking to upgrade your home or kitchen this is a great opportunity not to be missed.
It is a struggle with little kids between maintenance and décor, but we really work hard to make our home a little haven for our family, and that includes keeping things working smoothly and in good shape. We are proud homeowners who worked really hard to get to this point in our lives, and now we want to take good care of our investment that we had dreamed of for so long before it became a reality. I feel like that care is reflected it the way we try to maintain our home inside and out. I know that the years with little kids running around trashing the place will fly by before we know it, and that dream décor will become a reality, but in the meantime, I'm savoring our beautiful home for what it is, the place where our memories are being made.
Be sure to enter:  For those looking to upgrade their homes and kitchens, American Home Shield, the nation's largest provider of home warranties, is giving homeowners a chance to win several new appliances, gift cards and home items in the "Summer of Giveaways" sweepstakes. Through September 30, 2014, American Home Shield is giving away $10,000 in other prizes and entries for a chance to win the grand prize – a $25,000 kitchen makeover! For official rules and more, visit quote.ahs.com/SummerofGiveAways.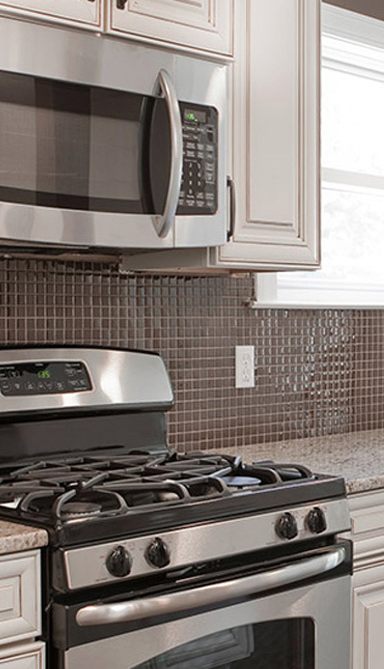 Win it: One winner will receive a $100 gift card to use at any of the Home Shield Services including Merry Maids, Terminix, American Home Shield, Service Master Restore, Service Master Clean, AmeriSpec Inspection Services, and Furniture Medic. This giveaway is run via rafflecopter so click read more to see the giveaway. The only mandatory entry is to tell me which service you like to receive the gift card for in the comment section proceeding the post. While the other entries are optional, I highly suggest filling them out to increase your chances of winning. US only. Good luck!
a Rafflecopter giveaway