Happy 4th of July everyone!!! T minus 3 days and Baby Girl will be here. I am very excited!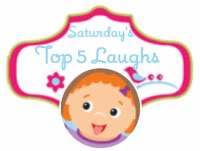 As always, come link up any cute or funny post. Feel free to take my button or share on social media, although this is not necessary, just appreciated. Check out the other blogs who link up as they all provide a great laugh!
My top five laughs:
5. Zane and Hayley look at my belly and they just laugh hysterically! I ask them why and they said it looks like I have a water balloon in my belly. Basically kids!
4. We are keeping Baby Girl's name a secret until Monday, however, that does not stop Zane. Zane knows the name and if anyone asks him, he will blatantly drop the name. So, if anyone ever asks, he just screams it out. Should have never told that boy:)!
3. Zane had a poop accident this week. First one in 6 months, so not so bad. When it happened, all he kept saying was, "Oh…No..Oh..No…Oh..No"! He was cute but boy it took me a second to figure out what happened.
2. Hayley is such a fashionista. This week, she got out her camp clothes and I took out a headband for her to wear. Obviously it did not match well because she said to me, "Mom…You should know that does not match!" LOL!
1. Hayley and Zane are so stinkin' excited about the new baby! I hope they are as excited when she comes! They are going to make great siblings for Baby Girl. Stay tuned….
Now your laughs: