*This is a sponsored post by Norfolk Southern.*
As summer sets in and our kids take off to walk to the pool, to their friends' houses nearby, or even to catch a movie, it's important for parents to remind them about railroad safety. Something that is sometimes overlooked, trespassing on the tracks actually accounts for more than 440 deaths in the U.S. each year. These days it isn't uncommon to listen to headphones, text, or chat on the phone while walking, and these distractions can prove to be deadly if we're not careful. Here are some facts about trespassing on the tracks: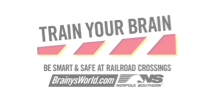 If you see a train coming, wait! Flashing lights or a lowering gate means a train is fast approaching. Do not proceed until the gates go completely up and the lights quit flashing. It is illegal to go around lowered gates, whether on a bike, on foot or in a vehicle.
Only cross at designated pedestrian or roadway crossings with a crossbuck, flashing red lights or a gate. This is the only safe place to cross a railroad track. If you cross at any other place, you are trespassing and can be ticketed or fined.
Always expect a train! It can take a mile or more to stop a train, so even if a locomotive engineer suddenly sees someone on the tracks, they will likely be unable to stop in time.
Do not cross the tracks immediately after a train passes. A second train might be blocked by the first. Trains can come from either direction. Wait until you can see clearly around the first train in both directions.
Be aware trains do not follow set schedules. Any time is train time!
In an effort to combat this issue, Norfolk Southern began its "Train Your Brain" campaign in 2007 to warn motorists and citizens about the dangers of illegally crossing the tracks. The campaign travels to different markets each summer with its quippy mascot, Brainy. Brainy is a happy, pink brain intended to be a walking illustration for citizens to remember railroad safety at all times. Brainy offers fun photo opportunities for kids and also provides residents with railroad safety tips and tricks.
This year Brainy will be travelling about the Carolinas, so if you're in the area check out www.brainysworld.com to see if he will be at an event near you! Above is a photo of Brainy and the "Train Your Brain" tent!