***I am a member of the Collective Bias®  Social Fabric® Community.  This shop has been compensated as part of a social shopper amplification for Collective Bias and its advertiser.*** #SummerizeYourLegs  #collectivebias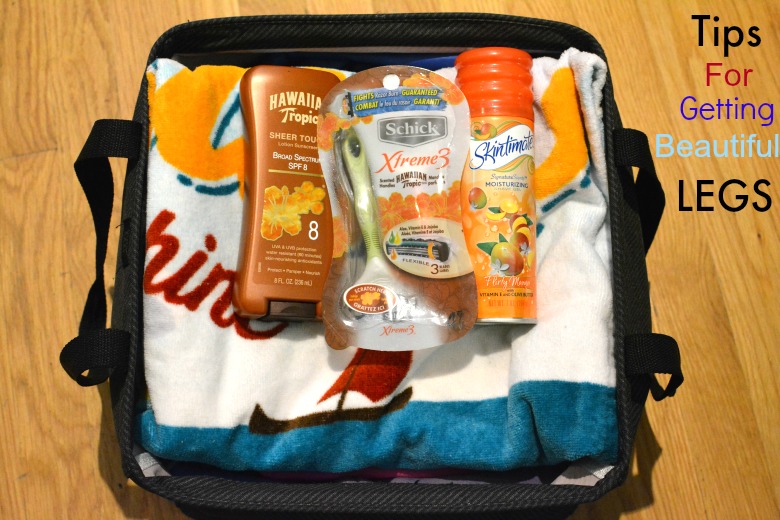 I am guilty! Until about a month ago, I had not shaven in a LONG time. Like most women who hide behind pants in the winter months, I never felt the need to shave in the winter. This winter/spring was even worse because I was pregnant and barely could see, let alone shave, my legs. However, now it is the summer and in three weeks, this baby is going to be delivered. I REALLY need to get myself feeling better about myself and more empowered. For some reason, when my legs look good in those cute shorts and skirts, I am ready to tackle the day and feel confident. Can you relate? If so, let me give you some tips so you too can have some fabulous Summer legs!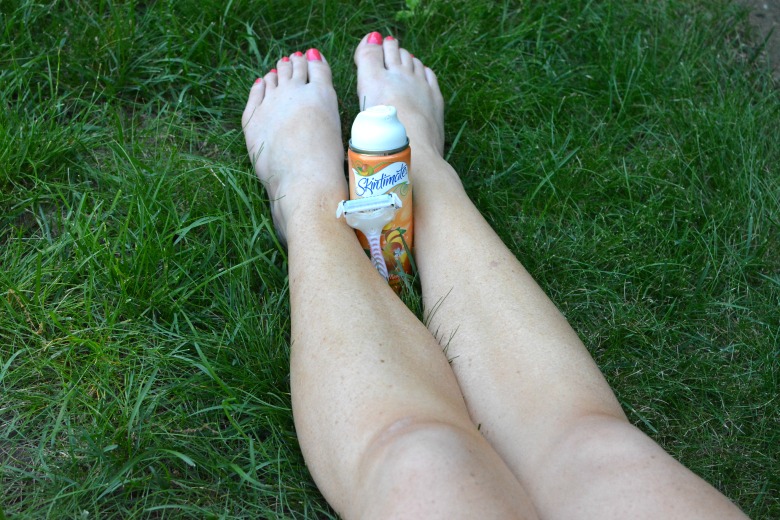 One of my first stops to prep for summer was to head to my local Walmart and purchase the needed products to get my legs looking fantastic. After all, I have to have gorgeous legs in a few weeks! At my Walmart, I found some great summer beauty products in the beauty aisle including Hawaiian Tropic® Sheer Touch Ultra Radiance SPF 30, Skintimate® Mandarin Burst, and Schick® Xtreme3® Hawaiian Tropic® Razor. I was ready to go home and do a test run of how my legs could look  by heeding to a few necessary beauty steps.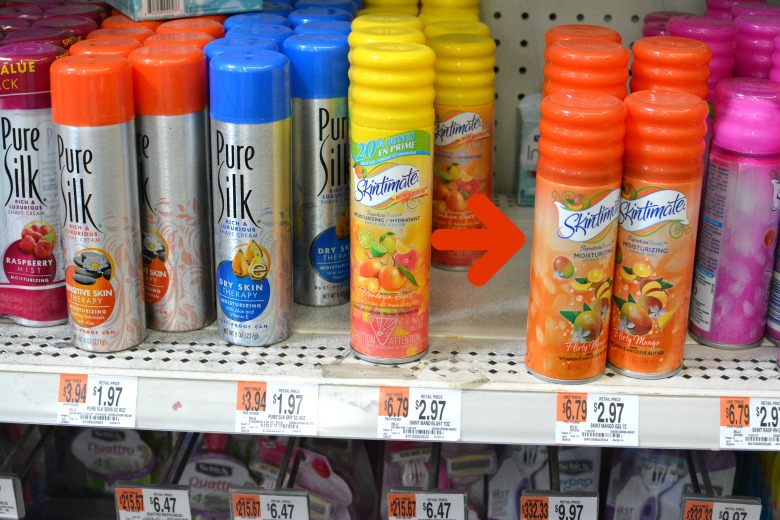 My Summertime tips to getting fantastic Summer Legs: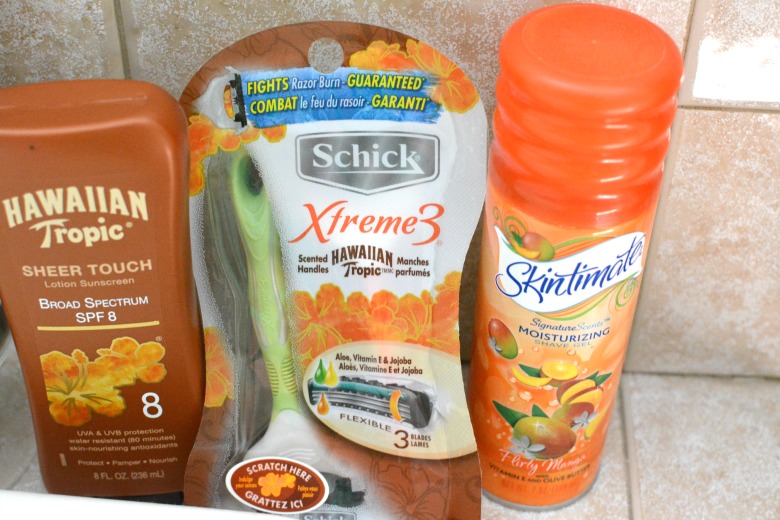 1. Exfoliate: My legs can really feel the itchiness and dullness of the winter months.  To prepare, I like to use an exfoliator on my legs that will take off all the dead skin. While shaving is absolutely essential, when you get rid of the dead skin you will get a much closer shave and end up with legs that are purely fantastic!
2. Prepare:  After exfoliating, make sure you have all the necessary products to start the shaving process. I personally like to use the Schick® Xtreme3® Hawaiian Tropic® Razor, which is the best razor for shaving legs. This Schick shaver contains Aloe, Vitamin E, and Jojoba to make shaving a cinch and easy to do. Even the handles are scented, which really adds a special touch  when you are shaving. Oh, and I would be remiss to mention that I totally am awful with razor burn. No matter how much I use shaving cream, I still get that miserable burn. This no longer happens with this great razor!
3. Shave: The next step is to get a nice shave with the Schick® Xtreme3® Hawaiian Tropic® Razor and use the Skintimate® Mandarin Burst. Trust me when I say, you will want to shave with not only a good razor but a moisturizing shaving gel that will allow you to get a great shave. I love to lather on the Skintimate shaving gel because it goes on so easily and has an incredible smell. This particular scent has a citrusy smell, infused with vitamin E and Olive Butter hints.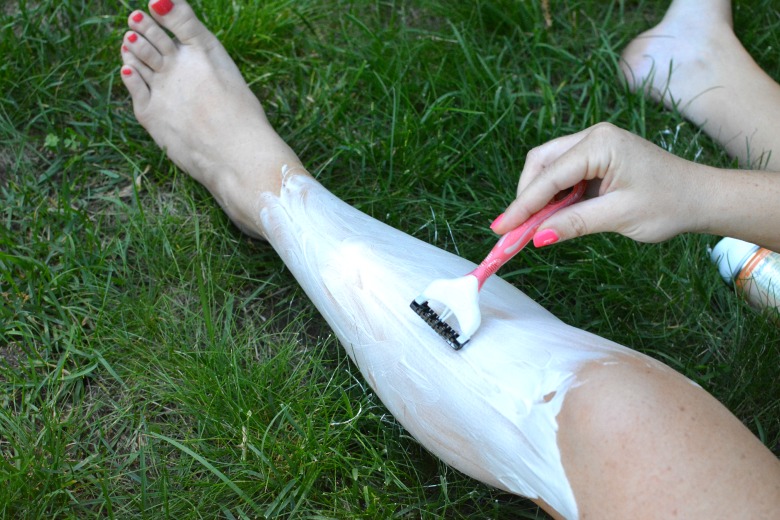 4. Protect: Now that your legs are cleanly shaven, you want to make sure they are protected against those awful UV rays. For this, I use Hawaiian Tropic® Sheer Touch Ultra Radiance SPF 30. When I went to my local Walmart, they ran out of this sunscreen, but they assured me they would have it in, in a few days. Meanwhile I picked up the same sunscreen in SPF 8 for SPF protection.  Right now, it is not too sunny out, so I could definitely get away with this sunscreen. It is so important for your legs to be protected since this is one of the first areas the sun hits. Hawaiian Tropic allows UVA & UVB protection water resistant (up to 80 minutes) skin-nourishing antioxidants. Not only is it good for your legs, but you will be pampering yourself with the delightful smell and easy lather.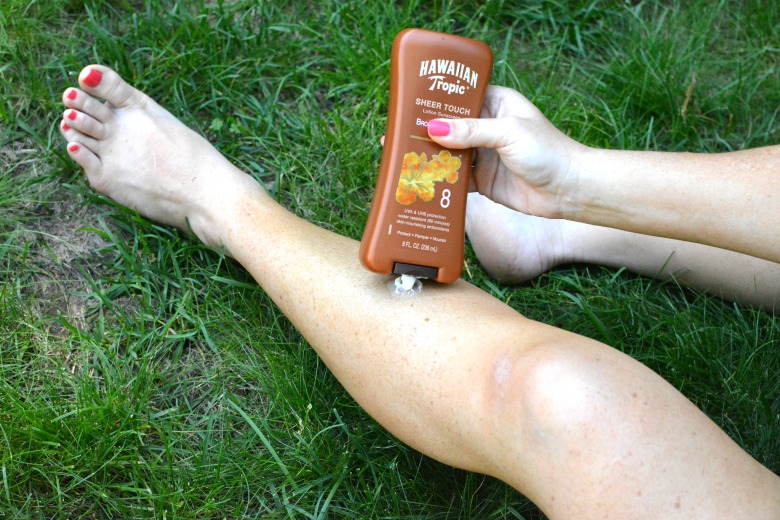 I like to follow up with a self tanner lotion but this is completely optional. I am not huge into getting myself tanned, so adding a little of the "fake tanning products" allows me to have a glow, without baking in the sun.
If you follow my skin care steps to getting summer ready, you will feel confident, all while having beautiful and smooth legs in no time at all . Oh, and your legs will absolutely look radiant when you wear those short and skirts this summer! I already started my leg pampering routine and I can finally say I have the confidence to rock out  my favorite pair of shorts, once I can fit in them again (haha). In the meantime, I am going to keep up with my routine to prepare for our many celebrations this summer including 4th of July, the birth of my baby, our annual Clambake, and our weekly trips the great New England beaches.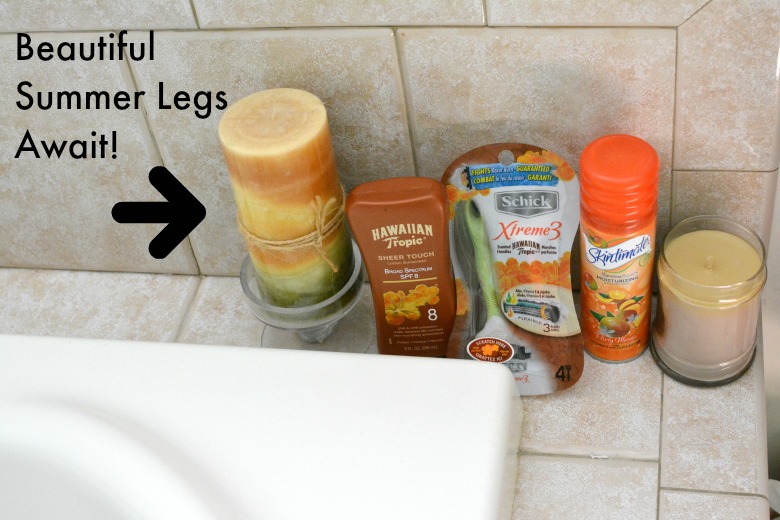 Get your legs ready for summer with lots of moisture, a quality razor and plenty of sun protection!  Find shaving, moisturizing and beauty products at Walmart.com. Be sure to "Enter to Win" the  Summerize Prize Pack and find great  "Tips" that provides you with 3 easy steps on how to Summerize your legs today! You can also find coupons to save you money on Schick and Skintimate products on the All You ad for all your necessary Prep, Shave, and Protect routines today. Do take advantage of it today!
Which of the tips above resonates with you? Are you ready to have stunning legs this summer?