Happy weekend everyone! Today was kinda of a crappy day. I took a sick day off from work because I feel so drained. I think I am doing much and my body is telling me to take a break, so that is what I did!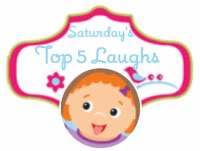 As always, come link up any cute or funny post and laugh. Definitely check out the other blogs who link up and feel free to take my button/share on social media, although this is not necessary. Do check out  the links of the others who link up as they all provide a great laugh.
My top five laughs:
5. Hayley had her friend over today and one of her friends mentioned to her that I was still in my pajamas. Hayley took it as a mean comment (although it was not since I am sick) and said, "Don't make funny of my mommy!" She is my precious one. I just love her!
4. Baby Girl is arriving in a little over 3 weeks. When you ask Zane, he is insistent that Baby Girl is a Baby Boy. Please let's hope not because her room is getting decorated this week and all her girly clothes have been washed.
3. Zane has a terrible habit of waking up at night and just screaming. When my husband goes in, he screams even more to get mommy. Aren't I lucky?!
2. Hayley is becoming a little fashionista these days. Today she asked me if we could go shopping for sparkly Toms and another pair of Crocs. She also asked if we can go to P.S. Aeropostale. The girl is 5. Seriously… I am in trouble!
1. We got a mini van last week and the kids are obsessed with it. So much so, that Zane likes to take the keys and open and close the door by way of the button. I need to make sure the doors are child proof because the boy has a long time before he gets his license and he is a little too comfortable with the car.
Now your laughs: