*I received the Dozer for review. All my opinions are my own and not swayed by outside sources.*
How many times have your babies fell asleep in their car seats and you had to keep driving to keep them asleep? You know what I am talking about- the minute you stop the car, they wake up, and then you have to try to put them to sleep again! I am sure you can all relate if you have young kids. Now though, there is an ingenious new product called Dozer to help rock the carseat, even when you are stopped!
The Dozer is a portable car seat rocker to pacify baby to sleep (and keep sleeping) without keeping free the use of their hands and feet. It converts any car seat into a self rocking cradle anytime/anywhere. It helps promote and maintain your baby's peaceful slumber with a genle rocking motion. The best part about the Dozer is it is universal, which means it will work with any car seat you may own. It has peaceful, soothing white noise, which will help your child stay asleep.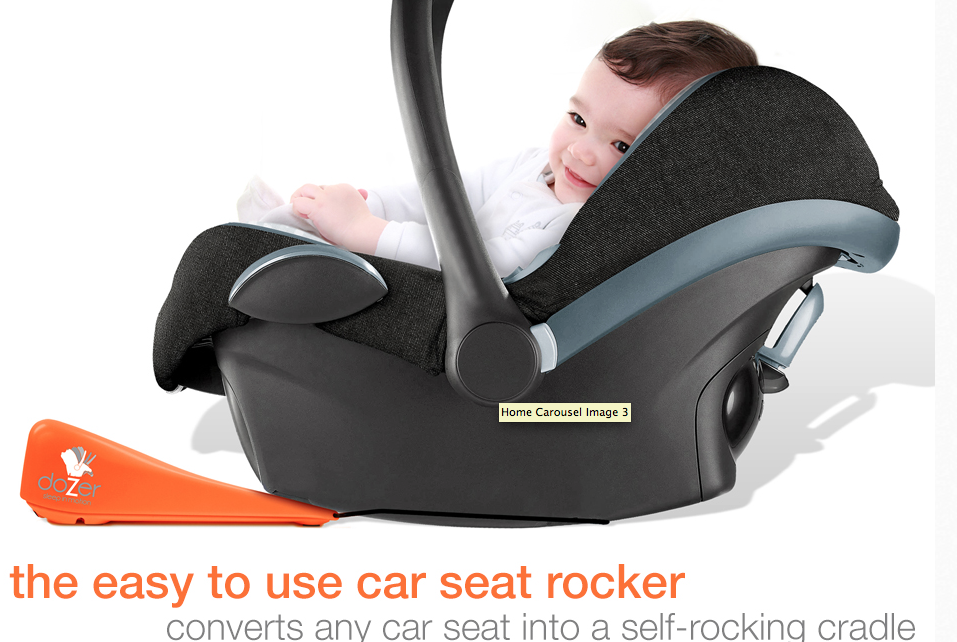 The Dozer is portable and weights less than 1 lb, even with batteries. If you are out and about, you can take the Dozer with you. When the Dozer runs out of batteries, simply replace with 4 AAA batteries and you will be good to go. It does last 11 hours before you need to change the batteries though!  I am quite sure once Baby Girl comes in  3 weeks, we will be taking the Dozer with us wherever we go. You simply take the Dozer anywhere, and use it anytime! Ingenious invention if you ask me!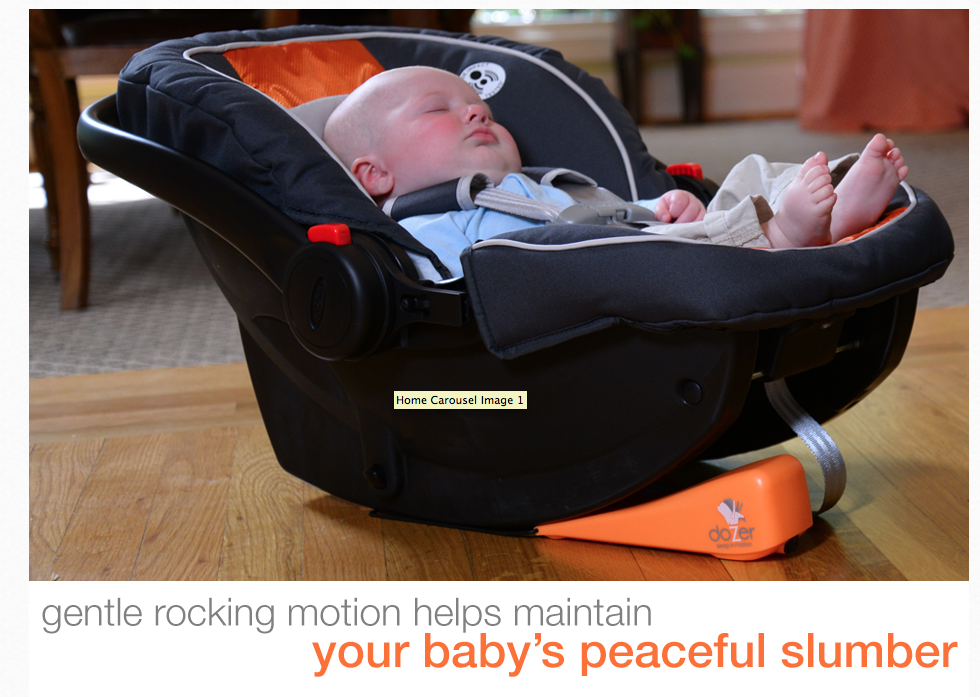 To use, you simply extend the tether arm and slide under the car seat. Then you turn it on, and the Dozer will mimic the rocking found in a car. It can be used on either the rear or front of a car seat and can be stored readily in your diaper bag.
This simple-to-use wedge is battery powered and wonderfully portable. Imagine new moms unencumbered to take a hot shower, do the laundry or visit with Grandma knowing the orange wedge-shaped Dozer Rocker is on the job. When it's Dad's turn for baby care, the Dozer Rocker can be placed under the car seat in seconds and work either battery-operated or with a plug-in extension. See Dad put his feet up and watch the game or take a cat nap along with Junior! As long as a car seat can be safely placed on the ground — indoors or outdoors — Dozer Rocker does the trick in keeping baby rocked.
The portable and compact orange wedge is made for travel, whether around town or on a road trip. Moms use theDozer Rocker to keep baby soothed at a restaurant or coffee shop. Blessedly simple Dozer Rocker helps keep baby sleeping when Mom returns home from errands and moves the car seat inside. That makes a relaxed baby and a relaxed new parent!
Discover the Dozer Rocker at specialty shops and juvenile retailers coast to coast or order online at their website,www.DozerRocker.com or diapers.com. The Dozer Rocker makes a thoughtful baby shower or welcome-home-baby gift that will be appreciated in the middle of the night or on days when an extra hand is needed.
Be sure to follow Dozer on  Facebook, Twitter, Pinterest and YouTube to learn more today!