***I am a member of the Collective Bias®  Social Fabric® Community.  This shop has been compensated as part of a social shopper amplification for Collective Bias and its advertiser.*** #EatMoreBites #CollectiveBias***
I am 35 weeks pregnant and if you ask me what my number one craving is, I will easily say CHOCOLATE! The problem with me and I am sure most of you can relate, is I tend to open up chocolate and eat the entire bar, which inevitably leaves me with a belly ache. Now, the problem is solved because MARS candy has come out with delicious TWIX Bites. These unwrapped Bites are filled with the same TWIX flavor you all love- chocolate, caramel, and milk chocolate, but in these amazingly small portions. This allows me to eat one or two at a time, and gives me the chocolate burst I need, without gobbling through an entire bag. These new TWIX Bites allows me to have great portion control.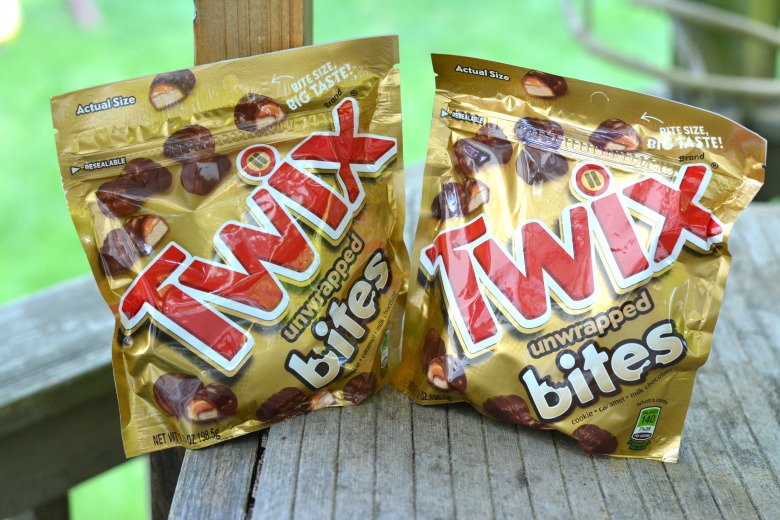 Once I found out about these TWIX Bites, I just had to run to my local Walmart to pick them up. They were readily available in the candy section and looked absolutely scrumptious just from the packaging.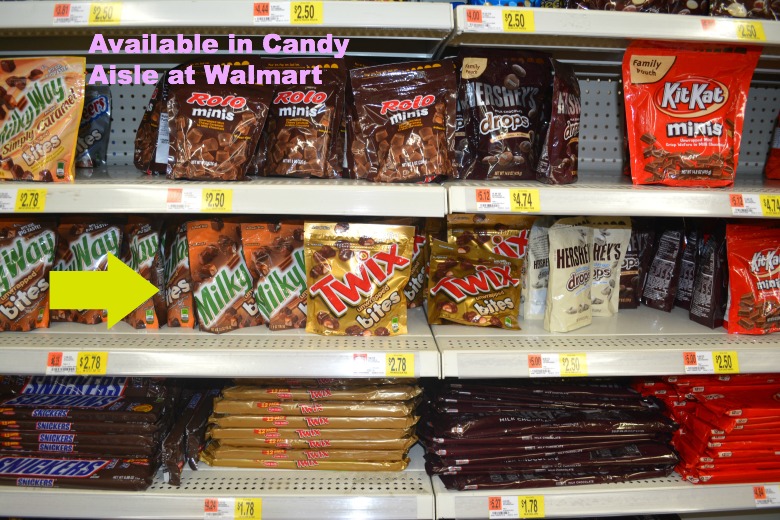 Best of all, they have some great coupons available (feel free to print out prior to going to Walmart) so you can try the TWIX Bites yourself: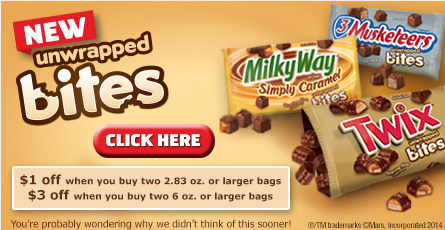 -Save $0.50 Off any two (2) MARS Brand Bites, 2oz. or larger. Includes TWIX®, 3 MUSKETEERS®, MILKY WAY® Simply Caramel, MILKY WAY® & SNICKERS®  
-Save $1.00 Off any two (2) MARS Brand Bites, 2oz. or larger. Includes TWIX®, 3 MUSKETEERS®, MILKY WAY® Simply Caramel, MILKY WAY® & SNICKERS®
I rounded out my Walmart shopping trip by buying ingredients for a trifle recipe I was planning to make with the TWIX Bites. I am a  huge trifle lover and tend to experiment with creating various summer trifles that would be great to bring to summer outings or just leave in my refrigerator for the week so we can have desert ready. I figured adding the TWIX Bites would add even more additional and fabulous flavor to the trifle I planned to make.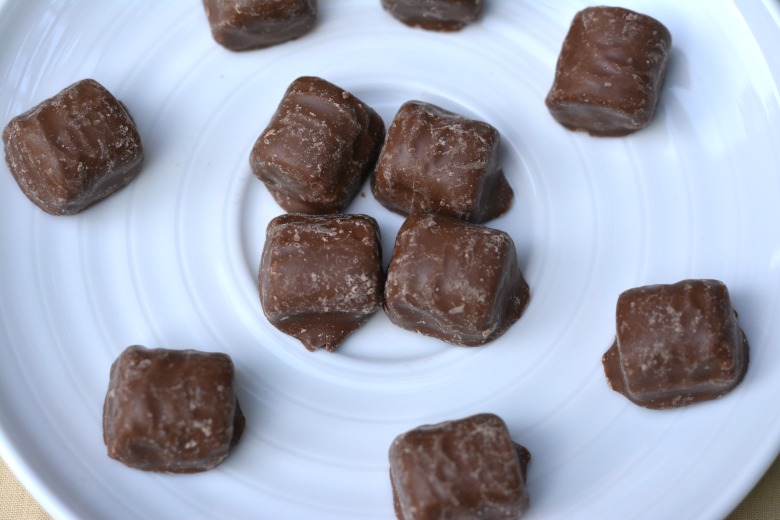 Before making my Trifle, the first thing I had to do was actually try out the TWIX Bites. To say they were incredible, is a huge understatement. They were AMAZING! They have the exact same ingredients as the TWIX Bars but in bite-size pieces. What could be better! These would be awesome to take with you for your fun summer outings such as to the park, beach, pool club, road trip, or even a movie treat. I LOVE TWIX Bites!
After doing my taste testing, it was time to make my Trifle and see how it would turn out, before I brought it as a snack to family outings this summer.
BLACK AND WHITE TWIX BITES PUDDING TRIFLE RECIPE:
– 1 package of TWIX Bites
-1 Chocolate cake mix (your choice which one you use or you can buy pre-made chocolate cake) -usually requires 1 egg and 1 cup oil on packaging to make cake
-2 packages of Jello ready to make Instant pudding
-4 cups of milk
-1 large container of Cool Whip
Directions–
1. Make a chocolate cake according to directions on packaging. You can use just about any chocolate cake mix but make sure it is all chocolate. If you want to go the store- bought route, you can do that too.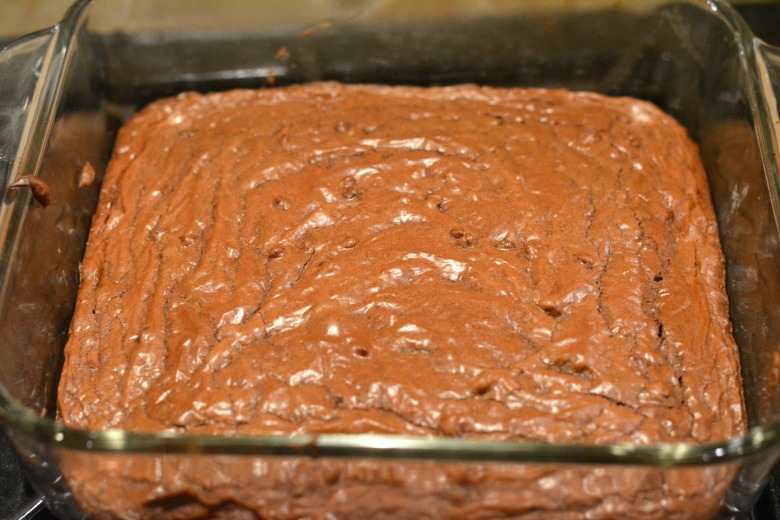 2. Make Instant Vanilla pudding according to directions on packaging. You can use big bowl and put in both pudding mixes with 4 cups of cold milk. Let the pudding set and put aside.
3.  Cup up TRIX Bites into quarters. I used one full 7 oz. package and cut each one up into 1/4 pieces. It was very easy to do and took no more than a few minutes.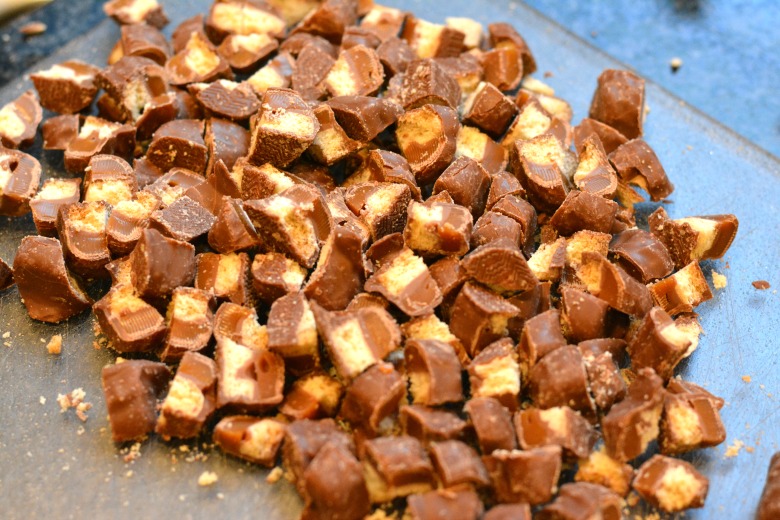 4. Now your Trifle fun begins. Start by layering the bottom of a Trifle bowl with 1/2 of the large container of cool whip.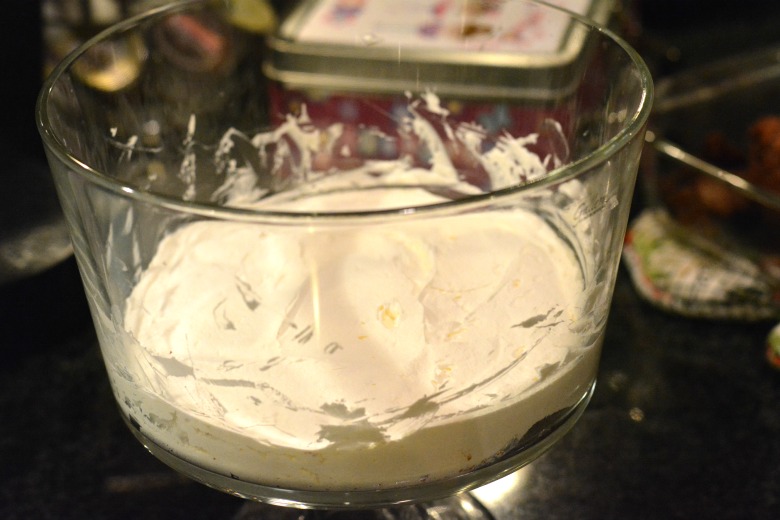 5. Add in your cut up TWIX Bites to the first cool whip layer.
6. Add in 1/2 of your Vanilla pudding mixture from #2 for the next layer.
7. Then you will want to add  1/2 your cake mixture as the next layer- I simply crumbled up the cake and made a nice layer this way.
8. Repeat steps 4-7 and then top with more TWIX Bites and Strawberries.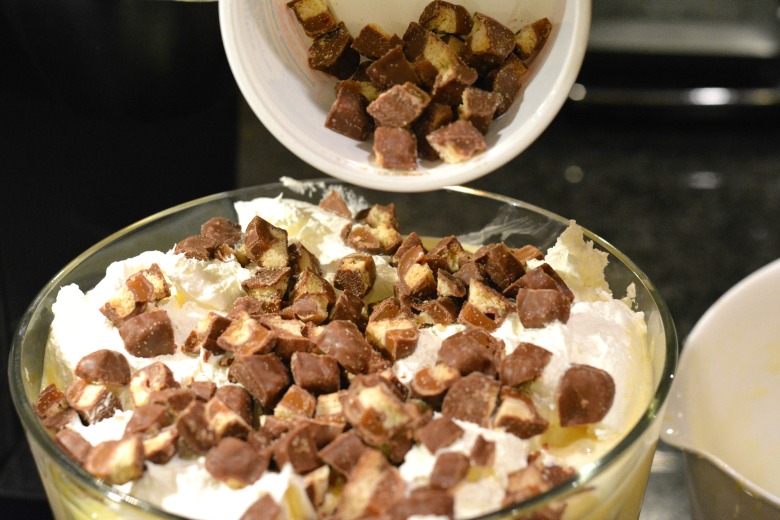 Enjoy!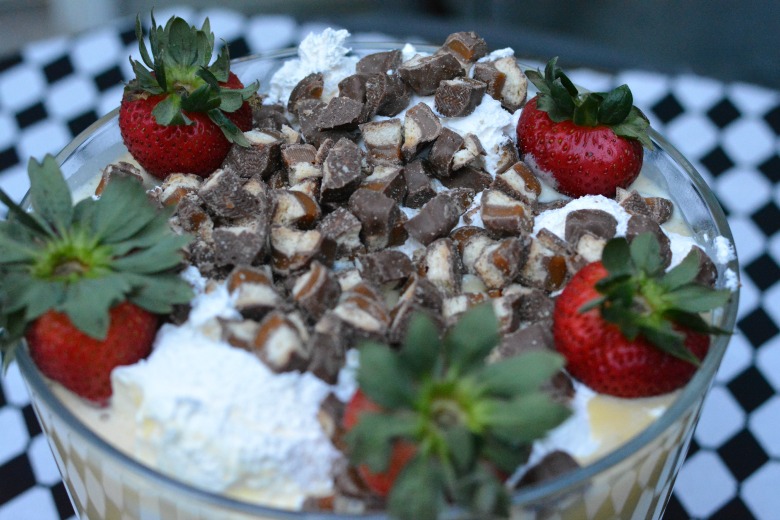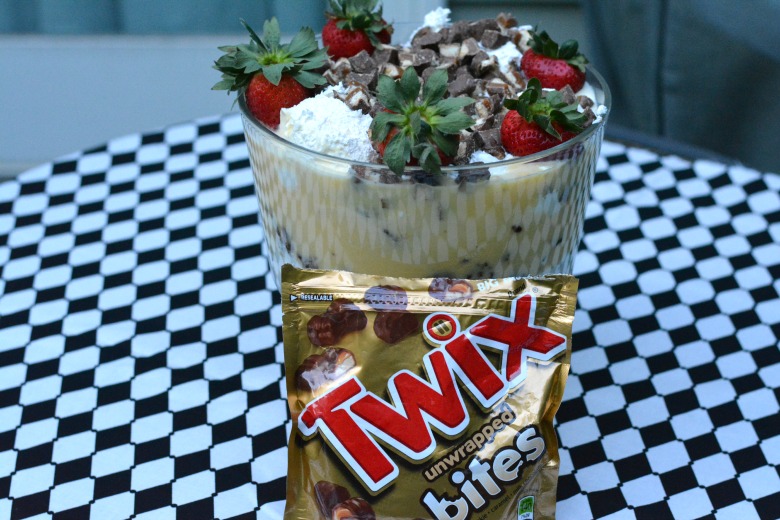 My Black and White TWIX Pudding Trifle Recipe turned out incredible and it is a desert that I know will go over so well, whatever summer occasion you have to attend. The whole family enjoyed it and asked me the following week, to make it again. It was such an easy desert to make and a great snack for the family. Best of all, adding the TWIX Bites, allowed the Trifle to have some gooey chocolate/caramel flavors that it would not had, if we did not add the Bites. The TWIX Bites really added the delectable and delicious flavors we tasted in the trifle.
Be sure to pick up the TWIX Bites today at your local Walmart and definitely use the coupons above for your purchases!
So, how does this Black and White TWIX Bites Pudding Triffle sound to you? Do you see yourself making it this summer?