*This is a sponsored post. All my opinions are my own and not swayed by outside sources.*
This summer, a lot of people are traveling. With traveling comes the necessity to make sure you are safe and sound on the road. That is why I like to turn to Agero, which is the leader in vehicle and driver safety.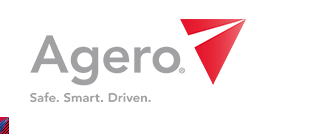 It is proven fact that tens of millions of motorists are estimated to be stranded during this coming Summer travel season, and with most moms leading the charge for vacation and travel planning, proper roadside assistance is the last thing that should be on their minds. Nothing can dampen vacation enthusiasm faster than being stranded on the side of the highway causing a huge traffic jam.
But recent technology advancements including the use of smartphones as a key link between the driver and the roadside assistance provider is dramatically changing what used to be disaster in to a more palatable experience. Think about National Lampoon's Vacation (the first movie). Imagine what a difference it would have made if Clark Griswold (Chevy Chase) had the navigational and roadside assistance services that you can get today through your smartphone!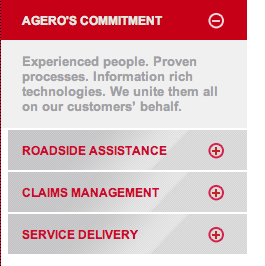 Technology is significantly changing the entire driving-to-a-destination vacation experience. Today's connected driver doesn't have to worry about being stranded in the desert on the way to Walley World and then being scammed by a disreputable tow-truck operator/mechanic. Furthermore, family vacations usually mean kids in the car. Who wants to be stranded on the side of the road with your small children, especially at night in an undesirable location?
Roadside assistance programs like AAA have been around for quite a while, but are often lacking when it comes to providing the kind of service that will help ease the concerns of parent drivers, or those who want as little hassle as possible on their vacation. But through recent technology innovation, roadside assistance is quickly changing and starting to address these concerns. Agero, leader in vehicle and driver safety, is one company leading this technology revolution because it recognizes the importance of not only getting to the stranded driver quickly and efficiently fixing the problem, but also the necessity of providing information about the tower, their location, predicted time of arrival, and more that will help ease the driver's anxiety and frustration.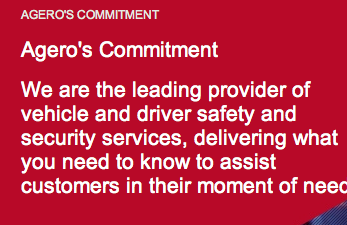 Agero has developed advanced mobile technology that quickly sources the best towing option and provides real-time updates to the driver telling them how far away the tow truck is, its expected arrival and even a photo and profile of the tow truck driver. Agero even goes as far as offering a car service to take you to your next destination so your family isn't waiting in the gas station while the car is being fixed. What is more, Agero monitors the entire situation from start to finish – they're like the white knight watching over the process to ensure that the driver is being taken care of as if they were there themselves. Isn't that the reassurance you want when you hit the road this Summer with your family?
As the auto industry deploys technology to improve the driving experience and thereby create greater brand loyalty with it customers, Agero is at the forefront of this development. With over 40 years of experience in the roadside assistance market, Agero has quietly become the industry leader in providing the safest and smartest solutions for over 75 million drivers nationwide.
I had the chance to interview Agero's CEO Dave Ferrick last week and learn more about this wonderful company!
1. What services does Agero do to help the consumer?
Agero provides roadside assistance in the event that you get stuck on the roads this summer. You will be surprised to learn that a lot of the big car manufacturers use Agero to provide for roadside assistance. They will be there for you at all times of the day, so getting stuck and waiting is a thing of the past. They do everything from towing..to lockouts..to tire changing…to electric vehicle charging. They can help solve any problem no matter how big or small. They offer immediate on-service assistance to motorists.
2. How do you reach Agero?
Fortunately, Agero is one of the biggest roadside assistance providers in the industry with over 70 percent of new passenger vehicles covered by them.  Chances are, if you're vehicle is under warrantry or you have roadside assistance through your auto insurance company, you will be connected to their great roadside assistance.
Be sure to check out Agero for all your summer traveling needs!