The reviewer has been compensated in the form of a Best Buy Gift Card and/or received the product/service at a reduced price or for free.
Let me honest and tell you how just how many electrical devices I have in my home- at least 3 remotes, my phone, computer, keyboards, and more. It could all get so confusing! By the time I find one of the devices, I lost the other. It is not very advantageous to have this many devices and not be able to keep track of it all. Thankfully, the wonderful people at Logitech have developed the Logitech Harmony Smart Keyboard which has been an absolute godsend in my house. It has simplified my life ten-fold by having this keyboard.

So you may be asking, "What exactly is the Logitech Harmony Smart Keyboard?" If you are not familiar with it, it is the premiere one-touch steaming media control for your living room. This keyboard is compatible with the Roku, Apple TV, or living room PCs. How it works is you can use the Harmony Smart Keyboard from the confines of your couch and be able to effectively start, search, and control all your Internet entertainment right from the keyboard. There is no need to worry about lost devices or trying to find that one remote to start up the TV and see your favorite show. With the Logitech Harmony Smart Keyboard, it does it all for you and is very easy to use! You can now enjoy digital media in your living room without any hassles of ever getting up. 

With so many devices being developed, Harmony now is able to support 225,000 devices from more than 5,000 brands. You can easily search for shows and navigate menus on a streaming media box like the Roku or Apple TV. I am a huge Roku fan and am able to watch my favorite shows from Netflix this way. However, it was the hassle of actually going up to the TV to put on my favorite shows. Now, with this smart keyboard I can navigate everything right from this universal device. I can also browse the web on a PC or Mac that is connected via your TV. Logitech has never made it easier to search the Internet!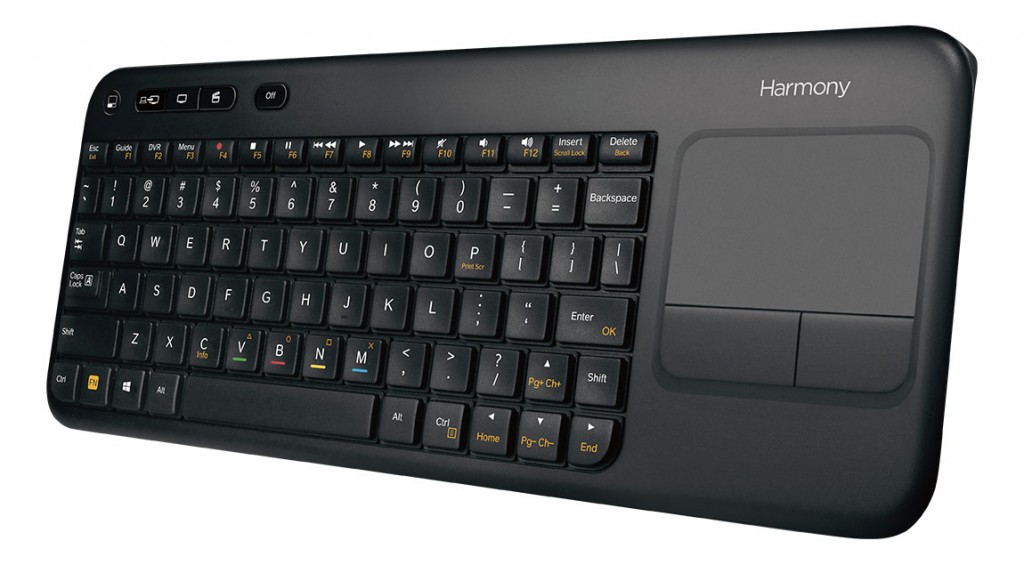 With the Logitech Harmony Smart Keyboard, I can now search for my favorite shows, find the best music videos, search for that YouTube video that you love, or just have some fun surfing the Internet. The Smart Keyboard makes the best of the Internet easier to find and watch on your living room TV.
Getting started using the Harmony Smart Keyboard is quite easy. You simply use the Harmony App, which turns your iPhone or Android smartphones into personal universal remote controls. Everyone in your house can have their own set of custom gestures and favorite channels. The Harmony App that you use on your smartphone allows you to simply enter your device's brands and models and then you will be able to start watching TV and enjoying Internet entertainment in no time at all!
Here is some more information about the Logitech Harmony Smart Keyboard:
The specially designed keyboard simplifies text entry on internet-connected entertainment  devices. Touch the "Movie" Activity button and the right devices switch  to the right settings. Plus, it has integrated DVR and set-top box controls, playback and volume buttons, and a touchpad  for cursor control on a PC or Mac.
·         3 one-touch activity button
o    PC, TV, Movies
o    Short and long presses provide 6 total activities
·         Integrate touchpad for cursor control on PC or Mac
·         Media/Cable/DVR playback controls
Harmony Hub controls devices behind cabinets or walls
o    IR, RF, USB, Bluetooth, Wi-Fi
o    Simple smartphone setup
The Logitech Harmony Smart Keyboard launched March 23 and is only available until June 21, so you really want to pick up your keyboard today.  This keyboard is simply amazing and allows me to lay on my couch and enjoy my favorite shows and Internet connection in no time at all. I highly suggest picking up the Logitech Harmony Smart Keyboard at Best Buy today!