Happy weekend everyone! I hope you all have a great weekend with whatever you do. As always, come link up any cute or funny post that you might have, kid or kid related. Feel free to take my button or share on social media, although this is not necessary.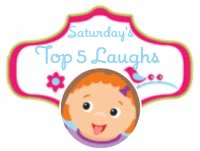 My top five laughs:
5. Hayley is such a sassy girl these days. Just this morning, she told me that my hair was messy and I should not walk out of the house like that. Say what…Girlfriend, you are 5!
4. Zane and Hayley really are close these days but you constantly have to listen because one is always saying, "Stop hitting me…Stop yelling at me". I just can't imagine life with 3!
3. This week I did the classic wash my dishes without putting in any detergent. I so have pregnancy brain at the finest!
2. Baby Girl likes to stay right on top of my ribs and causes me trouble breathing. She also like to jab me all night long. I think she is laughing inside at me.
1. And how cute is she! Here she is almost 30 weeks! I can't wait to meet her!
Now your laughs: