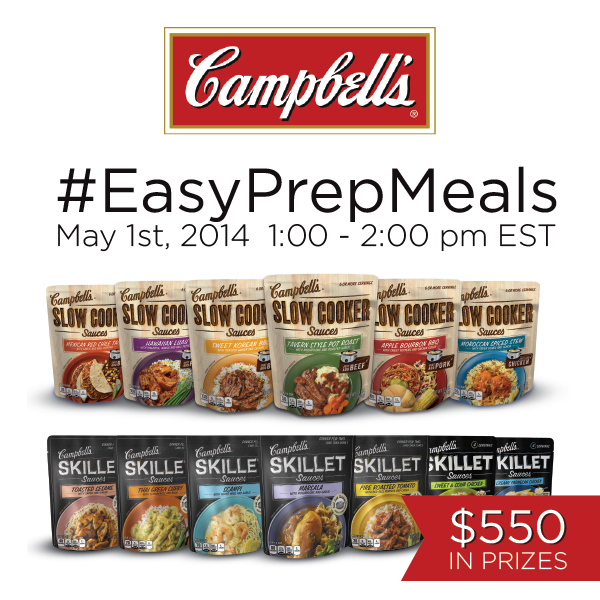 Do you love serving up home cooked dinners, but sometimes find it difficult to do it all in your busy day? Now with Campbell's Dinner Sauces, you can find easy prep meal solutions to get dinner on the table in as little as 15 minutes! They offer both Skillet Sauces and Slow Cooker Sauces to cook a great meal at home that is as easy as it is simple!  It doesn't get much easier than this equation: Dinner Sauce + Meat = Meal!  There is also great recipes on the packaging, so you will never have to scramble looking for one. In no time at all, you will have a delicious meal on your table without much effort on your part. Not only is it easy, but your meal will be delicious! I know this makes for a winning dinner solution for me!
Want to put them to the test?  Well, save the date! Because there will also be an in-store demo of Campbell's Dinner Sauces in select Stop & Shop and Giant stores on May 3rd.
Please join me at the #EasyPrepDinner Twitter Party where we'll chat about delicious recipes ideas for  the busy family using Campbell's Dinner Sauces! From easy dinners to slow cooker ideas, this party is sure to be both tasty fun!  I can't wait to get some great ideas on how to serve up a quick dinner in my busy day and get some meal ideas from all of you!  Hope to see you there!
Join me at the #EasyPrepMeals Twitter Party on SoFabChats!
DATE:  Thursday, May 1, 2014
TIME:  1 -2 pm ET
PRIZES: 5 – $100 Stop & Shop or Giant Supermarkets Gift Card*
EARLY BIRD: 1 – $50 Stop & Shop or Giant Supermarkets Gift Card*
RSVP: #EasyPrepMeals Party Page
LOCATION:  SoFabChats Tweet Grid
HOST: @DawnChats
CO HOSTS:  @dentistmel @KristaK2 @MommaDandDaBoyz
PARTY RULES: #EasyPrepMeals Official Rules
TWEET TO SHARE:  Dinner in 15 minutes? #EasyPrepMeals Twitter Party 5/1 1pm ET. Prizes $550! RSVP/Rules http://cbi.as/rfk6v #shop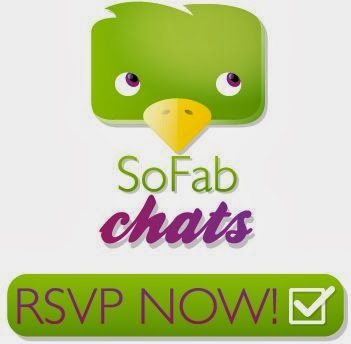 Love Twitter Parties?
New to Twitter Parties and want to learn more?
Stay in the loop with the SoFabChats Twitter Party Schedule, RSVP for individual Twitter parties, find SoFabChats Twitter Party Tips and sign up for SoFabChats Twitter Party email alerts!
RSVP today and learn how you can enter to win our special Early Bird gift card prize!
*Alternate Prize Choice of a Visa Gift Card Available