Happy weekend everyone! You all know what to do- come link up any cute or funny post! Definitely check out the other blogs who link up as they all provide a great laugh!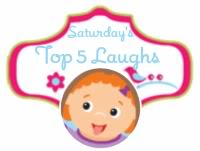 My top five laughs:
5. Zane is now potty trained for the most part during the day but the times he has to pee, he always talks to himself saying, "Zane..Go to the Potty..Zane…Don't have an accident!" So funny!
4. Hayley tries to bargain with me all the time to get her way. Yesterday she says, "Mom…If you don't let me do this..I am not letting you watch Frozen with me." Excuse me my 5 year old, lol!
3. Zane likes to make it known that what is his, is his! He told me that I can never share his food because it is his. He literally screams if I attempt to share something with him. How selfish:)
2. Both my kids, like the other million of kids in America, are obsessed with Frozen. They now won't let me go in the car without putting on the Frozen soundtrack. I think I know every word by now too!
1. Hayley likes me to do reading with her every night before bed. Last night I was reading and was tired. I told her the word was some but it was home. I was tired and pregnant. She told me, "Mom..You need to work on sight words tonight!"
Now your laughs: