*
I participated in an Influencer Activation on behalf of Mom Central Consulting for Blinkbuggy. I received a promotional item to thank me for participating.*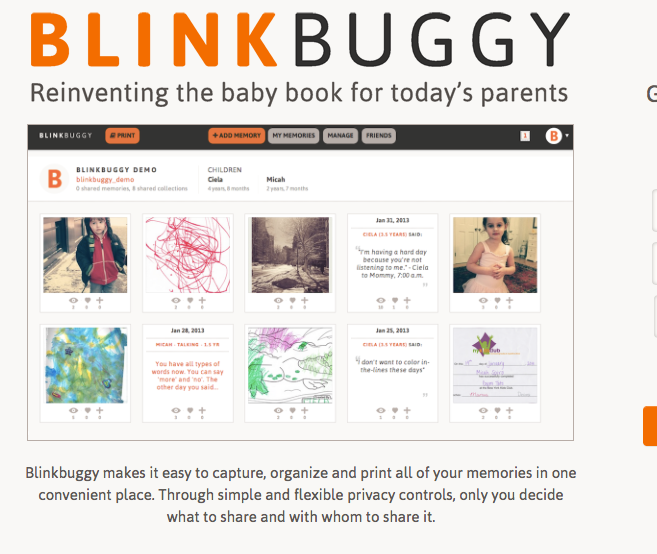 Mommy confession time…I did start a baby book for my oldest, Hayley but have yet to finish it. My idea was to do one of those cute old-fashioned handcrafted paper books with photo corners holding in the pictures and then captions that I wrote in below. I made it about half way through that first year.  After that it is just loose photos stuck in between the pages where I intend to mount them someday in the future.  As for Zane, I bought the book, but never even got started. By then all photos were digital and still reside on my computer, scattered amongst all our other life photos to be sorted into a digital baby book someday. Yes, I gave up on the idea of printing them out and putting them into the paper one with the photo corners!  Well now I'm expecting baby number three and this time I intend to get it right!
Creating memories with Blinkbuggy- it is never too late to use!
This time around it's going to be different!  I have Blinkbuggy, a technology that makes it easy to capture, collect, and organize special moments all in one place to help me out. Blinkbuggy makes it easy to create meaningful stories from those moments, share on the spot, and also print them into the perfect baby book. There is both a desktop version and a mobile app so I'll be able to add images on the go, and I can write the captions underneath the pictures as I go along. Having access to the mobile app will be a huge component of staying on task with this next baby book! We are so busy with all the kids activities that by the time I get home to download photos and add them to an album….well, you know how that goes! I'd already be off track and onto the next activity.  Look how cute this Blinkbuggy pregnancy journal is! :
I love that you can control the privacy settings on your account so that you can either share your album publicly, with a select few, or keep it entirely private just for you. Right now BlinkBuggy has a Spring Fling Giveaway going on!  Anyone who registers for Blinkbuggy during the month of April (April 1st – April 30th) will be entered to win one of three FREE 20-page Blinkbuggy Memory Books. So what are you waiting for? You can start collecting and organizing those precious memories today! As for my first two kids, I'd better get going on finishing their books before this next baby comes along, or I'm going to have a lot of explaining to do!
Be sure to try out Blinkbuggy today to create those awesome memories! Blinkbuggy has the most leading  technology that helps moms by making it easy and fun to collect and connect all the most important moments and create meaningful stories, all in one place, that can be shared now, printed into beautiful memory books as well as passed on to the next generation. Sounds too neat not to give it a try, don't you think?! Be sure to give Blinkbuggy a try today!