The Extraordinary, Untold True Story of the Origins of a Disney Classic is now available on DVD: Saving Mr. Banks!
Let me start out by saying I saw this movie with my mom over the Christmas holidays and it quickly became one of our favorite movies of 2013. If you have not seen it yet, it is an absolute must, as the story told is brilliant and will leave you simultaneously crying and laughing throughout the 2 hour run time. What really interested me about this movie, is it is a true story told about P.L. Travers and her determination of getting Mary Poppins from script to the big screen. At the  same time as the story of P.L Travers being told, there were flashback scenes with the amazing Colin Farrell, who portrayed a drunkin' trying to get his life better and raise his beautiful kids. Warning: While this movie is excellent and an absolute must watch, you will need to have Kleenex handy. Without giving away too many spoilers, I was sobbing like a baby during many of the flashback scenes.
Like I said above though, it is probably one of the best movies I have seen in the last 6 months. My mom and I were mesmerized by this movie, and when we received it on DVD, my husband and I sat and watched it, and again there was nothing but stellar reviews coming from us. I get asked a lot if this a kids movie and I will definitely say no. I know some of my friends brought their little kids to see it, but it is really a true grown up story, that will leave you talking about the movie for weeks to come.
Mary Poppins is one of my favorite Disney movies and it was a true delight to see just how much effort was put into making this, the true Disney classic it now is. The scenery in the movie is brilliant and the acting by the incredible  Tom Hanks, Emma Thompson, Paul Giamatti, and Colin Farrell is absolutely amazing! If you have not seen this movie yet, do yourself a favor and purchase it on DVD now. Trust me, you will not want to miss this one!
Here is more information about the film:
Walt Disney Studios Home Entertainment proudly announces the home entertainment release of the heartwarming drama Saving Mr. Banks, arriving on Blu-ray + Digital Copy, DVD, Digital HD and On-Demand on March 18, 2014.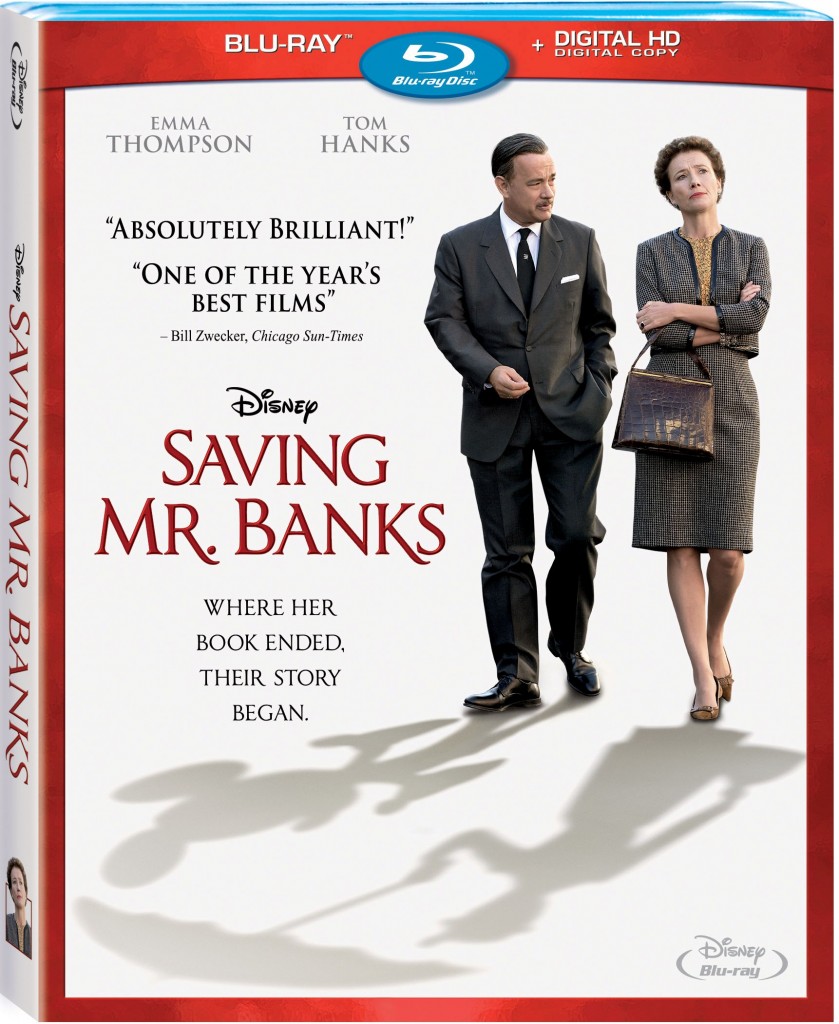 Tom Hanks and Emma Thompson bring to life the untold true story about the origins of one of the most treasured Disney classics of all time. John Lee Hancock (The Blind Side) directs this acclaimed film, which reveals the surprising backstory behind the making of Mary Poppins. Determined to fulfill a promise to his daughters, Walt Disney (Hanks) tries for twenty years to obtain the rights to author P.L. Travers' (Thompson) beloved book. Armed with his iconic creative vision, Walt pulls out all the stops, but the uncompromising Travers won't budge. Only when he reaches into his own complicated childhood does Walt discover the truth about the ghosts that haunt Travers, and together, the set Mary Poppins free.

Featuring a stellar supporting cast that includes Colin Farrell (Total Recall), Paul Giamatti (Sideways), Jason Schwartzman (Rushmore), Bradley Whitford (TV's The West Wing), Annie Rose Buckley (TV's Home and Away), Ruth Wilson (The Lone Ranger), B.J. Novak (TV's The Office), Rachel Griffiths (TV's Brothers & Sisters) and Kathy Baker (Edward Scissorhands), Saving Mr. Banks was directed by John Lee Hancock (The Blind Side, The Rookie), produced by Alison Owen, Ian Collie and Philip Steuer, and written by Kelly Marcel and Sue Smith. Executive producers are Paul Trijbits, Andrew Mason, Troy Lum and Christine Langan.

On Blu-ray and Digital HD, Saving Mr. Banks sweeps viewers away with enchanting high definition picture and sound, plus delightful, never-before-seen bonus features, including "The Walt Disney Studios: From Poppins to Present," in which director John Lee Hancock takes viewers on an insider's tour of Disney Studios today and reflects on studio life during the creation of Mary Poppins. Additional bonus materials include "Let's Go Fly a Kite," in which the film's cast and crew sing an impromptu version of the iconic song on set during the last day of shooting, and deleted Scenes.
Bonus Materials*:
• The Walt Disney Studios: From Poppins to Present (Blu-ray & Digital HD) – Join Director John Lee Hancock on a tour of the Disney Studios lot, reflect on studio life during the making of Mary Poppins, and discover how Walt's creative spirit still flourishes today.
• Let's Go Fly a Kite (Blu-ray & Digital HD) – Cast and crew sing break out in a rousing, heartfelt tribute to Composer Richard Sherman on the last day of filming.
• Deleted Scenes
➢ Stargaze (Blu-ray & Digital HD) – A picture on Walt's desk leads to a flashback of Pamela's childhood.
➢ Nanny Song (Blu-ray, DVD & Digital HD) – The Sherman Brothers perform a song for Pamela that she is less than thrilled with.
➢ Pam Leaves (Blu-ray & Digital HD) – After yet another disagreement with Walt, Pamela leaves his office and heads for the airport.
This film delves into the story behind the making of Disney's Mary Poppins and takes a closer look at Walt Disney, the man behind the studio. Get a taste of the movie with a recipe for Walt's Family Chili as well as dishes inspired by the film and the era!
Social Media:
To stay connected with the latest news and information about Saving Mr. Banks:
• "Like" them  on Facebook: www.facebook.com/SavingMrBanks
• Follow us on Twitter: www.twitter.com/DisneyPictures
• Website and Mobile Site: http://movies.disney.com/saving-mr-banks/
*I received an advanced copy of this DVD from Disney. All my opinions are my own and not swayed by outside sources.*