Happy weekend everyone! Today I got home from work and I was so tired, but I am excited because I think my little guy is finally potty trained! Yah! I guess being a Pull-Ups ambassador really helped us out!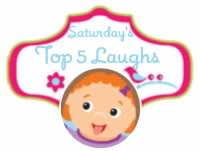 As always, come link up any cute or funny post. Feel free to take my button or share on social media although this is not mandatory. Definitely check out the other blogs who link up as they all provide a great laugh!
My top five laughs- potty training edition:
5. I attempted the transition from Pull-Ups to underwear in the last few days. While he loves his underwear, he really loves his Pull-Ups. He likes to say to me, "Mommy..Put on my big boy diaper pants…Look at what a big boy I am!"
4. Zane is obsessed with quarters for some strange reason and I told him that if he goes #2 on the potty, he could get a quarter. Well it was a perfect motivating factor, because he goes around the house telling me now, "Mommy..I am rich!"
3. Hayley asked Zane if he had to go potty this week. Zane replied, "Hayley…Mind your own business. I will go when I am ready to go!"
2. On the line of quarters as bribery, I ran out today and gave him a penny instead. His reply was, "Mommy…Don't be silly.. That is a penny…I only accept quarters." He is becoming sassy just like Hayley:)
1. When Zane first went #2 in the potty, Hayley told him they needed to the potty dance. Both of them pulled down their pants and started shaking their booties to Let it Go. It was so cute!
Now your laughs: