Happy Weekend everyone! Sorry I did not put up my laughs last week but I was relaxing with my parents in Sunny Florida!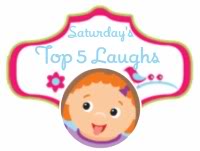 As always, come link up any cute or funny post-kid or not kid related. Feel free to take my button or share on social media, although this is not necessary. Definitely check out the other blogs who link up as they all provide a great laugh!
My top five laughs:
5. Zane got diagnosed with hand-foot-mouth disease. Although this not funny at all, Hayley has been coming to him and saying, "Zane feel better, "Zane do you need anything?, "Zane- Do you want me to get McDonalds?" She is such a big sister!
4. Big mistake to tell Zane the name of the future baby. We are keeping it a secret until she is born but if you ask Zane, he will just blurt it out. When I tell him it is a secret, he goes NOOOOO!!! I know her name!
3.  Zane can count to almost 50 now but when he counts he seems to repeat 20-30 twice in a row. It is quite funny when he does it. I need to get it on video.
2. Hayley asked me when Baby Girl is coming and I told her July. She asked me if I could speed it up because she is ready to be a big sister again. Excited much?!
1. I love this one. Hayley and I collected toys for the Boys and Girls Club. We collected them in a big bin and when I went to bring the bin downstairs today, I noticed half of them were missing. I asked Hayley where they went and she told me, "Mommy…I donated them to my friends at school!" LOL!
Now your laughs: