This post brought to you by Walmart. All opinions are 100% mine.
I am going to be a mom again! In about 22 weeks, I will welcome baby #3 into our lives. I am so incredibly excited to see our family expand yet again! We have been going through the necessities we need in the house and one thing we can't live without for a new baby is formula. I am a proud formula feeder (I breastfed Hayley, and formula fed Zane) and plan to formula feed this new baby when he/she comes. One formula i recommend is Parent Choice™ as an amazing option for moms everywhere, allowing them to give their baby the nutrients they need and save money in the process!
Parent's Choice™ carries a number of different formula products that are "clinically proven to be as well -tolerated as the national brands!" A few of these options include Parent's Choice™ Advantage Powdered Formula, Parent's Choice™ Premium Powdered Formula, Parent's Choice™ Gentle Powdered Formula, and Parent's Choice™ Sensitivity Powdered Formula.
Parent's Choice™ meets FDA standards, contains DHA and ARA, which support brain and eye development, is milk based, iron-fortified, contains calcium for strong bones, and helps support a healthy immune system. I know when I am looking for a good formula, it is a necessity for me to find one that will help leave my baby healthy/happy and I know Parent's Choice™ will do just that!

With using Parent's Choice Formula, I know I will save a lot of money! If I switched to Parent's Choice Gentle Formula, I would save $420 per year just on formula. I don't know about you but formula is probably one of the most expensive items for families. Now with the cost formula available on their website, you can see how much money you can save versus other formulas on the market.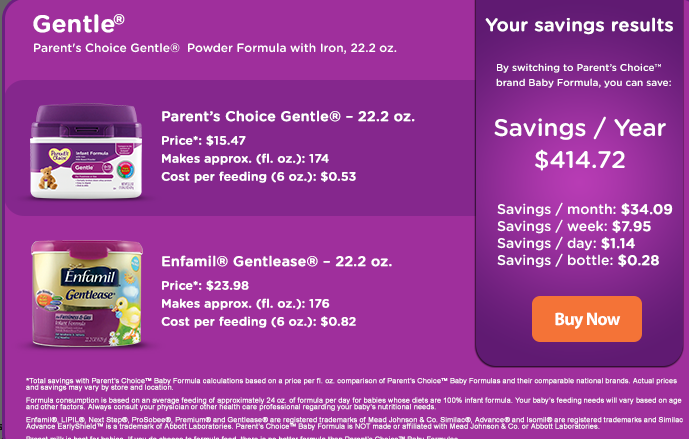 Be sure to head to Walmart and check out the Parent's Choice page today to see all about this formula available  on the market, at a great price. Parent's Choice Formulas are clinically proven to be as well tolerated as the national brands.